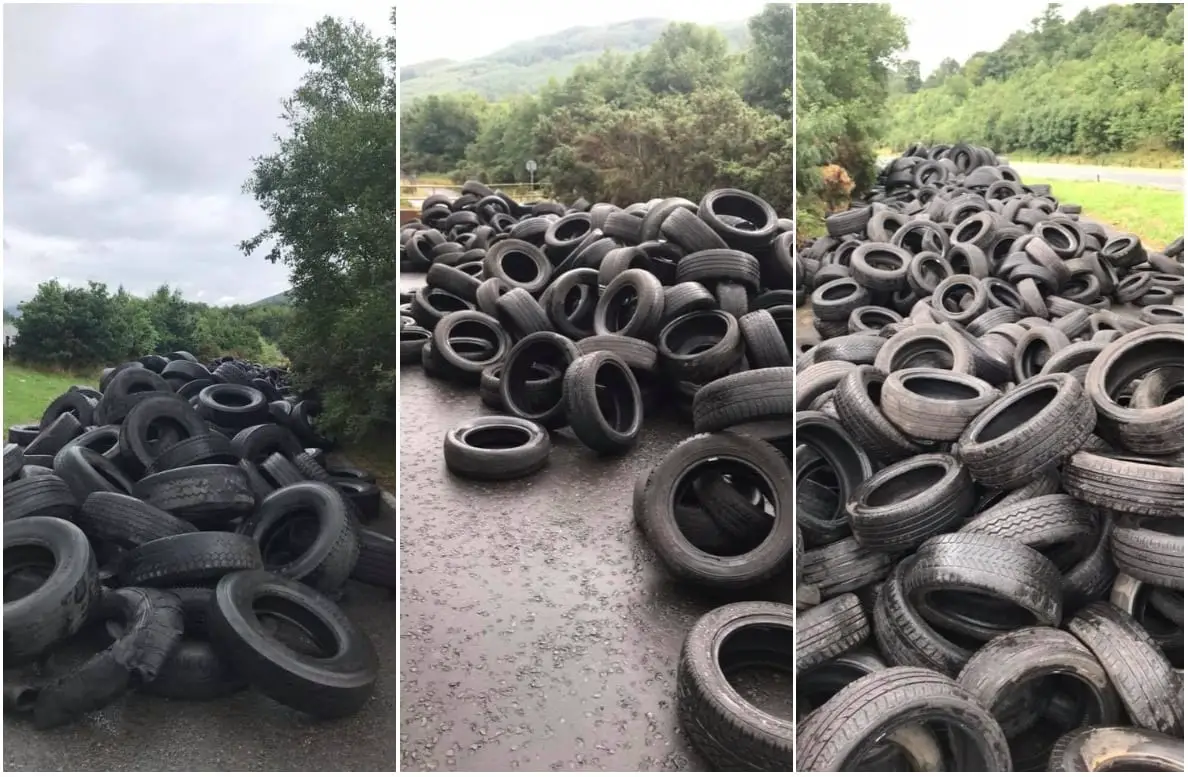 Hundreds of tyres have been dumped along the side of the motorway close to the Co Armagh border, north of Dundalk.
And there have been calls for anyone who was travelling in the area and saw those responsible to come forward.
There have also been renewed calls for cross-border co-operation to target this type of crime.
Sinn Féin councillor Antóin Watters branded them "dirty dumpers".
The tyres were left along the main stretch of motorway just before Junction 20 north of Dundalk, at the old customs weighbridge.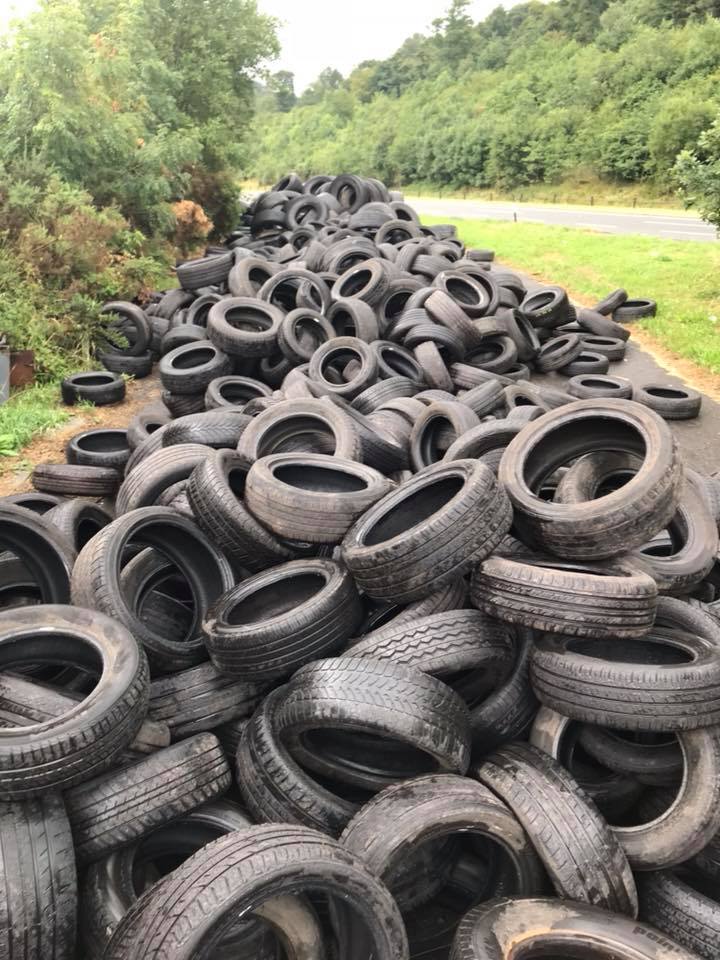 Cllr Watters said he received a call on Saturday morning to say there was a pile of tyres dumped along the side of the motorway.
"I went to see for myself and to be honest was expecting maybe half a dozen or so and was hoping they would be easily spotted because of the rain," he explained.
"I had no trouble finding them. There was a massive load of hundreds of tyres blatantly dumped on the side of the motorway road."
Cllr Watters, who has been faced with this issue in his area on multiple occasions since the new year, added: "To say I was incensed is an understatement. I was speechless. It is like Groundhog Day but this time they didn't even bother to hide up a mountain road, they pulled up along a busy motorway and they had to have had a truck of some kind.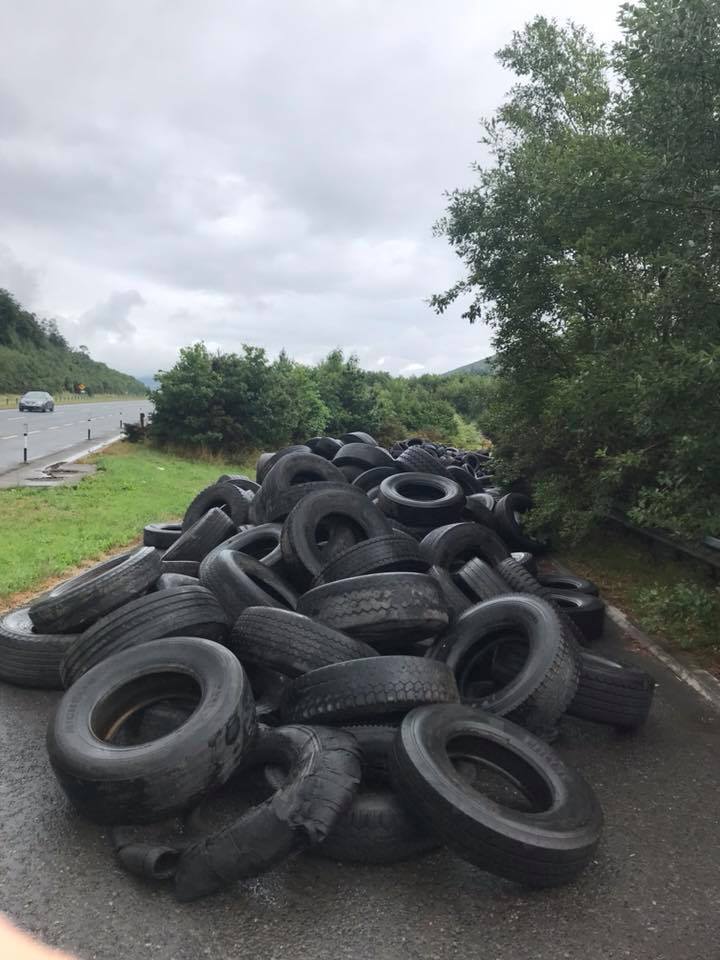 "With a heavy heart I contacted Gardaí, the council and Motorway Maintenance. Somebody must have seen something.
"I am asking everyone to please try and recall if you were driving along that stretch of the motorway if you saw a lorry or truck pulled in. Please check your dashcams, you never know, maybe you were driving behind a truck on Friday night carrying tyres. I have asked Gardaí to check any CCTV along that route, be it from businesses or the motorway itself."
Last month Councillor Watters had a motion before the council calling for cross-border co-operation with Newry, Mourne and Down Council on this very issue.
"These people are using the border to their advantage and that needs to be addressed," he said. "We need a cross-border, joined-up solution to this cross-border problem."
Next month, he has a further motion on waste disposal to initiate a billboard/advertising campaign to raise awareness on the dangers of using non-licensed waste collectors.
"The dumping of heavy duty waste has become rampant in this part of the county and I believe it is from the same small number of criminals, and that is what they are," he said.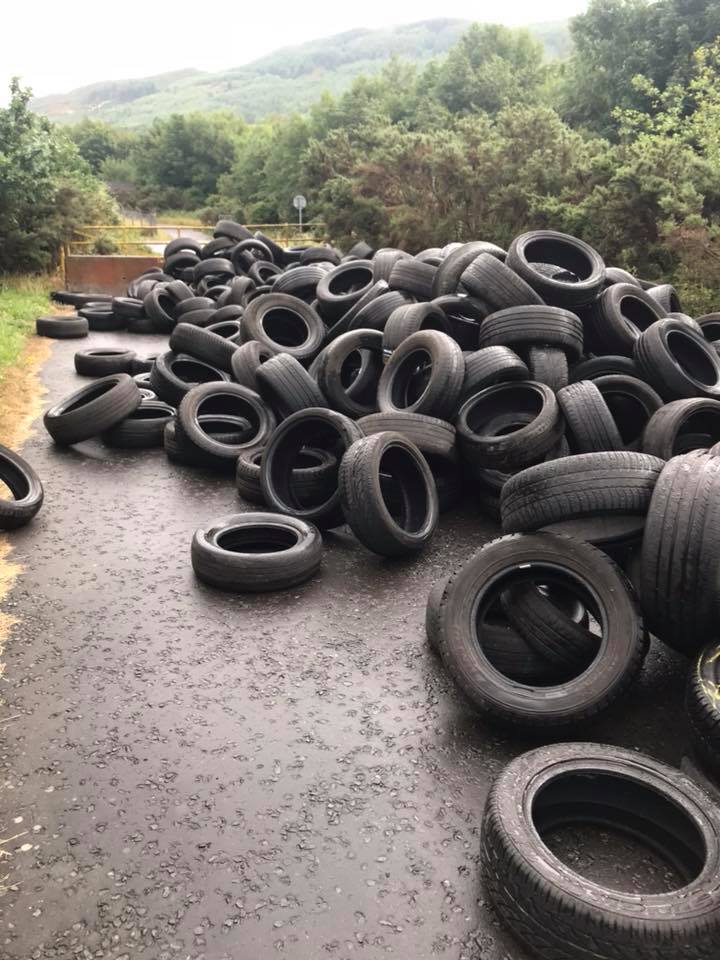 "This issue will be resolved, I am not letting the beautiful part of north Louth become a rubbish tip and Cllr Mickey Larkin in Slieve Gullion is fighting the same battle on his side of the border.
"It's time for investment into this problem before it's too late. It's not good enough to spend money cleaning up after these dumpers, we need to take a pro-active approach to this and stop citing economics as a reason to do little or nothing.
"In the meantime, if anyone has any information or has seen anything no matter how insignificant you may think it is, please contact Dundalk Gardaí on 042 93 88 400"
Sign Up To Our Newsletter