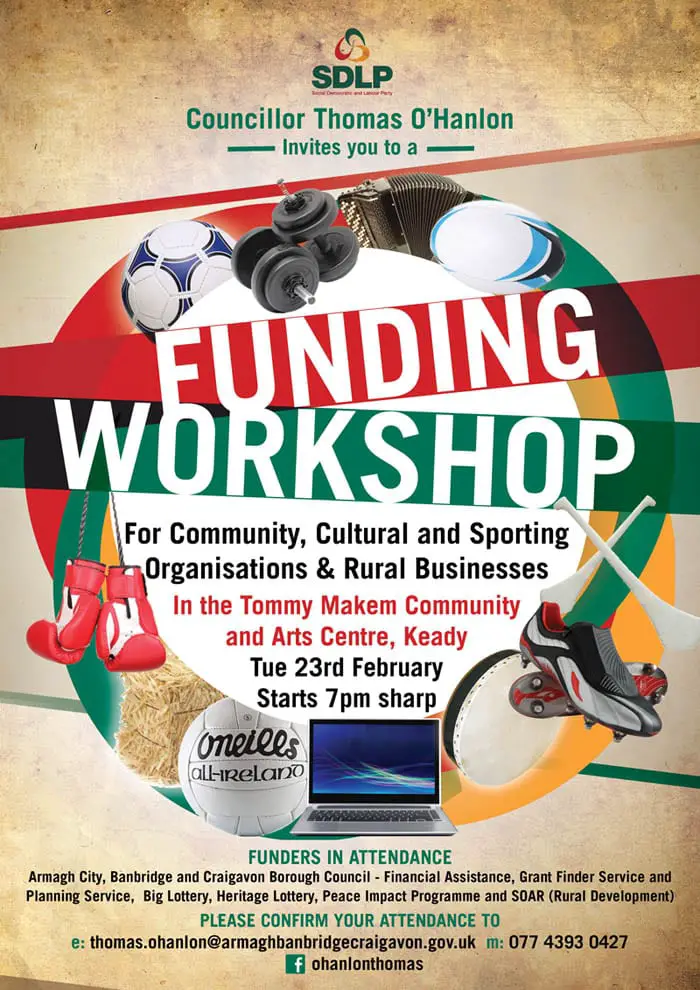 Sporting, Community and Cultural organisations as well as small rural businesses across the Armagh City, Banbridge and Craigavon area are being called upon to attend a Funding Workshop he is hosting in Keady on Tuesday night.
Councillor Thomas O'Hanlon called on all explained: "On Tuesday night we have pulled together a range of funding bodies all in one room as a workshop aimed at community, sporting and cultural organisations right across the Armagh City, Banbridge and Craigavon Council area.  Funders will also be able to provide information and advice on grant assistance available to small rural businesses.
"Time and time again I am contacted by different groups who want signposted to different funders and they are often confused as to who is providing what funding and when.  This event has been organised in response to the calls from local groups who just want some help and assistance.
"Funders in attendance will include Armagh City, Banbridge and Craigavon Borough Council, Rural Development (SOAR), Big Lottery, Heritage Lottery and Peace. Each funder will give a ten minute presentation followed with an opportunity for groups to have one to one discussions with each of the funders in attendance.  A representative from the Council's Grant Finder Service will also be in attendance.
"This is a free service open to the community and voluntary sector which allows groups to request a list of different funders open at any given time for projects groups may be planning.  Should groups be planning any capital projects, representatives of the Council's Planning Service to be in attendance to discuss any questions groups might have in relation to planning requirements.
"This is a great opportunity for groups to meet the funders and discuss any potential projects you may be planning, it's on Tuesday, February 23, it begins at 7pm sharp and would ask anyone interested in attended to get in touch to confirm their attendance as we are expecting a lot of interest."
Sign Up To Our Newsletter
Sign up to our newsletter for major breaking news stories as they happen – right to your inbox.