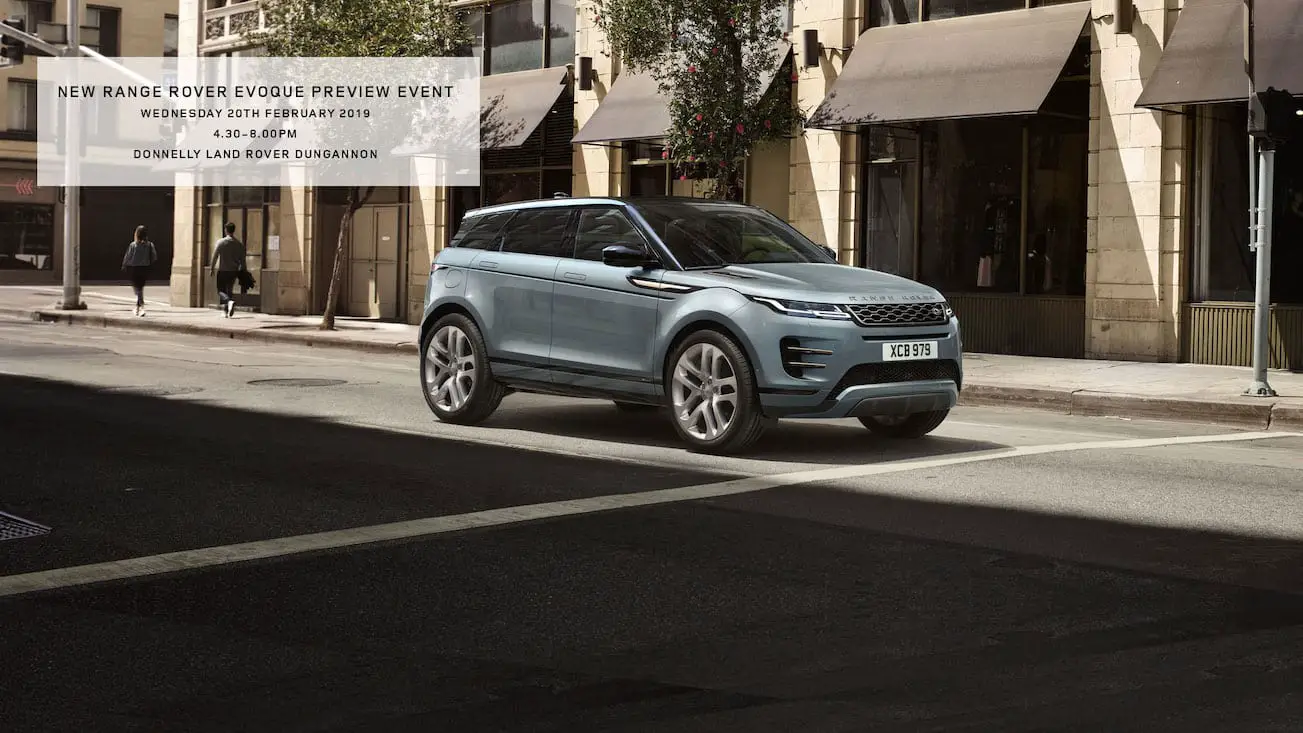 Experience the all-new Range Rover Evoque at an exclusive preview event on Wednesday, February 20 at the newly opened Donnelly Jaguar Land Rover showroom in Dungannon.
The event, which will run from 16.30 -20.00, will give attendees the chance to explore the latest luxury Range Rover SUV model ahead of its arrival in showrooms.
Sean Donnelly, Head of Business at Donnelly Land Rover, said: "This event is a fantastic opportunity for our customers to get a closer look at the superb design of the latest Range Rover Evoque SUV, Land Rover's first mild-hybrid electric technology (MHEV) vehicle.
"Coined as Land Rover's most capable and refined compact SUV, the Evoque is immaculately decorated with a range of innovative technology and improvements.
"Built with all-new vehicle architecture, the Evoque features 'see through bonnet' technology and a rear-view mirror that turns into an HD screen displaying a camera feed of what is behind the vehicle – the design is truly revolutionary and is sure to turn the heads of motorists at our preview event.
"The vehicle is the perfect balance of technology and luxury promising a comfortable, enjoyable experience for drivers and passengers alike. The Infotainment product has been enhanced now offering a number of smart settings allowing the vehicle to recognise the driver and load their saved preferences.
"We have recently opened the doors of our new £6 million arch-concept Jaguar Land Rover showroom in Dungannon, providing the perfect setting to host such an exclusive and exciting event. This is the first event we will be hosting in the showroom and therefore a superb opportunity for customers and potential customers to come in and enjoy the dual arch concept experience.
"The showroom now features 16 new vehicles made up of 7 Jaguar and 9 Land Rover models, all of which our guests are welcome to explore on the evening."
The spacious design of the new 50,000 sq.ft facility, located at Donnelly Group's flagship Moy Road Dungannon site, is also home to a vast range of used Jaguar Land Rover vehicles.
Sean continued: "To really get a feel for these vehicles, and to adequately experience their capabilities, it is vital that our customers have a facility which can showcase the vehicles in these luxury surroundings.
"Our new Jaguar Land Rover facility brings both brands together under one roof in this contemporary setting, and will allow us to continue to provide the most luxurious experience for motorists across Northern Ireland.
"Our expert team will be on hand throughout the event to answer any questions that guests may have regarding the Range Rover Evoque, or indeed any of the other models we have on display.
"This event is a great way to kick-start what will be a fantastic new journey with both our manufacturing partners, and so we encourage anyone who is interested to RSVP as soon as possible. I look forward to meeting you all for what will be an excellent evening."
For more information and to register your interest, please visit www.donnellygroup.co.uk/land-rover
Sign Up To Our Newsletter