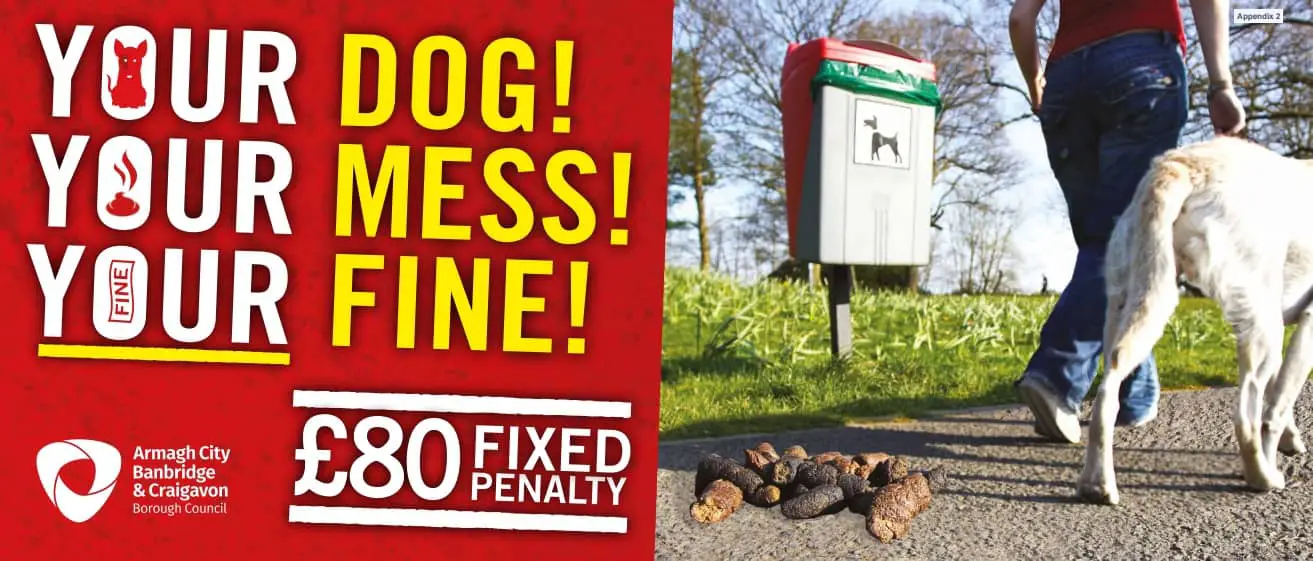 New by-laws banning dog owners from taking their pet into children's play parks across the borough are expected to be introduced on June 1.
That is the recommendation which will be going to a meeting of Armagh City, Banbridge and Craigavon Borough Council's environment committee tonight (Tuesday).
And, breaching the new laws, would see owners slapped with an £80 fixed penalty.
The council agreed in October to go out to consultation on The Exclusion of Dogs from Land (Armagh City Banbridge and Craigavon Borough Council) Number 1 Order 2017.
As reported previously by Armagh I, this issue came before committee in September and there has been considerable discussion in relation to it.
In all, 94 play areas across the borough would be covered under the new order.
The majority of these – 38 – are within the former Craigavon Council area, with 30 in the old Banbridge Council area and 24 under Armagh City and District.
The penalty for committing an offence contained in the Order is a maximum level three fine – currently £1000.
The opportunity to pay a fixed penalty of £80 will be the first option offered to any offender in lieu of prosecution.
Council has followed the relevant processes in bringing this Order forward for resolution. Consultation with the public has been carried out with advertisements placed in newspapers at the end of February and information has been provided on the council website.
The public consultation closed on March 24 and only one response was received. And, while this objected to the new Order, the responder had mistakenly interpreted that dogs were being excluded from a whole park, rather than just the play park area, and this has since been clarified with the individual.
In a paper going to committee this evening, councillors will be told: "If a decision is made to proceed with the order, council will decide when the order will come into force; which must be at least 14 days from the date on which it is made.
"The date of 1 st June is being proposed as a workable suitable date to allow for time to further publicise and have any new signage erected.
"Once the order has been made council must, at least 7 days before it comes into force, publish a notice in the local newspapers stating that the order has been made: and where the order can be inspected and copies of it obtained. A copy of the notice must also be published on the council's website.
"The council will then erect suitable signage at the children play park area informing people of the offence for a person in charge of a dog to take the dog onto, or permit the dog to enter, or to remain on, any land listed in Schedule A of the Order."
If it is decided to proceed as recommended this evening, that will still have to be ratified by the full council sitting later this month.
The full list of play areas which would come under the new bylaws are as follows:
The full list is as follows:
Armagh
Alexander Park, Armagh; Annahugh–Ballyhegan, Loughgall; Blackwatertown, Avonmore Estate; Broomhill; Drumnahuncheon; Cathedral Road, Armagh; Clady, Mourneview Park; Darkely Primary School; Drumbreda, Armagh; Gosford Forest Park; Hamiltonsbawn Primary School; Keady Glen; Killylea; Kingston Memorial, Armagh – more commonly the Mill Field; Laurelvale, The Pond; Loughgall Country Park; Markethill, Seaboughan Road; Middletown, Ivy Park; Milford; Mountnorris Community Centre; Mullaghbrack; Navan Centre; Neills Villas, Loughgilly; Richhill, Newline; Tandragee Recreation Centre; The Palace Demesne; Tullysaran, Milltown, Road, Benburb.
Portadown
Abercorn Park, Killicomaine; Ashgrove Community Centre, Garvaghy Road; Brownstown Park; Brownstown West; Drumilly Green, Corcrain; Edenvilla Park, Bachelors Walk; Edgarstown, Union Street; Killicomaine Community Centre; Loughview Terrace, Milltown, Derrytrasna; Maghery (inc Coney), Maghery Road; People's Park; Pleasure Gardens, Bridge St; Rectory Park; Scotch Street.
Banbridge
Ashfield, Dromore; Castle Hill, Gilford; Cline Park, Banbridge; Corbet Lake Play Area; Cross Heights, Rathfriland; Dromore Town Park; Ervine Park, Kinallen; Fraser Park, Annaclone, Rathfriland; Hillside Crecent, Banbridge; Huntly Park at River walk; Kane Terrace, Kinallen Katesbridge picnic and play area; Knock Terrace, Rathfriland, Laurencetown, Gilford; Lenaderg, Banbridge; Lissize Park, Rathfriland; Locard Park, Tullylish, Gilford; Loughbrickland Park; McCandless Terrace, Dromara; Millstone Close, Banbridge; Mossvale, Dromore; Mount Charles, Banbridge; Mourneview, Banbridge; Parkhill/Fairview, Dromore; Scarva Park; Seapatrick, Banbridge; Solitude Park; Thornhill, Dromore; Tullylish, Gilford; Woodlands, Gilford.
Craigavon
Ardowen, Monbrief; Brownlow Hub; Clonmeen; Cranny Terrace, Bleary; Drumgor; Gibsons Hill, Gilford Road; Parkmore; Pinebank/Carrigart; Silverwood Golf Club; Tannaghmore Gardens; Watsonville, Bleary; Wolf Island Terrace, Derrymacash.
Lurgan
Aghagallon, Parknasilla Way; Avenue Road Community Centre grounds; Dollingstown, Seyton Park; Donacloney, Irwin Place; Gilpinstown; Malcolmson Park, Magheralin; Mourneview Community Centre; North Lurgan Community Centre grounds; Shankill; Taghnevan Community Centre; Wakehurst, Charles Street; Waringstown Churchill Place.
Sign Up To Our Newsletter