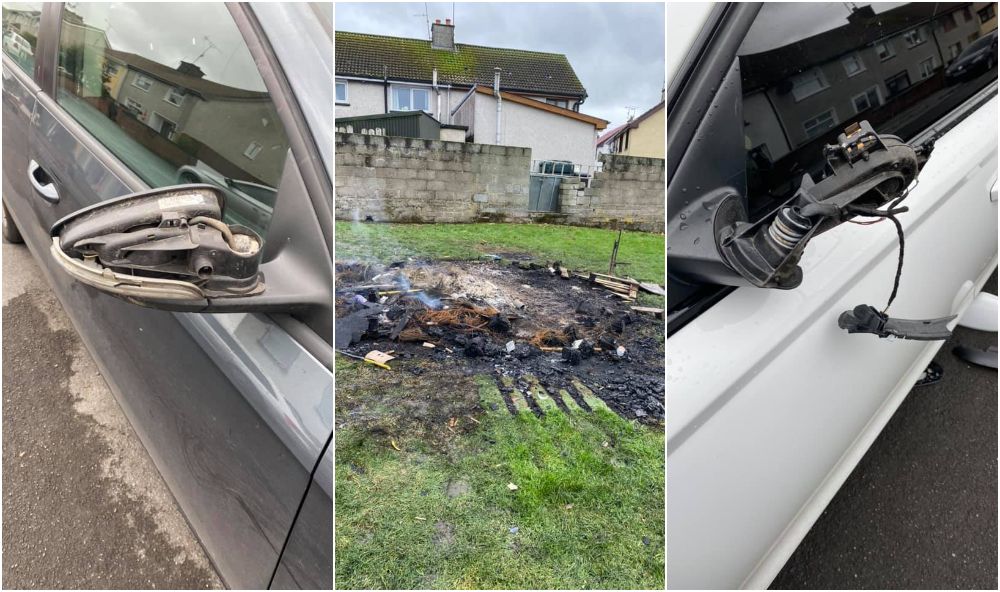 This was the trail of destruction left behind following a night of anti-social behaviour in a Crossmaglen housing estate last night (Saturday).
While Halloween night can often be attributed to mischievous behaviour, the actions of a large group of youths crossed a line according to local councillors and residents forced to endure the misery.
Cars were damaged, fires lit close to homes and fire crews targeted.
Sinn Fein Councillor Aoife Finnegan said residents were in shock, some were fearful, at the level of anti-social behaviour that took place last night.
"Yet again it takes the work of the community association and residents to clean up the mess," she said.
"Talking to the residents they have said they are very disappointed with the behaviour and antics of the youngsters, and the lack of support from the PSNI.
"With the traditional events not able to take place this year due to the ongoing global pandemic, last night's antics shows complete disregard for our health care workers and emergency services and ultimately the rate payer.
"This morning's clean up shows the fantastic community we have that come together and clean up the mess. I have called in extra support from the council to clean up the rubbish in the coming week."
SDLP COuncillor Pete Byrne added: "I had a meeting with residents this morning and community activists to ensure residents don't have to go through the same tonight.
"We will be keeping a presence throughout the evening. Nobody's property should be damaged and disguised as fun!
"Thanks to Councillor Finnegan for arranging a trailer and getting the burnt pallets cleared early this morning. We will work together to address these issues before next year."
Residents branded it a disgrace, hitting out at the youngsters who were not from the immediate area and the parents responsible for their whereabouts.
Sign Up To Our Newsletter