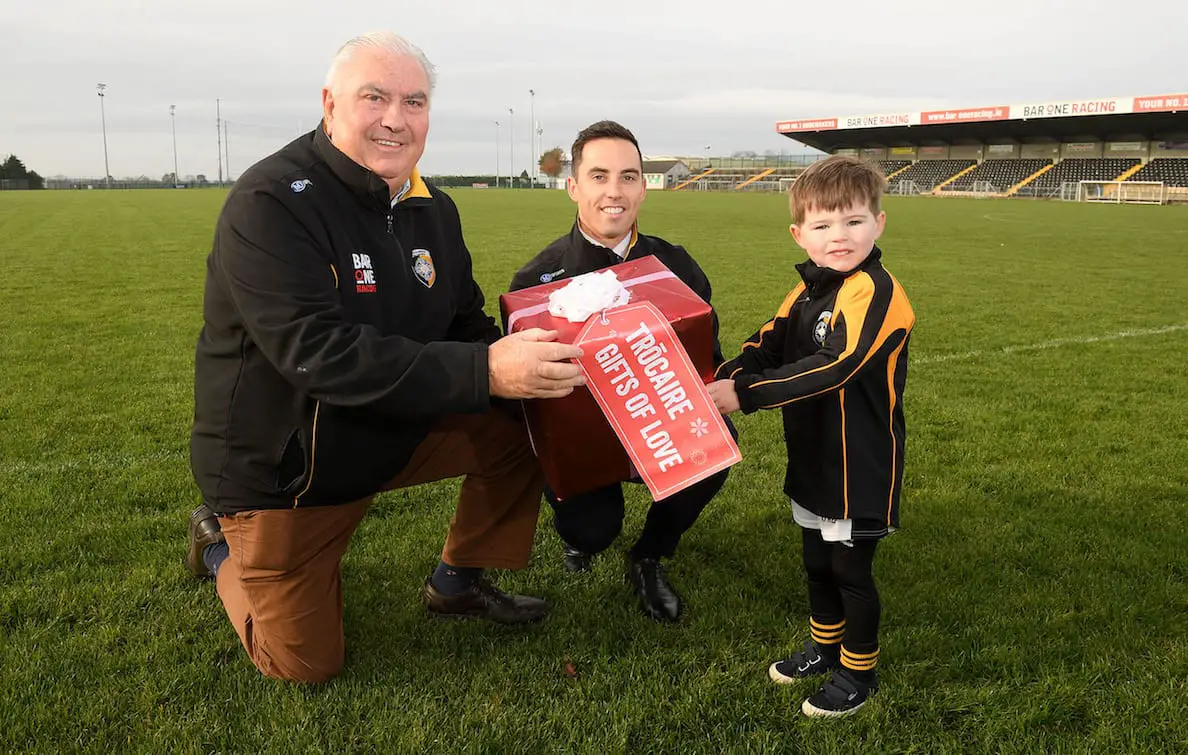 One of Ireland's best-known GAA families gathered at Crossmaglen Rangers GAA club to launch Trócaire's Christmas 'Gifts of Love' range as Joe and Aaron Kernan urged people to support the campaign.
Launching their 2018 Christmas Gifts range, Trócaire revealed that generous people across Co. Armagh spent almost £25,000 on the charity's gift range last year, allowing the development agency to bring support to 960 families living in some of the world's poorest countries.
This support provided families in the developing world with clean water, essential tools, livestock and help with education, the charity said.
Calling on people to support this year's Chirtsmas Gifts campaign, Armagh's 2002 All-Ireland winning manager Joe Kernan was joined by his son, former Young Footballer of the Year Aaron, and grandson James (4) at their native Crossmaglen GAA club.
GAA Hall of Famer, Joe said: "My family and I are absolutely delighted to support Trócaire's great work and their Christmas Gifts. This year's gifts include a 'Help for Grandparents' sponsorship, which allows people to support grandparents raising children who have lost their parents to illness, accident or war.
"I feel this is a great way to try to help families who are living in such testing circumstances."
Since it was first launched in 2000 Trócaire's Christmas Gifts campaign has sold more than 920,000 gifts and raised almost £33m for Trócaire's work supporting families affected by long-term poverty overseas.
Trócaire CEO Caoimhe de Barra said: "We would like to thank all of our generous supporters who have bought Trócaire Gifts over the years. The gifts, ranging from soap and chicks through to shelter and water wells, have a huge impact right across the world.
"This vital support helps families living in some of the poorest areas, including regions in South Sudan, Somalia, Kenya, Ethiopia, Myanmar, Honduras and Guatemala.
"We are delighted that the Kernan family have helped us to launch Trócaire's Christmas Gifts for 2018 and we hope the Irish public and our supporters continue to provide such tremendous support for our work in over 20 developing countries."
There are 14 Trócaire gifts to choose from, ranging in price from £5 to £1000 such as chicks, beehives and solar lamps. This year, there are also a number of new additions including 'Help for Grandparents', which will support those who are raising their grandchildren in the developing world, and 'School Kits' to send a child to school.
You can buy Trócaire gifts online at www.trocaire.org/gifts or by calling 0800 912 1200.
Sign Up To Our Newsletter