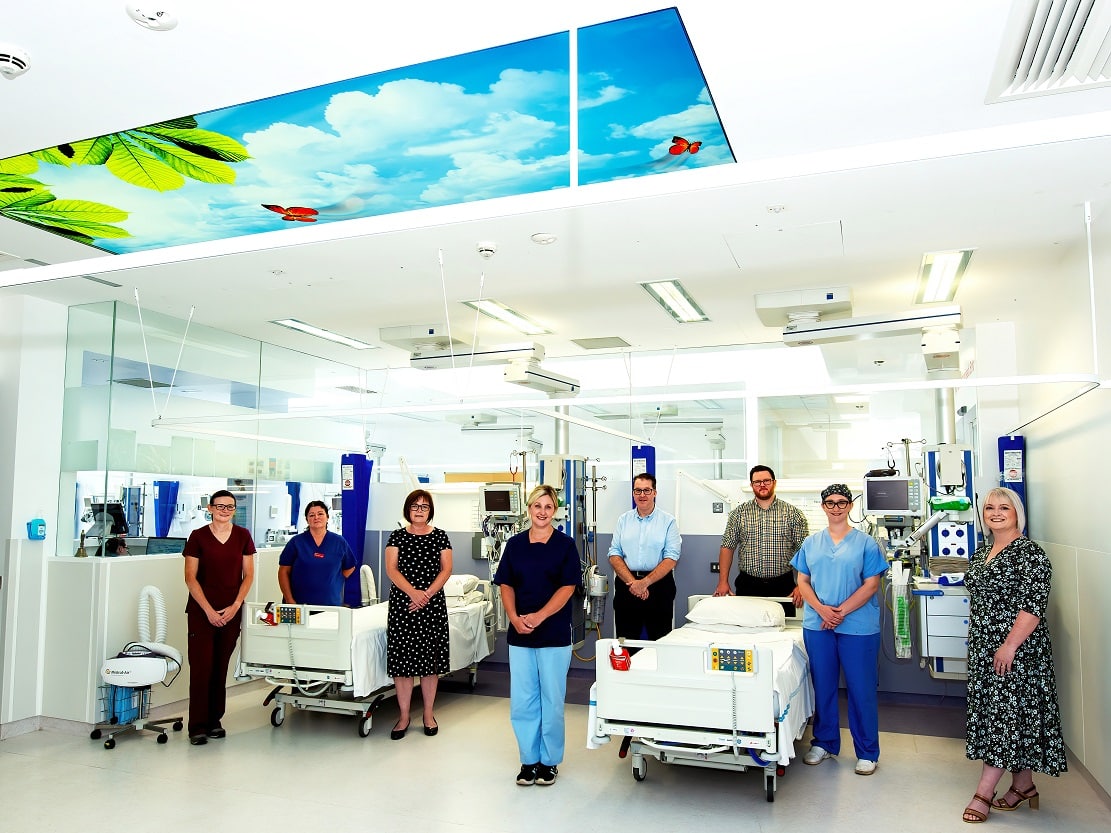 A bespoke unit that cares for patients who need specialised care after surgery has opened in Craigavon Area Hospital.
The Post Anaesthesia Care Unit (PACU), is located within the Recovery ward and will deliver enhanced post-operative monitoring and treatment of high-risk patients for 24 hours after surgery. They will be supported by highly trained nurses, nursing assistants, anaesthetists, Physiotherapists and pharmacists.
The new unit has been funded by the Department of Health, following the Review of General Surgery and the Elective Care Framework – Restart, Recovery and Redesign 2021.
Declan McClements, Trust Interim Assistant Director of Surgery, Anaesthetics, Theatres and Intensive Care Services welcomed the opening of the new ward and is looking forward to phase 2 of the development.
He said: "PACU is an asset to our team in Craigavon Area Hospital and will provide an extra level of care, support and monitoring for high risk elective surgical patients who do not require critical care.
"We are delighted that this is just phase one of this development and through phase two we will be able to add another bed to the unit which allows patients undergoing major surgery to be cared for in an enhanced care area afterwards.
"The development of the PACU facilities will mean patients have a longer time with enhanced nursing care which will potentially reduce unnecessary admissions to the high dependency or intensive care unit and improve surgical outcomes."
Professor Mark Taylor, who is the Expert Professional Advisor for Elective Transformation, Department of Health, visited the new unit and had great praise for the Southern Trust team.
He commented: "I was delighted to visit the new PACU in Craigavon and meet Sister Ann Sherry, Dr Raymond McKee and the wonderful staff who will run this well-equipped facility. PACUs protect critical care capacity and reduce 'last minute' cancellation or delay of inpatient surgery. This will support surgical capacity during times of increased critical care activity, such as during emergency surges or winter pressures.
"I would like to thank all the team at the Southern Trust for their enthusiasm, forward- thinking and dedication as we continue to rebuild surgery in the post pandemic era."
Cathrine Reid, Director of Surgery and Clinical Service, added: "This is a fantastic initiative for our Surgical Directorate that will benefit our patients coming in for surgery.
"We were delighted to welcome Professor Taylor to the Unit where he saw first-hand how our Surgery, Anaesthetics, Theatres and Intensive Care team have worked to get this up and running. We are really pleased to be able to offer a more dedicated one-to-one care.
"The higher level of monitoring, more rapid identification and response to any issues encountered will result in better outcomes and a better patient experience all round."
Sign Up To Our Newsletter