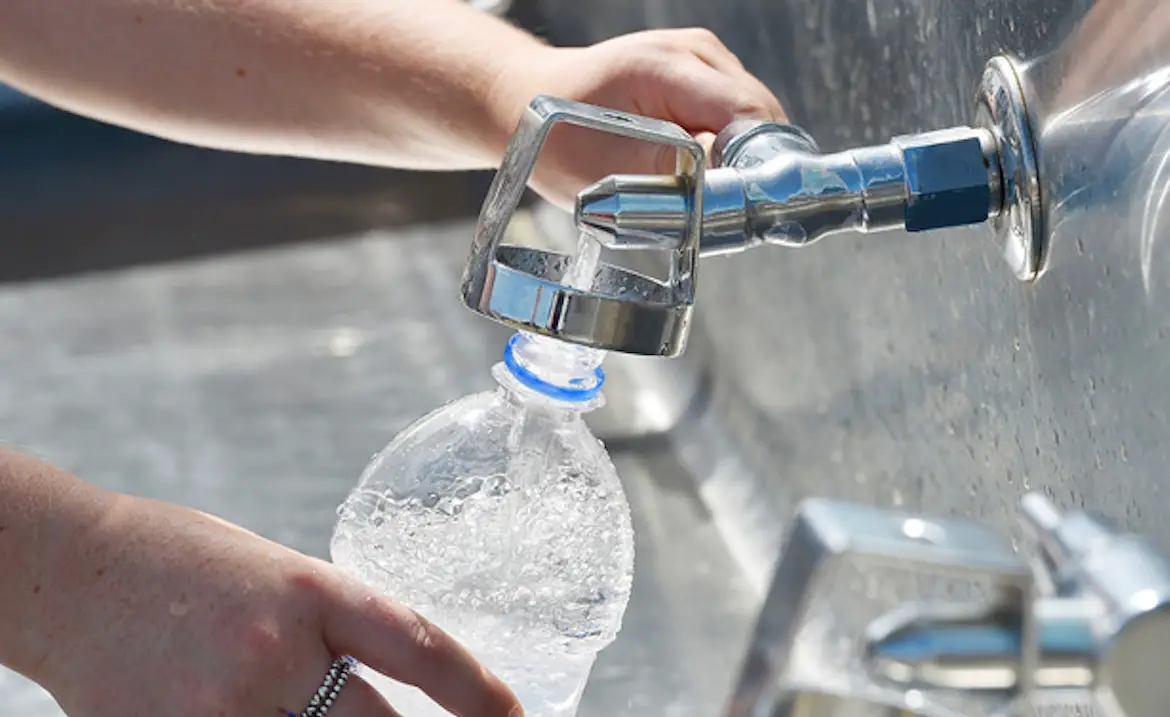 Armagh City, Banbridge and Craigavon Borough Council's officers have told a committee "restricted budgets" mean a motion initially adopted by the local authority in 2019 can still not be fully implemented.
In August 2019, SDLP councillor Thomas O'Hanlon brought forward a motion calling for the local authority to introduce water refill stations across the borough.
In February of this year, four years after his motion was first introduced, Cllr O'Hanlon again raised the issue noting a press release from the local authority advertising 'water refill stations' across the borough.
The Armagh councillor said many of these stations are little more than outside taps and said this was "not in keeping with the notice of motion". He asked officers to bring a report back detailing how and when the notice of motion would be implemented in full.
The requested report was brought before a meeting of the council's environmental services committee on Thursday, June 8.
It explains that in 2020 a funding application to the Sea Change Foundation was unsuccessful and that since then, the purchase cost of the water refill units has "significantly increased".
"The current purchase cost of a stand-alone water station has risen again due to inflation and is in the region of £4,000 – £5,000," reads the report.
"This is before any installation costs, digging out, connection and metered costs are considered. The maintenance costs of a stand-alone water station will be in the region of £250-£300 per year, per station, not including any potential damage arising from anti-social behaviour.
"Costs of this nature are prohibitive within current budgets and have not been included as an additional cost pressure for Council. In addition, matters relating to the siting of units in suitable locations within, for example, town centres, along with maintenance and frequent cleansing of the units adds costs and complexities."
It goes on to note that, at present, there are approximately 50 water refill points at existing outdoor water taps advertised by Council and claims these are managed within each facilities respective budget.
However, speaking at the meeting, Alliance Councillor Jessica Johnston said that while efforts to promote what is already there are welcome, this proposal is not "something we can push off the table".
Council's interim strategic director of neighbourhood services, Jonathan Hayes said officers would look to seek "additional outside funding" in the first instance to see if that could fund some of these water refill points.
Councillor Julie Flaherty said this was an issue Cllr O'Hanlon brought to the chamber "quite some time ago" and asked why, when elected members were in support his motion, it had not be carried through by officers.
"This worries me," she said.
"This was definitely passed through the chamber quite some time ago and the understanding was that it would be rolled out.
"Now we come to this stage where we are sort of being told, 'sorry no can do'. I would like this looked again.
"I don't really think it has been advertised that well and it has most certainly been raised by Councillor O'Hanlon so never mind new proposals or whatever, this was already a decision of Council and should be carried forward as such."
Addressing Cllr Flaherty's concerns, Council's environmental services transformation director, Gillian Topping, said the current implementation is a result of "restricted budgets" and acknowledged this "may not be in line with what members had hoped" would happen.
"Regrettably for all of us it is very challenging as we deal with more restricted budgets. The issue around this is officers have designed and installed facilities in order to promote what is available there," she said.
"I know members may not see that as in line with what they thought would happen or, what they hoped would happen, but officers have tried to design signage in order to promote where water is available at our facilities without putting in a particular unit.
"For now, my understanding is that officers have promoted where these sites are and will continue to do so as we work within the restricted budgets we have available to us."
Bringing the debate to a close, the committee's Chair, Councillor Keith Haughian said it was clear a key component of this decision was cost and advised that if officers can find external funding it "would certainly help make the decision easier in the chamber".
Sign Up To Our Newsletter