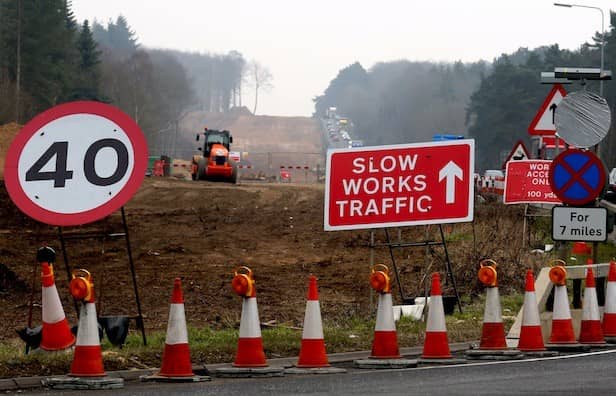 Roads Service staff have delivered schemes totalling £19.3 million across Armagh, Banbridge and Craigavon in the past financial year.
But budgetary pressures have meant that roads maintenance has not been at the same levels.
TransportNI Southern Divisional Manager, Simon Richardson, commended roads staff and contractors for the successful completion of road schemes in 2014/2015.
Speaking ahead of this evening's meeting between TransportNI and Armagh City, Banbridge and Craigavon Council, the Divisional Manager said: "The current budgetary pressures have meant that TNI has not been able to deliver the usual level of maintenance on roads in recent months.
"Efforts continue to be made to seek additional funding through monitoring rounds but TNI are only able to deliver a skeleton service currently.
"That means that only the highest priority potholes will be repaired and gully emptying and grass cutting services are being provided on a reduced scale.
"There will be limited maintenance of white lines and only one quarter of the required resource available to repair street lighting outages.
"Contractors will still be employed to carry out electrical inspection and testing of street lights and the repair of hazardous electrical and structural defects.
"However despite the cuts, a wide range of road improvement and maintenance schemes were completed in 2014/15 in the Armagh City, Banbridge and Craigavon area and a number are planned or already complete in the current financial year."
At the meeting Mr Richardson outlined a number of improvement and maintenance schemes that were completed in 2014/15.
He said: "I am pleased to note that sightline and junction improvement schemes completed include A3 Monaghan Road / Knockbane Road Junction, Middletown and A26 Tullyraine Road / Old Bann Road, Waringstown.
"Other significant areas of work completed by the Division include a bridge replacement scheme at Mowhan Bridge, Markethill as well as the provision of the one way link road at Gospel Lane, Banbridge.
"Works completed in 2014/15 also include carriageway widening on Northway between Seagoe Road junction to the traffic signals at Kernan loop and also a traffic management and resurfacing project A3 Friary Road / Dobbin Street junction, Armagh.
"Approximately 122 lane km of carriageway was resurfaced in 2014/15 at locations including A3 Irish Street, Armagh; A3 College Hill, Armagh; B2 Lurgan Road, Dromore; A3 Lake Road, Craigavon and A50 Gilford Road Portadown."
Read more news:
Papal visit to Dublin in 2018 likely; invite extended from Armagh
Police keen to speak with driver involved in collision with cyclist
Owen Creaney murder: Pair to be arraigned in November
Anger at handling of plans to close a second rural primary school
Become a member
Support local, independent businesses by becoming an independent member.
Become a member