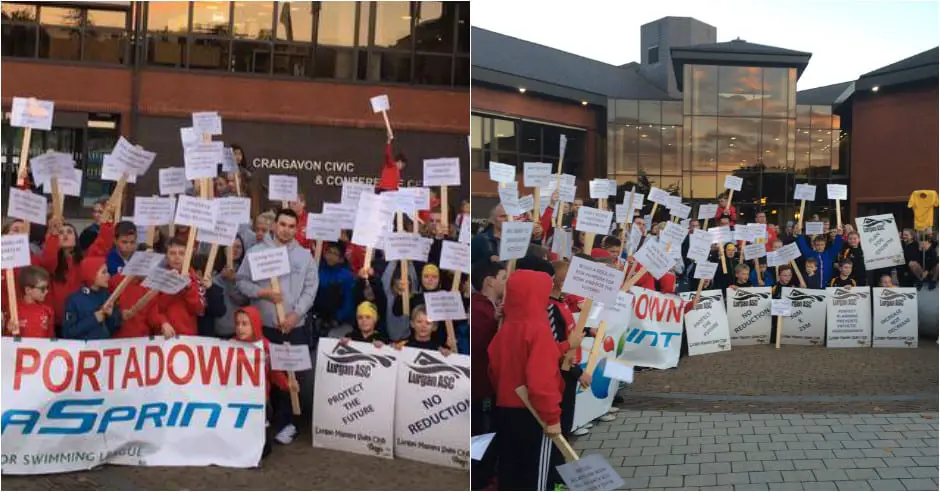 A protest group which gathered outside the Civic Centre in Craigavon tonight to fight proposed plans for the £30 million leisure centre have had their voices heard.
The group, led by Portadown Swimming Club Head Coach, Conor McKeown, cancelled their lessons to picket outside council HQ before this evening's full monthly meeting.
Mr McKeown says the proposed plan for the 50m x 17m swimming pool is not fit for use and will cause problems down the line.
And it seems the protest had the desired effect, with council members agreeing to hear the concerns of the group.
"It was mostly positive engagement tonight," Mr McKeown told Armagh I.
"A lot of councillors stopped and talked to us on their way into the main council meeting. They were very receptive to everything we were saying and they assured us they were going to ask the right questions of the project board and council officers.
"They are going to ask for their proof that this project is going to be fit for purpose because it's contrary to what we're saying."
He added: "We want them to engage the stakeholders which, as part of a public procurement process, should be a very formalised and audited procedure that they should have followed.
"Until now, there has been zero analysis of our requirements. The council has now voted to give us a stay of execution. They were going to propose pushing ahead with this project, which is why we cancelled lessons and mobilised our swimmers tonight.
"We have achieved what we set out to achieve. At least we have an opportunity to make a presentation to the project board which will be open to all the councillors. We can show there are serious flaws and take answers from them which is something we have been unable to do."
Mr McKeown believes the new pool, which is replacing three leisure centres across the borough, will fall short of the requirements to function and benefit the community.
"Our concern is that there has been no engagement with us as stakeholders, the competitive swimming clubs in Portadown and Lurgan," he said.
"There has been no consultation with us at all. This project seems to have grown a set of wings over the last eight weeks.
"It became very apparent this project was going ahead no matter what. We have a growing membership, with growing waiting lists. It became blindingly obvious to us that there wasn't going to be enough capacity in the pool. It will be nowhere near as versatile as the pools they are replacing today.
"Going back to basics, it's less pool space than what we have currently and less than what we were promised in 2010."
He continued: "It's 50m long but only 17m wide as opposed to the standard 25m. That in itself wouldn't normally be a problem, but we have proven that it severely limits the way in which the pool can be divided up and used by various parties at the same time.
"Our whole campaign has been about this capacity. It's as much about their benefit too because if they make it 25m wide, it means that space can be utilised fully.
"Everyone now accepts that the three pools are history and they're to be replaced by a single pool. Nobody is campaigning for the three pools to remain. We know the council has made a decision on a feasibility scale, on running three centres as opposed to the one, but it's simply not good enough. It's less pool area than what we have today.
"If ourselves and another club books the pool, that'll be it at full capacity for an evening and if the public can't get in, they'll go ballistic if they can't get a swim in a new facility that costs over £30m."
Read more news:
Major extension at Hamilton Court now up for approval just one year after closure threat
Sheep slaughtered and farmer pounced upon in frenzied dog attack
Firefighters tackle huge blaze at county Armagh industrial unit
Three people taken to hosptial following two-vehicle crash
GP services 'at the point of collapse' – it's time to stop denying there is a problem
Bridesmaid lands dream wedding band for best friend after Facebook post goes viral
New Irish language centre team appeal for votes to win 'jobs and investment' funding
Council postpones pavement cafe licence fees as fears voiced some could close
Armagh's custody suite to be closed as part of £1 million savings plan
Archbishop of Armagh in joint invitation to Pope Francis 'to visit Ireland in 2018'
Sign Up To Our Newsletter