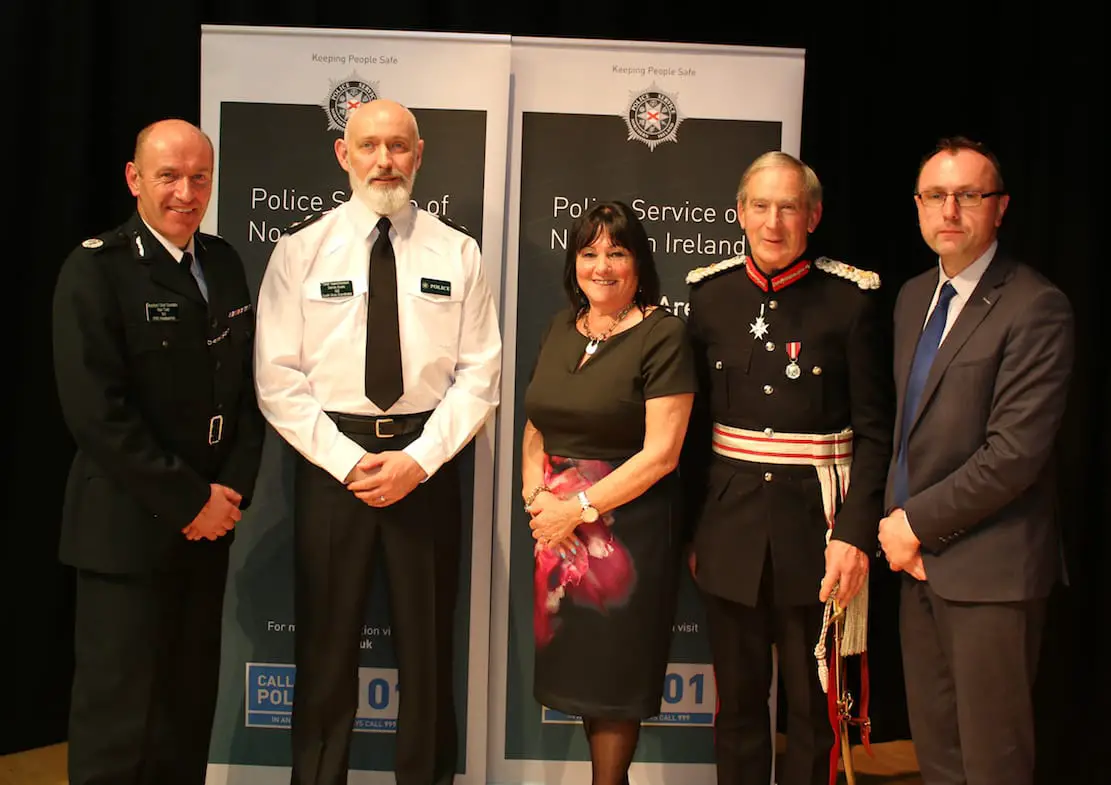 Officers, staff and members of the public from across the six Policing districts in South Area were honoured at a Recognition Ceremony in Craigavon on Thursday evening (April 19).
An invited audience heard stories of bravery, ingenuity and good police work at the event which was attended by Assistant Chief Constable Alan Todd, Northern Ireland Policing Board Chair, Anne Connolly, and David Lindsay, Lord Lieutenant of Co Down as well as a number of elected representatives.
Over 200 officers, staff members, teams and members of the public were acknowledged for their efforts to investigate, apprehend offenders and save lives.
Chief Superintendent Darren Evans said: "I am both humbled and delighted to have been able to hear these stories of resourcefulness, skill and courage.
"I am filled with a sense of pride with regards to the exceptional achievements of our officers, staff and indeed members of the public who continuously and selflessly support Policing in our efforts to Keep People Safe by preventing and detecting crime, protecting the most vulnerable in society and bringing offenders to justice.
"We would be unable to deliver this level of service without the support of our local communities."
Chief Supt. Evans also thanked the six local Policing and Community Safety Partnerships (PCSPs) who supported the event.
A number of officers, members of staff, teams and members of the public were congratulated for their achievements, all of which are deserving of praise. Here are just a few examples from across the six Policing Districts in South Area.
Royal Humane Society commendations were awarded to a number of officers who performed life-saving first aid following reports of a suicidal male in a rural location.
Audience members heard how the swift actions of officers from a number of disciplines undoubtedly saved this man's life.
Chief Constables Commendations were presented to a number of Police officers who demonstrated professionalism when faced with a horrific scene following a fatal road traffic collision involving a car and an HGV.
Area Co-Ordinators Commendations were presented to a number of officers, including some who were first on the scene at a fire in a high rise block of flats.
With no regard for their own safety, officers entered and began evacuating the premises until the Northern Ireland Fire and Rescue Service (NIFRS) arrived.
Luckily there were no serious injuries.
An 'eagle-eyed' CCTV operative was also commended for spotting an assault, directing crews to the scene. As a result, a vehicle was stopped and officers found a number of offensive weapons inside.
Two men were arrested. The CCTV operative was also applauded for their part in detecting 17 drink drivers and nine thefts.
District Commander Commendations were presented to officers, staff and members of the public from across the six Policing districts. Audience members heard stories of compassion and heroism including details of an officer coming to the aid of a colleague who was being attacked by a suspect during an arrest.
The suspect gouged the officer's eyes and bite his ear. Despite suffering serious injury, the officer subdued and restrained the suspect.
Officers were also praised for their actions in rescuing individuals believed to have been exploited by an organised crime gang. Plaudits were also afforded to officers and a staff member who helped a gunshot victim who was losing a lot of blood, offering first aid until the Northern Ireland Ambulance Service (NIAS) arrived at the scene.
Audience members heard many more stories of courage and compassion from officers right across Lisburn and Castlereagh; Ards and North Down; Newry, Mourne & Down; Armagh, Banbridge and Craigavon; Mid Ulster; Fermanagh and Omagh.
Policing Board Chair, Anne Connolly, said: "Every day good policing work goes unnoticed – and attention is more often directed when something goes wrong, so it's important that we take the opportunity to highlight the efforts that go on behind the scenes, day in, and day out.
"These awards shine a light on the stories that don't always grab headlines but are, without a doubt, acts that can change and have enormous impacts on people's lives.
"I would like to thank all the officers and staff of the PSNI for their service and the work they do on our behalf. "
Sign Up To Our Newsletter