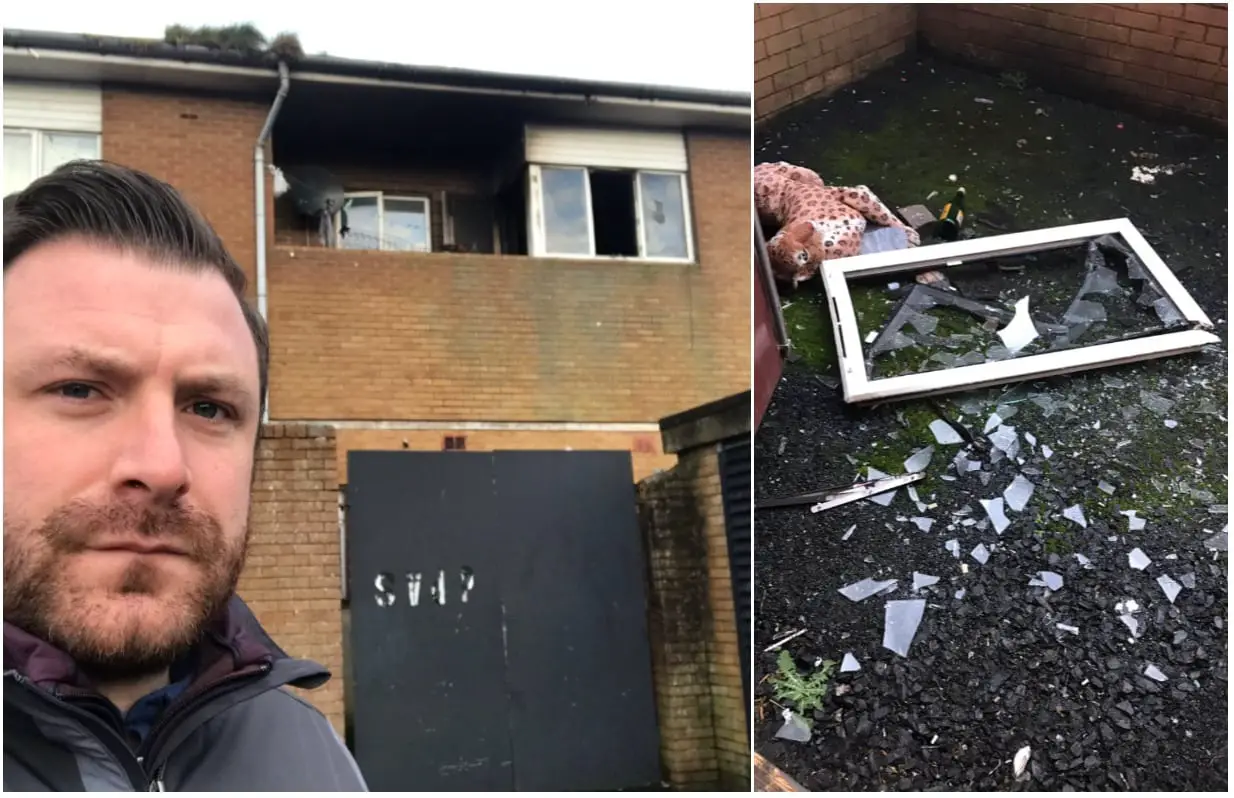 Two consecutive weekends of incidents at flats in Craigavon have left residents increasing their calls for them to be torn down altogether.
Police were called to a flat in Moyraverty in the early hours Monday morning following a suspected arson attack – the second such incident in as many weekends.
As a result of the blaze, the St Vincent de Paul charity shop underneath was flooded. A separate incident on Saturday night left another ground floor business flooded on Sunday.
The weekend before saw another arson attack on a property just a few doors down.
SDLP representative Thomas Larkham says the flats have been a problem for years and that recent incidents have only heighten calls for them to be bulldozed.
"Local residents and business owners are being driven to despair and have had enough," he said.
"These flats have been problematic for years with a lot of anti-social behaviour. It's a community hub here, with shops below the flats. And because of problems above these shops, businesses have been left picking up the pieces on many occasions.
"We're three weeks into 2018 and already there has been a number of incidents."
A number of years ago a nearby block of flats was demolished following a large-scale fire.
"Thankfully nobody has been injured in these latest spate of incidents but the biggest fear in the community is that somebody is going to be killed there if nothing is done," said Mr Larkham.
He added: "Of course there has been a huge outcry to have these flats pulled down and I would agree with that being the ultimate solution to the problem but the Housing Executive need those single occupancy dwellings for that very reason – single people.
"SDLP have requested an urgent meeting with the Housing Executive and we'll be asking for them to be pulled down but that won't be an easy sell.
"At the end of the day, this is a good community which has been allowed to fall into social deprivation; deprived of money and resources.
"You just need to look around. There's a school right beside these flats; a community centre across the road, but there hasn't been any direct investment from anyone in a long time.
"There has been millions pumped into Craigavon, and Brownlow in particular, but this area has kind of stuck in limbo."
Mr Larkham said residents have raised questions over the legitimacy of some of the flats' occupants – saying many lie empty during the week before coming to life for parties at the weekend.
"I'm told a lot of these flats which are occupied by people are being used as benefit drops," Mr Larkham explained.
"There would be people in these flats who would be living elsewhere during the week and at the weekend – from Thursday onwards, it's a constant party, according to neighbours and residents in the area.
"They go there to party over the weekend and head elsewhere during the week."
Mr Larkham admits the solution wouldn't just be to pull down the flats and displace the problem but that some investment would help alleviate the issue.
"It's a fantastic area, with a drama society, charity shop and community centre, which serves the community well, but ultimately it has been allowed to fall into a socially deprived state due to that lack of investment."
Sign Up To Our Newsletter