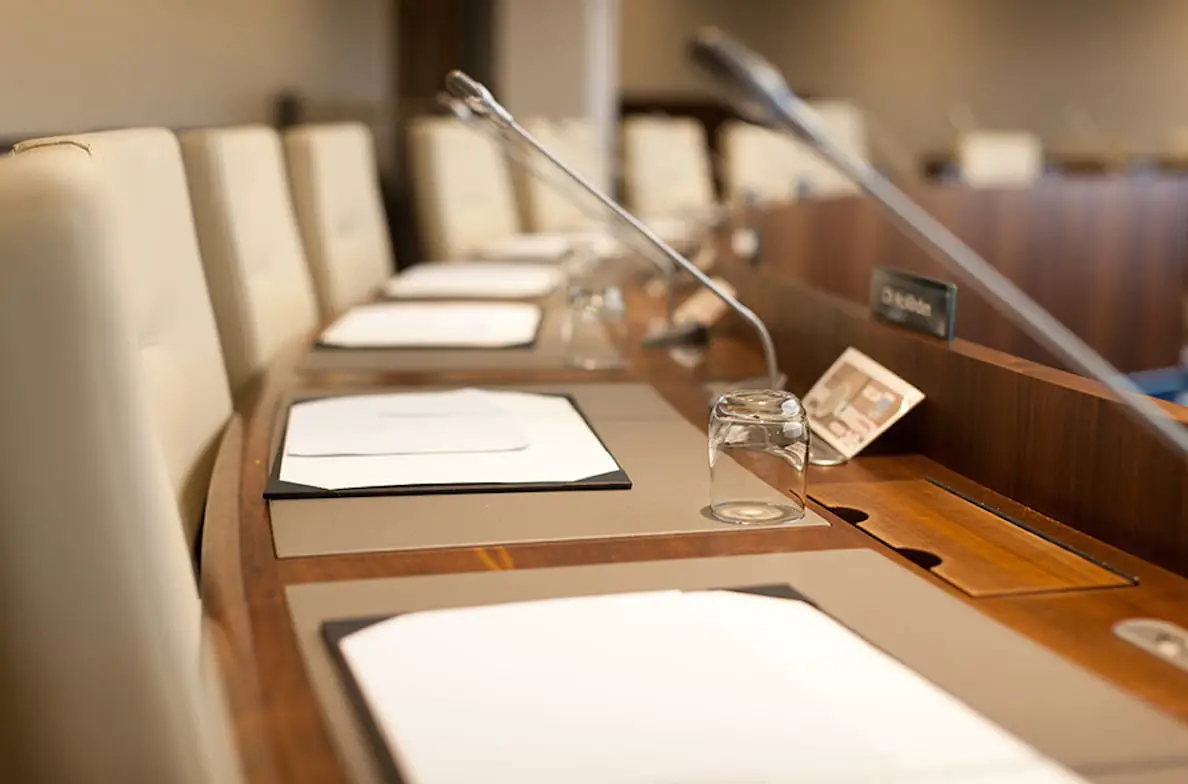 A motion for the ABC Council to celebrate 100 years of Northern Ireland in 2021 passed with a unionist-dominated vote on Monday night.
DUP councillor Mark Baxter tabled the proposal at last night's meeting of full council in a bid to "highlight Northern Ireland's strengths".
The motion, hotly-debated in chamber at the Craigavon Centre Centre, went to a vote and was split with most of SDLP and Sinn Fein voting against, but the majority unionist vote saw the motion agreed upon.
However, Sinn Féin Councillor Darren McNally said the motion was an attempt to "rewrite the history of the brutality, discrimination and repression created by partition".
He said: "Partition is characterised by conflict, death, collusion, a lack of truth and justice and rights denied to the LGBT community, Irish language speakers and women.
"The motion is typical of this unionist-dominated council which continues to ignore and treat with contempt other perspectives and experiences.
"A council that has spent £40,000 on ceremonial robes, £90,000 for Queen Elizabeth's birthday celebration and £250,000 for a narrow perspective of World War I related events now wants to isolate nationalists and republicans further with this additional frivolous spend.
"A century of partition witnesses led half a century of unionist misrule, institutionalised structural and regional inequalities which will take generations to reverse.
"The forced partition of Ireland failed both working class protestants and catholics on both sides of the border.
"Those who faced the brunt of the Orange State will see nothing to celebrate and we concur.
"The failure of partition should not be celebrated."
New Aontu representative, Fergal Lennon, said he doesn't support the motion.
"The partition of Ireland has had a dramatic and negative effect on the economy and society of the north of Ireland.
"The government in London has ignored the economy in the north for generations and with the threat of Brexit we need to start to reverse the division on this island.
"The all-Ireland economy is the best way to ameliorate the threat of Brexit. We now need to create an all-Ireland convention to map out what Irish unity will look like."
SDLP Councillor Thomas O'Hanlon branded the motion "a pre-election stunt" and that the intention behind the motion was "clearly to stoke up tensions in the Council chamber just weeks before the Council election".
"Our March Council meeting descended into a farce with insults being batted back and forward across the chamber," said councillor O'Hanlon. "It was embarrassing and deeply disappointing."
"At a time when thousands are on waiting lists for surgery or even a first appointment to see a consultant, when school leaders are crying out for finance not to mention the fact we have no government here, we have the DUP brining forward a notice of motion to commemorate the foundation of Northern Ireland. It tells me they are not interested in the present, just the past."
He added: "Last night was electioneering at its worst. It was about creating a headline to distract from the political crises around Brexit, the numerous scandals from foreign holidays, Red Sky to RHI and the failure of the big two parties at Stormont to get their acts together and form a government.
"People are sick, sore and tired of this petty politics. If the general public had been observing the meeting they would have been disgusted at their political representatives who are supposed to be there making this a better place.
"The partition of Ireland and the creation of Northern Ireland mean two very different things to our communities.
"However instead of approaching this period, which is still two years away in a sensitive, inclusive or respectful way, some decided it was time to get the old election gloves off. It was pathetic.
"Those behind the motion knew full well what they were doing, it was about poking nationalism in the eye. They knew how nationalism would react and in a Unionist dominated council it was about putting nationalism in its place.
"I felt sorry for those behind the motion. But then again if the DUP continue with their current Brexit strategy at Westminster, they will soon realise they are doing more to ensure Irish Unity becomes a reality a lot sooner than many imagined."
The DUP's group leader Mark Baxter stated: "As Northern Ireland approaches its 100th Anniversary there is much to celebrate, our Province continues to punch well above its weight in a whole host of areas.
"Of course one very exciting and unifying element is sport and we have many great sports people, teams and clubs who have represented Northern Ireland over the years and brought great success to the Province in their chosen field.
"Our motion brought to the Council on Monday evening follows a similar theme as that of previous proposals to celebrate milestones and I feel that as ABC Council is within Northern Ireland, it is only fitting that we celebrate this important and historic milestone.
"The debate towards the later stages had some 'back of the cupboard' responses from political representatives who have ideology which differs from mine, however it is also glaringly obvious that they too live in Northern Ireland and quite happily do so. I know hundreds of thousands of people really enjoy living here and calling Northern Ireland their home.
"I look forward in the future to our Council creating various assistance schemes to help our Borough celebrate this important anniversary and I know that a great many people will also want to help our Borough celebrate. Northern Ireland has many more productive and enjoyable years ahead."
Sign Up To Our Newsletter