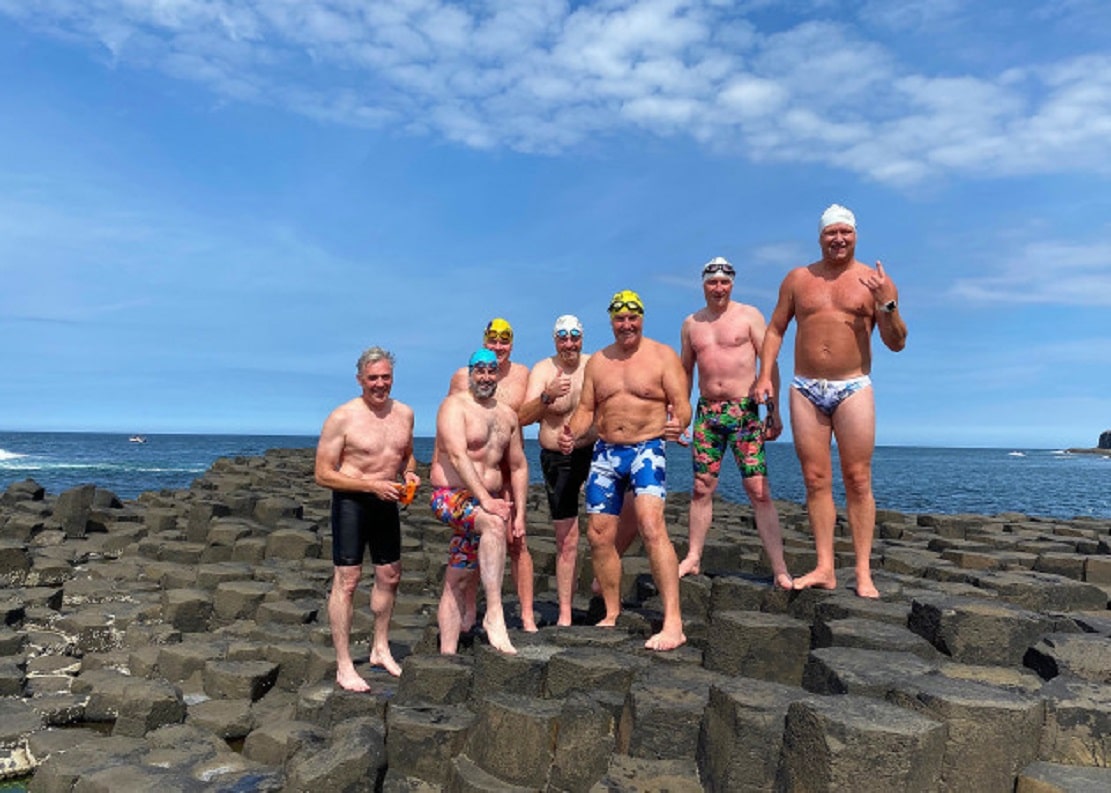 It's official! A number of local men are among a group of six swimmers who have set a new world record  – their third in under a year.
The Oa Giants were told yesterday (Monday) that their 72-mile swim across St George's Channel from Ireland to Wales earlier this month has made it into the Guinness World Records.
Portadown man Chris Judge, who manages Ashgrove Community Centre on Portadown's Garvaghy Road, said it had been a long, difficult challenge, beset by jellyfish, sea sickness and rough conditions.
At one point, the group (so called because of their first swim across the Oa Channel)  was joined by a school of 15 inquisitive dolphins, intrigued by what was taking place in their home waters.
The team, consisting of Colin Lindsay (living in Richhill and originally from Banbridge), Keith Garry (originally from Craigavon but now living in Newry), Bill Donnelly (Newry), John McElroy (Newry) and Dominic Mudge (Belfast), set off from from Co Wexford on June 5 for the Pembrokeshire coast.
Taking it in turns and swimming for an hour at a time, it took them 34 hours and 25 minutes to cross the channel, including through the inky darkness.
Chris, a father of three boys and the founder of open water swimming group the Lough Neagh Monster Dunkers, kicked the event off by volunteering for the first leg but explained that it wasn't the most promising of starts.
"The conditions were poor so the start was delayed which meant we had to sleep in our cars overnight," he said.
"We were up at 5am, cranky and stiff , and it was windy and rainy. If they had called it off, we would have been happy!"
Once in the water, the 39-year-old had to battle hundreds of jellyfish and rough conditions, and back onboard it wasn't much better.
"I took a serious bout of seasickness and for a good 10 hours I couldn't sit down or eat on the boat. I had to stand at the back, breathing in," he said.
The most traumatic part for him, however , was the night swim, especially as he is totally blind in his left eye and affected by glare in his right eye, making it hard for him to see where he was swimming.
"I could feel a lot of things hitting me in the water, and I had cramped up in the leg from the cold … it was the longest hour of my life," he said.
Keith took on the next leg, and what Chris had felt hitting him in the water turned out to be a pod of  dolphins, some "swimming belly to belly" with the Newry man.
The swimmers were supported by boat pilot Padráig Mallon of the Co Armagh-based Infinity Channel Swimming, co-pilot Adrian Poucher and crew Milo McCourt and Jacqueline McClelland.
"The crew were unbelievable, watching over us, navigating us, they were absolutely brilliant,"" said Chris.
The Infinity team said they had been eyeing up St George's Channel for a number of years, and paid tribute to local fishermen and the RNLI for lending their expertise.
They said that to ensure swim readiness each team member was tasked with completing the Battle of Carlingford Lough swim a – a 7.3K swim from Omeath to Carlingford – two weeks before their swim date.
The OA Giants set two world records last year, swimming the Oa Channel from the Isle of Islay in Scotland to the Giant's Causeway as well as the North Channel between Northern Ireland and Scotland.
The men, meanwhile, are hoping to be presented with their awards at the Irish Long Distance Swimming Association's annual ceremony in the autumn.
Sign Up To Our Newsletter