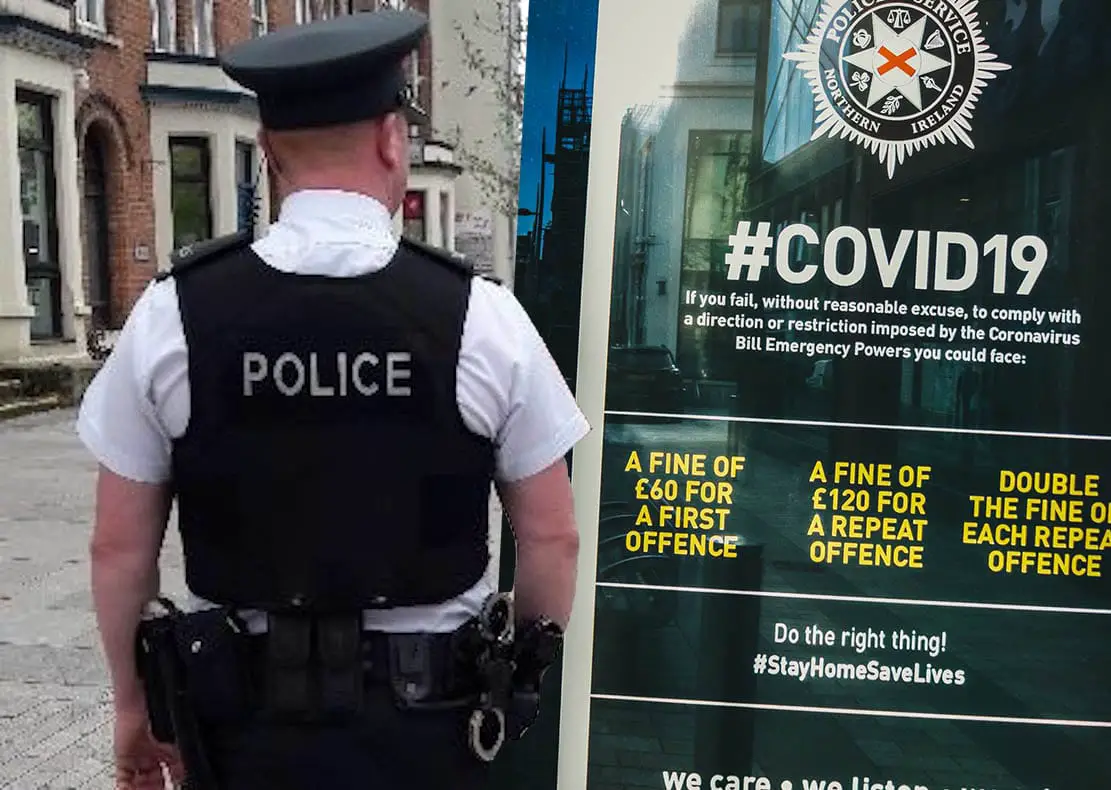 A Craigavon man who declared "I have f***ing Covid" and spat at police has been given a chance after having his sentencing deferred for six months.
Warning the 24-year-old, the deputy district judge commented: "Eighteen months is the maximum I can give him and 18 months is what I am going to give him if he reoffends."
Darren Pio Marshall, of Loughview Grange, entered guilty pleas to a total of 12 charges at Craigavon Magistrates' Court on Friday, via videolink from Maghaberry.
He admitted driving whilst disqualified, using a vehicle without insurance, taking a vehicle without authority, five counts of assault on police, two counts of criminal damage, disorderly behaviour and resisting police.
Prosecution outlined that these charges were accrued by the defendant over two separate incidents which occurred last year.
Court heard that on February 19, at 4.40pm, police observed and followed Marshall driving a Vauxhall Agila on Charles Street, Lurgan.
Police systems showed that the defendant was not named on the insurance policy. As he got out of the vehicle he was spoken to and confirmed this to be the case.
It was later established that the vehicle belonged to Marshall's mother and he had taken it without permission. The defendant was also found to be a disqualified driver.
Marshall made full admissions to all of these offences when questioned by officers.
Then on October 30, at 8.45am, police attended Carrigart Cresent, Craigavon, in relation to an unrelated matter.
Upon arrival, officers located the defendant, who appeared to be intoxicated, which was in breach of his bail conditions.
Marshall told police that his mother, with whom he lives, had previously tested positive for Covid and that he had no sense of taste or smell.
The defendant then proceeded to cough and breathe on officers. He was taken to the ground where he bit one constable on the right knee.
Marshall also spat at the officers shouting "I have f***ing Covid", with limb restraints and a spitguard having to be applied.
When placed in the police vehicle, the defendant kicked out, denting the bodywork, and spat inside with it requiring a deep clean.
Whilst in custody, Marshall initially refused to take a Covid test but later engaged. Prosecution had no notes on the results of this.
Defence barrister John McCann stated that his client had been sentenced to 30 months probation in the Crown Court on Thursday and asked that the defendant be "given a chance".
Deputy District Judge Chris Holmes commented that he was not in the mind to give Marshall a chance but due to the Crown Court ruling his hands were "somewhat" tied.
He stated: "I am going to defer sentencing for six months. If he behaves himself he will not be looking at a lengthy custodial sentence, but if he does he will.
"Eighteen months is the maximum I can give him and 18 months is what I am going to give him if he reoffends."
The case was adjourned until November 19 for sentencing.
Sign Up To Our Newsletter