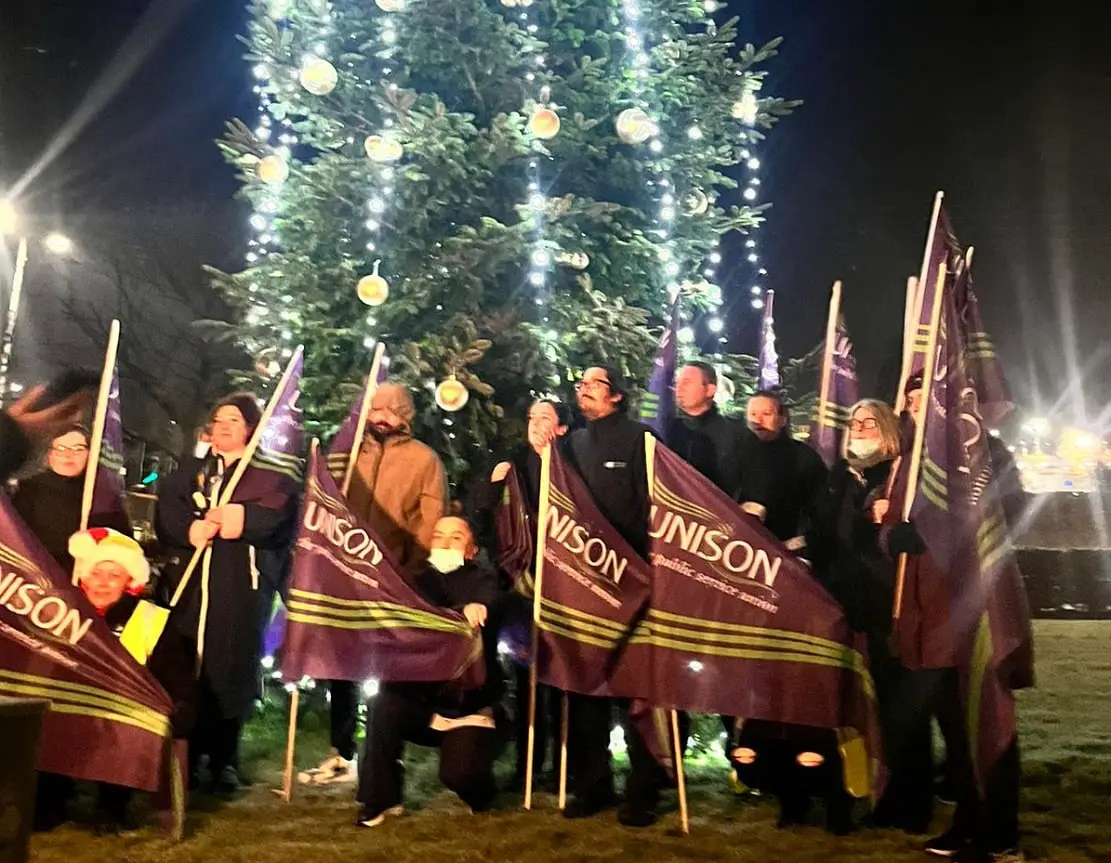 Health service workers from Craigavon were on the picket line at one minute after midnight, at the the start of a strike over pay and conditions.
Despite the freezing conditions and the early hour, members of Unison gathered to make the strength of their feelings known.
In a tweet, regional secretary Patricia McKeown said: "Our members don't just threaten strike action against an unacceptable pay offer – they take it."
They are one of three unions – the others are Nipsa and GMB –  taking part in the 24-hour action today (Monday).
It is the first strike by health sector staff since 2019 and involves clinical, professional and administrative staff.
The Southern Health and Social Care Trust said  it is working closely with the unions to protect critical services but that some services will be disrupted.
Around 300 outpatient appointments have been postponed across the trust's hospitals along with 50 inpatient and day case procedures.
🥶 The temperatures sub zero but spirits are high at the UNISON Craigavon Hospital's Branch picket line today.

Nightshift workers at the hospital stepped out at 12.01am and the picket has continued to grow throughout the morning #Healthservicestrike pic.twitter.com/k6Wxg42hc0

— UNISON NI (@UNISONNI) December 12, 2022
All older people's day centres and learning disability day centres will be closed and the homecare service will also be affected.
In a statement, Nipsa deputy general secretary Pádraig Mulholland called for "inflation busting pay rises for all health service workers and an end to the chronic understaffing that puts lives at risk".
He said: "We cannot have a decent health service if thousands of posts are vacant and the staff are living in poverty.
"The health service heroes who fought the Covid pandemic are now fighting for the future of our health service. They know this is a fight we cannot afford to lose.
"Either we win or our health service will continue to degrade and be at the mercy of the money-grabbing profiteers."
A £1,400 per pay band increase offered by the Department of Health (DoH)  – in line with workers in Scotland, England and Wales – has been rejected.
Anne Speed, head of bargaining and representation with Unison, said that even with the rise, members will continue to feel "real financial pressure".
She said: "A pay rise has been due since last April. Inflation is running at 11 per cent and our members are now on industrial action to secure protection from rising costs and increased threat of poverty.
"We know that DOH officials listened carefully during the many times we challenged the breaking of pay parity.  But they, and we, know now that even with this adjustment our members will continue to feel real financial pressure.
"Without protection against inflation pay workers essentially suffer a pay cut."
Sinn Féin MLA John O'Dowd  said the pay award announced by the department falls short of what is required to ensure workers have fair pay and safe staffing.
The MLA said: "Health workers in England and Wales received the £1,400 payment months ago that the department has announced only now.
"The health unions have already made it clear that this falls way short of what is required to ensure workers have fair pay.
"This won't address the key challenge posed by unsafe staffing levels which is necessary to ensure that patients and health workers feel safe."
Meanwhile, the Royal College of Nursing (RCN) will take part in its largest strike action across Northern Ireland, England and Wales this Thursday as well as on December 20.
Its general secretary Pat Cullen said industrial action could be called off if the UK health secretary negotiated over pay but this was rejected by the government.
Sign Up To Our Newsletter