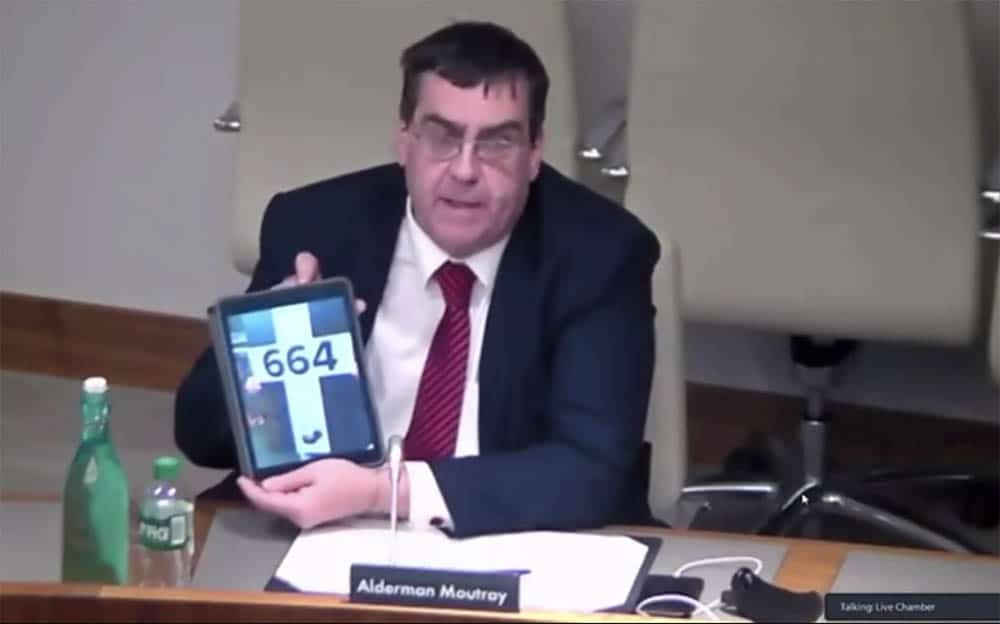 A DUP Alderman has highlighted, what he claims is, the "irony" in a Sinn Fein motion aimed at addressing the climate crisis.
Alderman Stephen Moutray made the comment during a debate on a motion regarding fracking, at the month ABC Council meeting earlier this week.
The Lurgan representative said there was an irony in Sinn Fein bringing forward this motion when compared to the party's stance on abortion.
"I want to make the point and put it on the record that the irony cannot be lost in relation to the time that Sinn Fein would have us spend…on what is a hypothetical motion," said Councillor Moutray.
"They do so in the very week where we see in Northern Ireland that 664 babies have been killed by abortion.
"There is no concern from Sinn Fein for those lives and there is no concern from the Alliance and many other parties in this chamber."
The motion's proposer, Sinn Fein Councillor Brona Haughey took objection to what she described as a "random reference to abortion".
"The reference to abortion has no reference to this motion whatsoever," said Councillor Haughey.
"I would advise Alderman Moutray to consider the women in his life that he knows, or is friendly with, and those that sit in this chamber and consider there body autonomy as well."
The motion on fracking itself – brought forward by Councillor Haughey – called on council to recognise that we are in a climate emergency and called on the Minister for the Economy to place an immediate moratorium on all licences and called on the Minister for Infrastructure to deny permitted development right to any company seeking to prospect for oil and/or gas.
Before the motion was debated, the chamber was informed that members of the planning committee had received legal advice in relation to this motion.
As a result almost all members of the planning committee opted to take no part in this matter.
DUP group leader, Councillor Mark Baxter then urged caution on proceeding with the motion.
"I would venture to say if there is legal opinion on this matter all members of council could sit on the planning committee in the future and as such, I would be cautious about this debate," said Councillor Baxter.
Council's Strategic Director of Position, Sharon O'Gorman said the motion before members concerned permitted development rights and licences.
"A planning application must be decided on its merit. If the Council does approve the motion that would not mean an application will be refused," said Ms O'Gorman.
"It would have to be decided on its own merit."
Councillor Baxter said he was still unsure if the debate should be had by members who could eventually sit on the planning committee.
The Lord Mayor, Councillor Kevin Savage then decided the motion would be heard.
Councillor Haughey said it was an important motion and said she was concerned that some members think fracking could be something to consider in the future.
Councillor Haughian said he was "more than happy to second the motion" and claimed "pumping hydrochloric acid into the ground will have a direct impact on our drinking water and food chain".
SDLP group leader Councillor Thomas O'Hanlon said his party were against fracking and proposed an amendment to the motion.
He said the Infrastructure Minister, his party colleague Nichola Mallon MLA, has moved to remove permitted development rights for oil and gas exploration.
The amendment was accepted by both Councillor Haughey and Councillor Haughian.
Alliance Party councillor Peter Lavery, a member of the planning committee, said both he and his party supported the motion and called for investment in green and renewable energy sources.
Councillor Baxter said the motion has been doing the rounds and said it is hypothetical as "there are no current applications" involving fracking in the planning system.
"There was one in Fermanagh and they amended it to remove the need for fracking," said Councillor Baxter.
"When we listen to Councillor O'Hanlon this motion has become null and void."
Councillor Baxter then proposed to amend the motion.
The amended motion read: "This Council, recognising we are in a climate emergency and being aware of public concern and opposition to the use of hydraulic fracturing (fracking), notes there are currently no applications in Northern Ireland to use fracking.
"It calls for all decision on any future applications to be taken by the Northern Ireland Executive as a whole."
The amended motion was seconded by DUP Councillor, Darryn Causby.
The amendment was rejected by Councillor Haughey.
Speaking about the amendment, Councillor Causby said it was rejected "possibly, without thought".
"One would have thought the party bringing this motion forward would have understood the strength of their position if this was brought to the Assembly," said Councillor Causby.
"I think actually the appropriate message from this council would be that the Northern Ireland Executive take the responsibility for this issue.
"This would mean that every application of this type would never come before Council anyway and hopefully, our colleagues who brought this motion forward, can bring the issue to their government ministers.
The proposed amendment was then put to a vote with DUP and UUP members present voting in favour of it. Alliance Party, SDLP and Sinn Fein members present voted against it.
The decision of Councillor Peter Lavery to vote on the amendment caused some annoyance in the chamber, with Councillor Baxter questioning his inclusion, following the legal advice received on the matter.
When asked by the Lord Mayor if he had excused himself from the debate Councillor Lavery said: "No, I voted on the issue, I am here to represent my constituents, thank-you."
The Lord Mayor told the chamber the decision to excuse themselves following the legal advice was for each member to take and, as such, Councillor Lavery's vote stood.
Despite Councillor Lavery's vote, the amended motion passed with 14 members voting in favour of it and 13 voting against it.
Ulster Unionist councillor Jill Macauley said she thought members were "dancing on the head of a pin" with this motion.
"Our party is on record as being opposed to fracking," said Councillor Macauley.
"We want to see steps taken to achieve a net zero carbon economy and we are happy enough to support this amended motion."
Alliance Party group leader, Councillor Eoin Tennyson said following the amendment he did not believe the motion was "competent".
"It is not for this council to determine what is decided by the Executive and I take some exception to claims that these parties take the climate emergency seriously when they vote to remove any mention of fracking."
Councillor Haughey said she did not know how best to bring this debate to a close but said she was happy to let the motion proceed.
The amended motion was then carried.
Sign Up To Our Newsletter