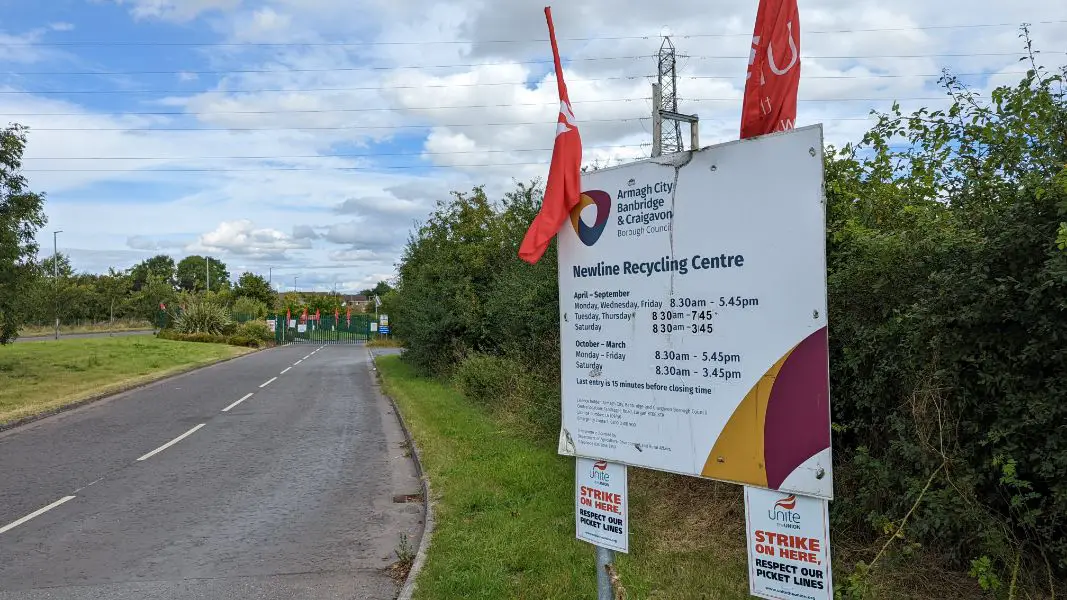 The chief executive of Armagh, Banbridge and Craigavon Borough Council says union demands would mean "a double digit rates increase" which is something "the ratepayer cannot afford".
In a letter to all Council staff, CEO Roger Wilson, says he, along with the senior management, are "working hard to find a way forward to reach a satisfactory outcome that will bring this dispute to an end".
Currently, an agreement has been met on harmonisation of pay scales and conditions across the entire borough, something which had not been in place since the amalgamation of legacy Councils in 2014.
A one-off hardship payment of £1,800 for each staff member has also been agreed upon, however, Mr Wilson insists this "large payment is in recognition that incremental points are not on offer".
Currently, the impasse surrounds this disagreement. Unions want a points increase on the pay scale, which would mean an increase on their annual pay, something the Council insists it cannot afford.
For those on the lowest scale, the National Pay award of £1,925 represents a 10.5% increase (an average of over 7% for all
staff) with the £1,800 one-off payment equating to 9.82% increase for that particular year. Council say the package on offer
equates to a total, for all employees, of £3,325 in this financial year.
In his letter Mr Wilson stated: "As we are now in the fourth week of the dispute, it is important that everyone understands the situation we are in, the challenges we are facing, and the reasons why we have not been able to find a resolution to date, despite comprehensive negotiations.
"I want to give you my assurance that we will continue to work hard to find a way forward to reach a satisfactory outcome that will bring this dispute to an end.
"Council this year, like all families and businesses, is facing extreme financial pressure with regard to increased fuel, energy and other costs.
"These are unprecedented. If we add these costs to the national pay offer of £1,925 for each member of staff, along with the additional salary increments requested, it is likely that this would mean a double digit rates increase. This is a cost that the ratepayer cannot afford. The challenge that Council face is to find this money in a way that protects jobs and services and does not pass the burden onto ratepayers, who are also suffering financially at this time.
"We are acutely aware of the current cost of living crisis and the impact this is having on our staff. We are trying our best to help staff. We had previously offered £1400 for each staff member below Strategic Director level, and we have now INCREASED THIS SUM TO £1,800.
"The payment could be made either as a lump sum, or in two payments depending on the wishes of staff. It is important to clarify that this large payment is in recognition that incremental points are not on offer. Unfortunately, we have not reached agreement on this matter and you are not being balloted on this revised offer.
---
Workers at Derry City and Strabane District Council end strike action after winning double pay point increase
Watch: DUP and UUP accused of 'continually blocking' efforts to end strike
---
"We have however been making good progress across other areas of negotiations, including finalising an approach and timetable for all outstanding assimilation and harmonisation matters, which will be able to progress as soon as the dispute ends.
"I want to thank you all sincerely for all your hard work and efforts during this very challenging time. I have heard people say that some staff feel that the time taken to carry out the negotiations implies that they are not being valued. Nothing could be further from the truth. The focus has been on helping staff now whilst protecting services and jobs in the future. The lump sum offered is unprecedented, well in excess of what is being offered in other councils and is a reflection of the value and respect we have for all our staff.
"I would ask for your patience and understanding at this time. Elected members, senior management and I, will continue to do all we can to conclude this situation in the best way possible."
In an official release, Council state that the Trade Unions are asking for two incremental points which will mean £437 on average to the lowest paid.
Sign Up To Our Newsletter