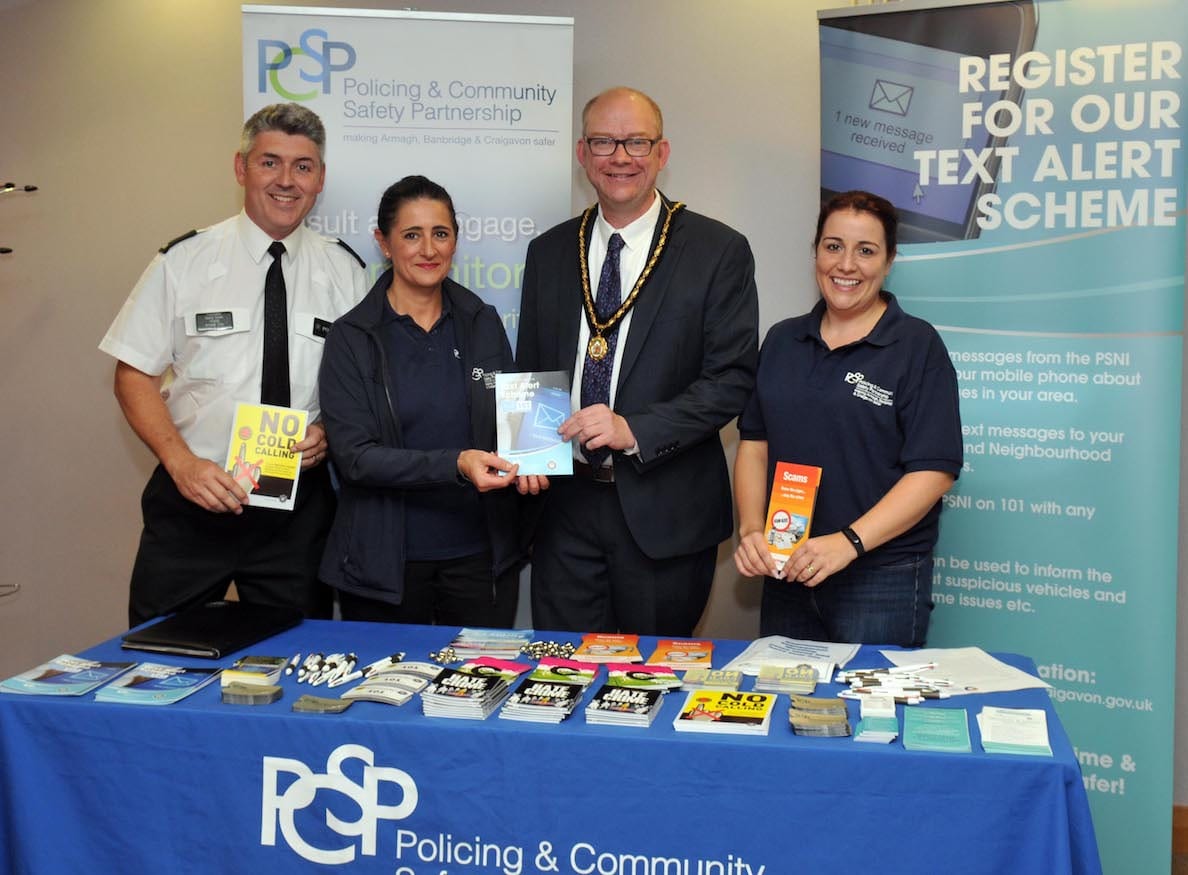 Local residents, health representatives and charity professionals came together this week at a mental health and suicide awareness event hosted by the Deputy Lord Mayor Councillor Paul Duffy.
Bringing together a variety of agencies and organisations working in this sensitive and difficult field, the evening aimed to raise more awareness and extend a helping hand to those who may need information and assistance for themselves, family member or friend.
Coinciding with 'World Suicide Prevention Day 2018' speeches on the night included emotional testimonials by people who have been affected by suicide and mental health issues in one way or another plus advice and guidance from a wide variety of organisations including – Action Mental Health, PIPS Upper Bann, Niamh Louise Foundation, MindWise, SHSCT Recovery and Wellness College, Inspire Wellbeing, Praxis Care, PCSP and the PSNI.
Commenting at the event, Deputy Lord Mayor councillor Paul Duffy, said: "It was great to have the opportunity to raise awareness on the important issue of mental health and suicide prevention within our Borough. In running this public event I hope to have given someone hope, encouragement and for them to come away feeling that they are not alone.
"Someone is always willing to listen, just one conversation can change your outlook no matter how brief or what time
of the night, lift the phone and ring for help."
If you want any more information, support and guidance in dealing with any of the issues highlighted, the contact numbers are:
PSNI – 999
Samaritans – 116 123
Lifeline – 0808 808 8000
PIPS Upper Bann – 028 3831 0151
Niamh Louise Foundation – 028 8775 3327
Mindwise – 028 40 669402
Action Mental Health – 028 3839 2314
Praxis Care – 028 9023 4555
Inspire Wellbeing – 028 8772 3321
SHSCT – 028 38347537
Join Our WhatsApp
Don't miss a headline with a daily round-up as well as major breaking news. Message 'News' to 07938050001.