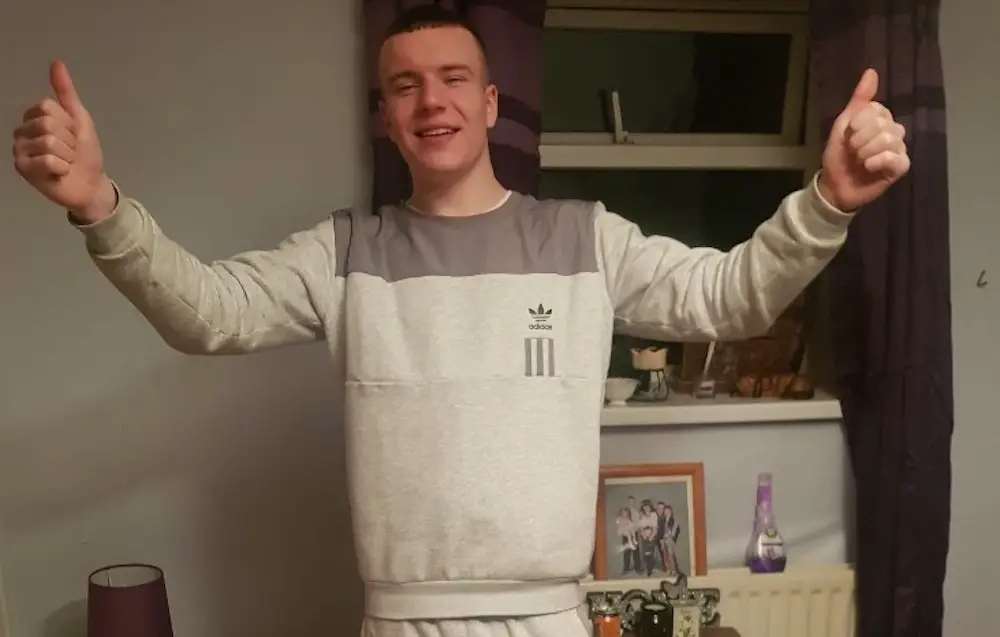 A drug addled thug who head-butted, kicked and spat at police officers, breaking a sergeant's hand in the process, has been handed a 27 month sentence.
Craigavon Crown Court heard that an ambulance crew called the police at around 9.30am on St. Patrick's Day, last year, over a woman who was "trying to strangle herself with her own hands".
Even though it was he who had contacted the emergency services, 20-year-old Jamie Lee Harvey refused to let them in but eventually did when they "explained why they were there" but prosecuting lawyer Joseph Murphy said once they were inside, "he became irate".
"Both of them were uncooperative with the paramedics," said the lawyer adding that with Harvey "appearing under the influence of drugs…he insisted on going to the hospital with her."
Once at Craigavon Area Hospital, Harvey "threatened to punch someone if he didn't get a cigarette" and then proceeded to be "verbally abusive" to police in the presence of medical staff and members of the public at the busy department.
Mr Murphy said when Harvey and his partner tried to leave the hospital before she was seen by medical professionals, the officers tried to explain how important it was for her to be treated but he "became loud and aggressive."
It was as he was being arrested for disorderly behaviour that Harvey "struggled wildly," lashing out at the officers with kicks, punches and head butts as the cops tried to restrain him.
The lawyer told the court the police sergeant sustained a fracture to the fourth metacarpal of his left hand, an injury which required surgery to insert a metal plate and screws but from which the officers hand "will never be 100%".
Harvey, who appeared at court on Friday by videolink from Hydebank YOC, was put into the back of a cell van where he repeatedly spat on the walls "continually shouting 'I have coronavirus'."
"You will note from the date of March 17 last year that this was at the very start of the pandemic before the first lockdown," Mr Murphy highlighted.
Interviewed the following day Harvey, from Drumbeg in Craigavon, refused to answer police questions but later entered guilty pleas to causing the sergeant actual bodily harm, four counts of assaulting police and single counts of resisting police and causing criminal damage to the cell van.
The lawyer submitted that Harvey's criminal record was an aggravating factor, revealing that despite still being only 20-years-old, he had amassed 67 previous convictions including 24 for assaulting police and 44 for failing to comply with court orders.
Defence counsel Damien Halleron revealed that just an hour beforehand, Harvey had appeared in the lower court accused of three charges of assaulting police officers on October 2 this year in a case which has been adjourned to this coming Friday.
He submitted however there were "positive features" for Harvey in that although he had progressed through each level of criminal courts to reach the Crown, "he has become a father in the last year" and had managed to hold down a full time job, a position which will be waiting from him when he is released.
"He has told me in consultation that he doesn't want to go back to custody because he knows it will be in a different regime in Maghaberry," said the barrister, adding that as well as "an extraordinarily stringent" package of suggested licence conditions including curfew, tagging and a complete ban on alcohol, reports suggested that he undertake an 18 month "thinking skills program" run by the probation board.
Imposing the 27 month custodial sentence and ordering Harvey to spend nine months of that in the YOC and the rest under licence conditions, Judge Patrick Lynch QC told the defendant "you don't need me to emphasis the gravity of the offence".
"You disgraced yourself in hospital in front of people who were attending the A&E and that in itself is grave because people there are in distress or pain and the last thing they need is someone like you creating more distress," said the judge.
Reading from the injured officer's statement, the judge outlined how the fracture affected the sergeant's career and family life, explaining to Harvey that while he will be released eventually, "this officer will have to live with the consequences of your actions for the rest of his life."
Sign Up To Our Newsletter