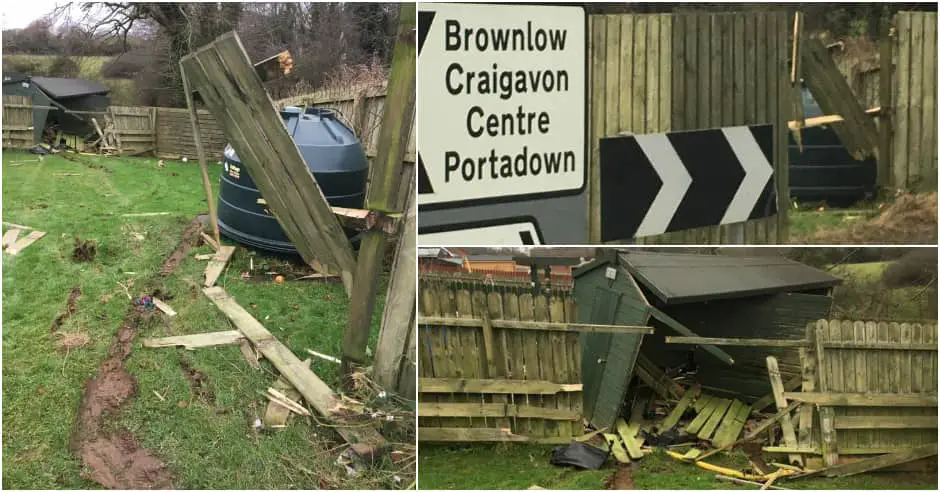 The driver of a car who smashed through a garden fence in Lurgan this morning missed an oil tank by inches.
The incident, which happened on Sugar Island Road in Bleary, could have been much worse had any residents been in the garden at the time.
The vehicle drove straight across the road into the fence of a dwelling in Old Court Manor. It ended up smashing into a neighbour's garden shed.
Police arrested the driver who missed an oil tank by inches.
Councillor Declan McAlinden says he will try and force Transport NI to have a serious look at this junction in Craigavon.
"Speaking to the residents they are extremely angry and frustrated with lack of action from TNI," he said.
"They told me that this has happened at least six times over these last couple of years and are worried that sooner or later someone is going to be seriously injured if not a fatality. If it happened in daylight and children were playing they dread to think what would have happened.
"TNI have told them in the past that barriers are not an option because of fear of people 'claiming ' if injured while crashing into them .
"This is ridiculous  and I will be contacting them to make this junction safer and to install some sort of crash barrier.
"Meanwhile I want to commend the PSNI on apprehending the person involved."
Read more news:
Protesters step up their fight against proposed new £30m SRC campus
Tributes flood in for popular Co Armagh teen who died suddenly
New £800,000 underground sewer station to be built in Armagh
Woman's warning after disgusting discovery in Lidl rice packet
Tributes paid to father-of-two Tim 'Spike' Woods following tragic accident
New York's iconic Broadway beckons for Armagh director Paul McEneaney
Up to 100 freshly-bedded kerbstones ripped up by mindless 'idiots'
'Jobsworth ******s' PSNI bust some myths around speeding
Co Armagh care home 'not fit for purpose' shuts suddenly
Woman sentenced after subjecting 15 horses to unnecessary suffering
Sign Up To Our Newsletter