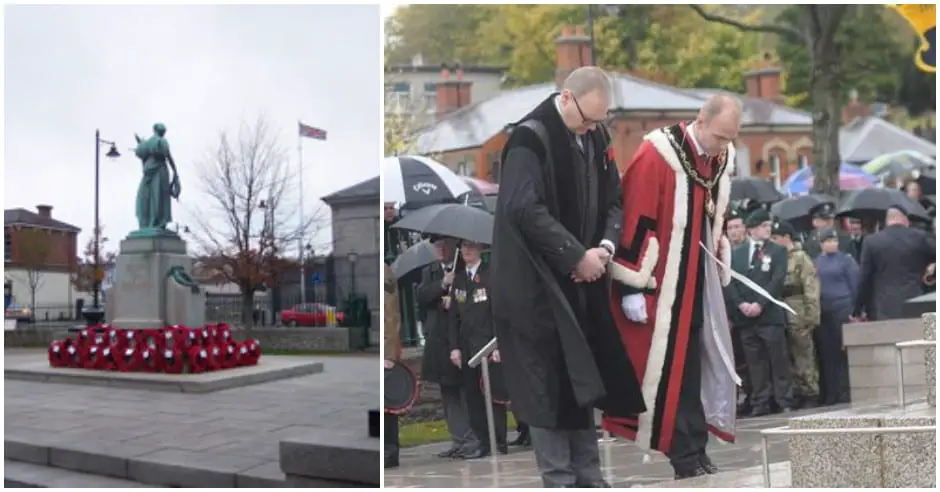 Armagh's two Archbishops will jointly lay a wreath during the Remembrance Day proceedings in the city this Sunday, November 13.
As is traditional, the observance takes place on the Sunday closest to Armistice Day, and will be marked at church services and wreath-laying ceremonies across the borough.
These will be particularly poignant, given that 2016 marks the centenary of the both the Battle of the Somme and the Battle of Jutland.
The Armagh Branch of the Royal British Legion will once again be leading the Sunday parade.
It is due to leave the branch premises at Dobbin Street at 10.30am. It will make its way to the Cenotaph, led by the Armagh Old Boys' Band.
Proceedings on the Mall will be attended by Lord Caledon, Lord Lieutenant for Co Armagh and the Queen's representative at this service, who will once again take the salute as the various participants and organisations pass.
Archbishops Eamon Martin and Richard Clarke will jointly lay a wreath representing the two St Patrick's Cathedrals in the city.
This is particularly significant and appropriate, given the fact that all those named on the crosses in the Remembrance Garden at the Cenotaph were from both communities within the city and district.
Following this service – during which wreaths will be laid and two minutes' silence observed – the parade will make its way to St Patrick's Church of Ireland Cathedral, where the annual Remembrance Day church service will be conducted by Dean Gregory Dunstan.
The two Archbishops will also take part in that.
A large turnout of veterans and youth organisations is expected at the parade and all are invited to come along.
The events inn Armagh for Remembrance will begin tomorrow (Friday), November 11, on what is Armistice Day.
Again a service will be held at the Cenotaph.
A period of silence will be followed by prayers and the names of another 52 war dead from 1916 will be read.
Poppy crosses bearing their names – and those of the dead remembered during the service on 1st July to mark the centenary of the start of the Battle of the Somme – will be planted in the Garden of Remembrance behind the War Memorial.
That evening, the now annual and hugely popular Remembrance Concert organised by the Armagh Branch RBL will again be held in the Market Place Theatre in Armagh. It will focus on both the Battle of the Somme and Battle of Jutland.
Read more news:
Orange juice drugs plot pulped in south Armagh as trio jailed
Redrock teenager Chloe's delight at return of car stolen by armed thugs
Road reopens after collision near Markethill
Police release description of man they believe was involved in violent assault
Stunned and gutted: Reaction as Donald Trump is elected to the White House
Donald Trump elected 45th President of the United States of America
When are the Christmas Lights switch-on across ABC council borough?
Man, 60, arrested in Co Armagh on litany of alleged violent offences
Sign Up To Our Newsletter