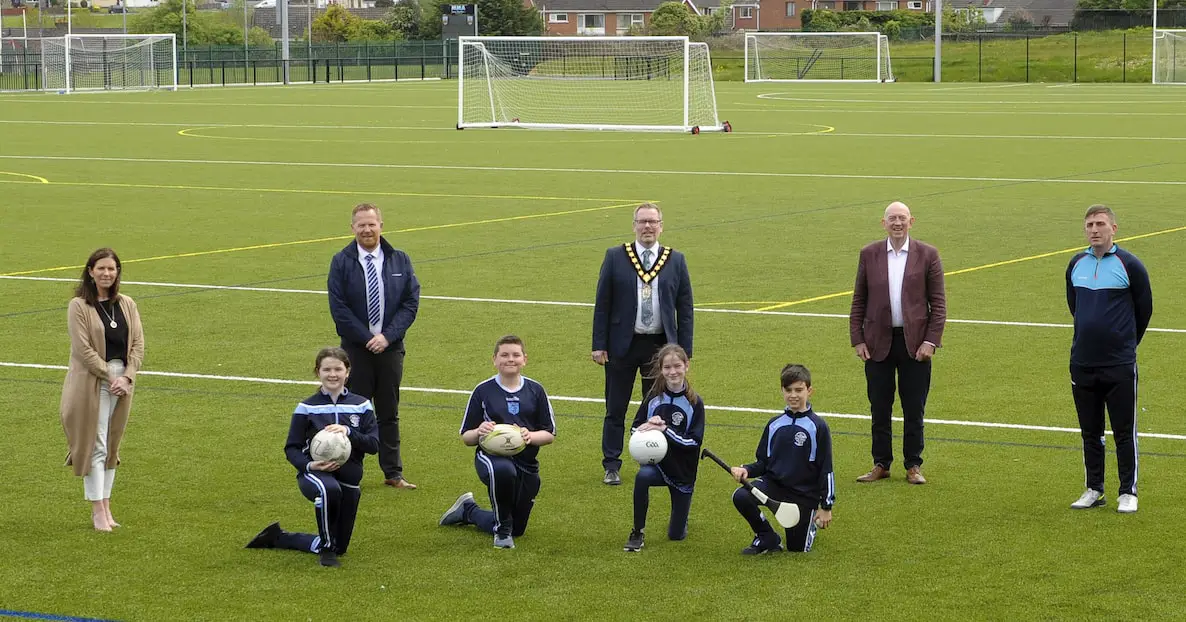 A new state-of-the-art community sports campus – costing in the region of £1.6 million – is all set to open in Banbridge.
Lord Mayor Kevin Savage paid a visit to St Patrick's College to make a final pitch inspection ahead of the official opening of the highly anticipated facility.
The project includes a full size 130m x 80m 3G synthetic pitch complete with floodlighting, fencing and changing pavilion which can accommodate soccer, rugby and Gaelic games.
The community sports campus will be operated on a dual use basis with St Patrick's College using it during the day and Armagh City, Banbridge and Craigavon Borough Council managing the facility for community use.
The project is funded by the EU's PEACE IV Programme, a cross-border initiative, managed by the Special EU Programmes Body (SEUPB). Match-funding for the project has been provided by The Executive Office in Northern Ireland and the Department of Rural and Community Development in Ireland.
Funding for the shared space project has come about thanks to the combined efforts of Armagh City, Banbridge and Craigavon Borough Council and St Patrick's College who between them have secured the £1.6m costs to facilitate the build with the council approving a budget of £710,000 as well as receiving £750,000 funding from the Peace IV Programme.
The remainder of the costs were made possible thanks to St Patrick's College successfully securing a £100,000 National Lottery funding from Sport NI's Single Facility Capital Programme plus a further £100,000 from the Sport NI Your School Your Club Programme.
Lord Mayor Savage said: "I am delighted that work has now been completed on this superb educational and community facility. The dual use purpose of the site will be of great benefit to both pupils and public alike and will go a long way to enhance leisure and sporting provision in the borough as well as helping to promote health and wellbeing.
"I would like to extend my thanks to everybody involved in making this project possible and I look forward to seeing the facility being embraced and enjoyed by all in our community."
John Devaney, PEACE IV Programme Manager added: "The development of the Community Sports facility at St Patrick's College is the single biggest project within our PEACE IV Local Action Plan. With the completion of the works the community and the school can now enjoy this fabulous facility that will offer a shared space for sports clubs, local groups and citizens.
"The St Patrick's College project is one of a number of programmes that seek to enhance our commitment to building social inclusion and a cross community approach to developing accessible shared public spaces and services. We are excited about the project, and delighted to see it finally come to fruition."
CEO of Sport Northern Ireland, Antoinette McKeown commented: "Sport NI is delighted to be investing approximately £2m of National Lottery funding into sporting facilities across Northern Irelandv and in this local project. This Fund aims to help grassroots sports clubs and organisations develop the facilities and equipment to get local communities involved in sport.
"We know that sport has the power to change lives and providing a sense of connection and belonging in our communities. Therefore, we look forward to working with partners to realise the benefits of investing in St Patrick's and supporting a strong sense of belonging and connectivity with the local Banbridge community."
Principal of St Patrick's College, Mrs Roisin Woods, spoke of her delight at the exciting development for the school: "This new 3G multi-sports pitch with changing rooms is a fabulous and welcome addition to the Saint Patrick's College estate.
"These are exciting times for Saint Patrick's College; the continuous outstanding results in public examinations, the recent achievements in a wide variety of sporting arenas and the rapidly growing school population have assured us that this new facility will only further enhance the quality of provision and opportunity for our pupils and the local community of Banbridge."
Bookings for community use of the sports campus can be made by contacting Les McElroy at Banbridge Leisure Centre on T: 028 4062 8800 or online at www.pitchbooking.com
The community sports campus was design by McGirr Architects with works undertaken by E Quinn Civils Ltd.
Sign Up To Our Newsletter