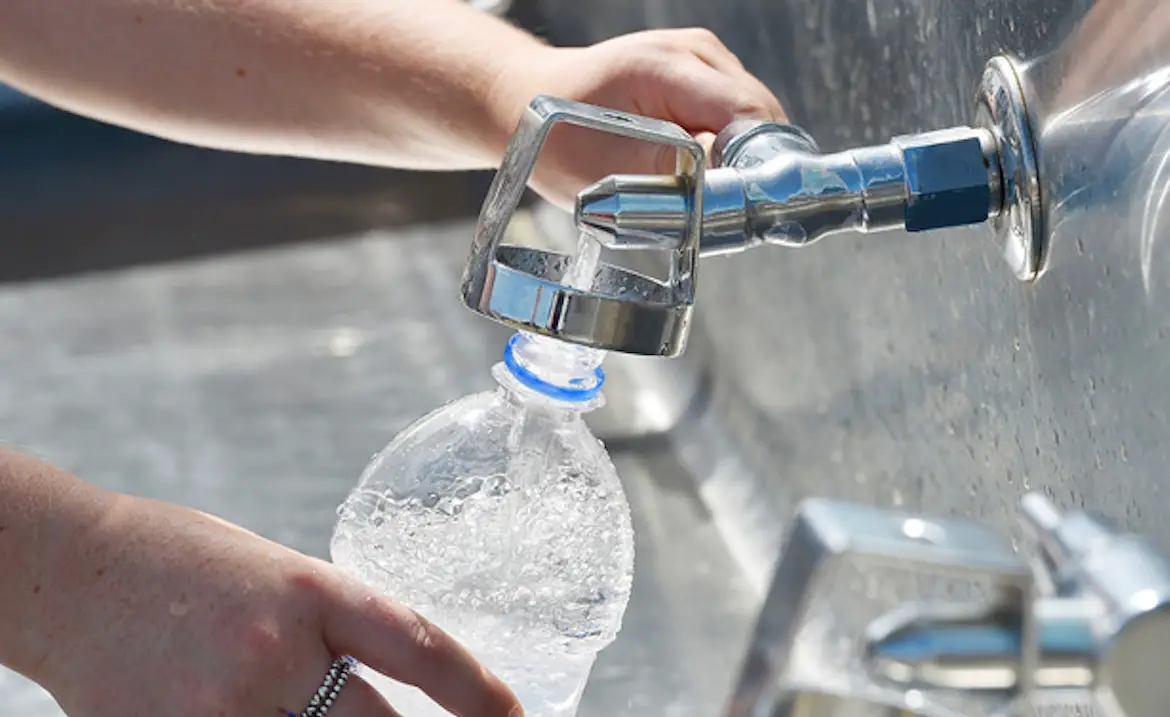 Water stations to allow the public to refill plastic bottles and cut back on waste could be introduced across the borough.
The matter is to be discussed at the monthly meeting of Armagh City, Banbridge and Craigavon Borough Council tonight (Tuesday).
The debate will come as a notice of motion, brought in the name of SDLP Councillor Thomas O'Hanlon and seconded by Declan McAlinden, is discussed.
It comes after similar motions and actions in other council areas including Newry, Mourne and Down District.
Councillor O'Hanlon said the motion was to follow on other ABC Council efforts to cut back on single use plastics.
The motion states that the council would agree to install water stations in "council parks and open spaces across the borough to encourage members of the public to use reusable alternatives to single use plastics".
The motion adds: "In investigating the possibility of installing these units, council should seek to prioritise public parks, forest parks and open spaces which are under council control.
"If proven successful council would seek to install these in other public facilities such as play parks and at council sports pitches across the borough."
The motion asks that council officials are tasked with determining a cost for the initiative and exploring "external funding assistance" to help make it happen.
Councillor O'Hanlon, in proposing the motion tonight, will tell councillors: "We are all too aware of the scourge of single use plastics, be they on the roadside, hedgerows, our parks or even the irony of them scattered along the road after the recycling lorry has been. That's not to mention the amount of plastics in our oceans.
"We see food containers, cups, plastic straws, bottles and disposable cutlery everywhere.
"This is all despite an increased awareness of the damage plastics is doing to our environment, our animal and marine life.
"We have seen efforts to increase the recycling of plastic materials like bottles and food containers and the likes. We have seen efforts to do away with plastic straws, cutlery and the cotton bud altogether.
"Local authorities throughout these islands are considering introducing a deposit return scheme where householders can return plastic bottles in return for vouchers.
"In meetings it was common practice to have a bottle of water placed on tables, now we get a jug of tap water. That's only one step, and I am sure we could do much more.
"We have already seen a number of climate and environment focused issues raised in this chamber and rightly so, but this motion refers to something we as a local authority can do. We don't have to wait on others and I believe the proposal is realistic, achievable and will attract funding.
"We as a council have made and continue to make strides to improve our recycling rates, but also have made efforts to reduce the use of single use plastics."
Councillor O'Hanlon said he observed the use of water stations during a visit to Co Mayo.
"These are placed in forest and play parks, in public spaces and town centres in an effort to reduce single use plastics. Stations such as these allow people to top up their reusable bottle when out for a walk, jog, run or with the baby in the pram.
"This is an initiative I would ask this council to explore and consider installing them in our own forest parks, parks and outdoor recreational facilities.
"I don't expect them to be everywhere over night, but believe an initiative such as this can and will work. I believe it would be popular, it would reduce the amount of bottles in our parks and ultimately reduce the amount of plastics we have to recycle. I also believe it is an initiative we can get funding for and would ask it is explored."
The notice – if backed by other councillors – would see a report brought back to the environment committee for further consideration.
Sign Up To Our Newsletter