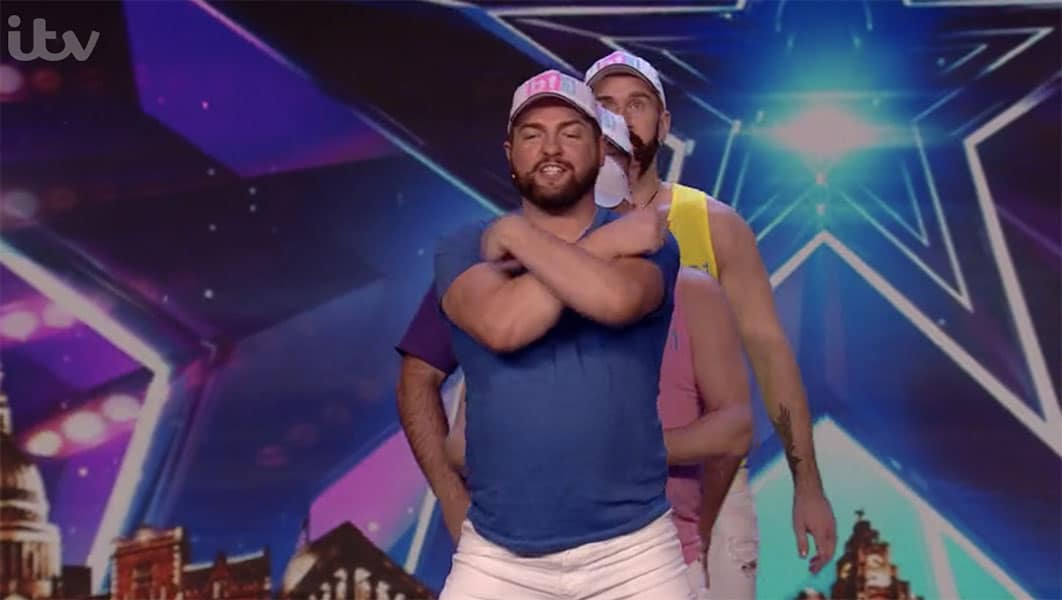 An Armagh man who wowed a trio of judges on Britain's Got Talent with his pals is positively buzzing after their "amazing experience".
Ambrose Donnelly, who is from Armagh and now lives in Belfast, appeared on the hit show as one quarter of 'bearforce1'.
And they went down a storm – well, with three of the judges anyway!
Ambrose, a social worker, and friends, Robert Brown, Brian Mc Bride and Alan Gordon, transported the audience back to the 80s for a song and dance routine based on camp classics of the decade.
And after the show went out on Saturday night, he told Armagh I it had been great to be part of and they were now looking forward to next year.
The boys, all aged between 31 and 54, dressed in pastel coloured jackets and white trousers and trainers, removing their coats to reveal brightly coloured T-shirts and vest tops with the name of the act emblazoned upon them.
Simon Cowell was quick to hit the red buzzer and looked on in horror as the boys kick-started their route with Whitney Houston's I Wanna Dance With Somebody, before moving on to Donna Summer's I Feel Love, Mighty Real by Jimmy Somerville and finishing off with Madonna's Vogue, with Ambrose taking the lead and showcasing his voguing as the four formed a line and gave it all they got!
Simon's was the only red 'x' across the screen as the other three judges – Amanda Holden, Alesha Dixon and David Walliams – gave Ambrose and Co a huge thumbs-up after taking to their feet and dancing along.
"I bloody loved that," said a beaming Amanda, as she told the Belfast-based boys: "Let's just say Goldilocks loves you!"
Alesha was also a fan as she informed them: "The vocals were a bit ropey but I just loved it. It made me smile,  it made me happy, I couldn't take my eyes off you. You were infectious."
David's face lit up in a grin as he too gave them his seal of approval, telling them: "Well, you'll be surprised to know, this is right up my street.
"I think One Direction are OK, you'll not be threatening them but, you know, we had a great time and it was fun."
Simon, of course, could see the fun side but that's as far as it went for a cringing Cowell, who was jeered and booed by the audience for his observations.
"You are fun guys but the singing was horrific, the dancing wasn't far behind," he said. "Based on that audition – and as much as I think you are really nice people – it's an absolute 'no'."
His opinion, however, meant nothing, as the boys bagged a unanimous 'yes' from each of the other three.
Ambrose said it has been a fantastic journey for the four friends since they met in a karaoke bar in Belfast and realised their shared taste for 80s music.
He told Armagh I : "We formed the group a year ago in Belfast, where I've been living and working as a social worker.
"We wanted to share our love for 80s music in a colourful, family-friendly way, so bearforce1 was born."
The show was filmed in Manchester pre-lockdown and the next stage is obviously on hold.
It has been fun to date but there's certainly more to come!
Added Ambrose: "We were selected last October after our manager put us forward to audition on BGT.
"We were overjoyed to even be selected for the hit TV series. Me and the other guys have all found taking part in it was an amazing experience.
"And getting three 'yes's was an added boost.
"I kinda knew Simon would say no, because it's just not his thing and he just enjoys playing the pantomime baddie!"
The current pandemic has led to some uncertainty as to when the show and the next stages will resume.
But Ambrose is thrilled with their result – and the public reaction – in such times.
He said: "I am just happy to share this experience with everyone due to coronavirus and lift people's spirits… even if it's for a few moments.
"We are looking forward to continuing and performing after lockdown and 2021 promises to be an exciting year for us!"
It certainly looks like it!
Best of luck to Ambrose and all of the boys!
You can follow them on instagram @bearforce1official and you can watch the Unseen episode on the ITV Hub here.
Sign Up To Our Newsletter