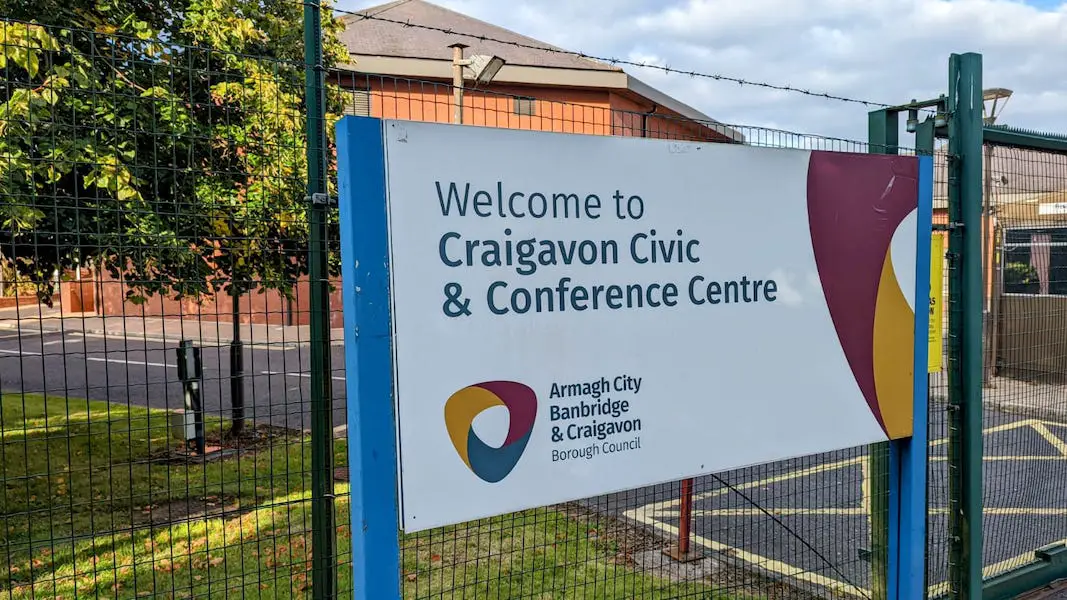 Tension is running high amongst unionists councillors on Armagh City, Banbridge and Craigavon Borough Council after a decision to remove the TUV and an independent councillor from the council's party leaders' forum.
According to the TUV, a proposal brought forward by the largest party on council, Sinn Féin to remove parties with only one seat and independents from the party leaders' forum was backed by the second largest party on the local authority, the DUP.
It means the SDLP, TUV and Councillor Paul Berry no longer have representation on the behind closed doors forum.
Currently Sinn Féin has 15 seats on ABC Council, the DUP has 13, UUP has six, Alliance has four while the SDLP, TUV and independents have one each.
The party leaders' forum is not a decision making body but has been described as a "sounding board for council officers" by those familiar with its workings.
It is now made of council's Lord Mayor, the Alliance Party's group leader, the DUP's group leader, Sinn Féin's group leader and the UUP's group leader.
The DUP's decision to support the proposal has led to both the TUV and Cllr Berry, questioning the party's commitment to the idea of unionist unity.
"On Monday, June 26, a proposal to remove Cllr Berry, SDLP councillor Thomas O'Hanlon and TUV councillor Keith Ratcliffe from the party leaders' forum was brought before full council," said a TUV spokesperson.
"Interestingly, the discussion was held in private and it is understood that DUP councillors backed the Sinn Féin proposal. This issue had nothing to do with money. In fact, the single members made clear that they were happy to serve on the forum without payment for doing so."
The spokesperson claimed: "It will come as a surprise to many ratepayers that party group leaders receive an additional £6,860 for sitting on the group."
The spokesperson continued: "This disgraceful decision, means that over 4,000 unionist voters in Cusher alone, and many more across ABC, have had their views excluded from this forum.
"During the recent election, DUP candidates delivered literature which included a pledge to work with other unionists on council. However, the DUP's actions on this matter will leave many questioning the nature of the relationship between them and Sinn Féin on ABC Council."
In response to these comments, DUP group leader Alderman Mark Baxter advised both Cllr Berry and Cllr Ratcliffe to form a "group" if they wanted a seat on the forum.
"Cllrs Berry and Ratcliffe are not 'group' leaders, they have one seat each. The SDLP are in the same position and also do not qualify to sit on the party leaders' forum" said Ald Baxter.
"I want to see unionism working together and we are keen to assist our fellow unionist councillors.
"We are suggesting that Paul and Keith might consider forming a 'group' and apply to the council to gain representation on the forum.  We would support this and they could alternate leadership of the 'group' throughout the council term.
"We are more than happy to sit down with Paul and Keith as fellow unionists to help them find a solution to their concerns. Bickering over such matters in public only serves to divide unionism.  That is not our objective – we want to see a more united unionism."
Ald Berry said he was hesitant to comment on the matter given it is a matter of confidential business but with others having gone public, he felt it was important his opinion was known.
"I am a unionist by conviction and believe in unionists working together and supporting each other," he said.
"Since 2014 I have been on the party leaders' forum and served two terms with my fellow unionist colleagues on the DUP and UUP for the good of the ABC area and I cherished that unity."
Claiming it was always Sinn Féin's wish that he would be removed from this forum, Cllr Berry added "after the election in May the party put forward and seconded a proposal that we would be excluded from this forum".
"The UUP and Alliance voted against it but most regrettably the DUP members voted with Sinn Féin. I proposed that myself and Cllrs Ratcliffe and O'Hanlon would remain on the forum but not take any allowance for our seat. We were supported by UUP and Alliance. However Sinn Féin and the DUP voted against my proposal."
Cllr Berry said he was "deeply disappointed" in the DUP's decision and cannot understand why they have made such a decision.
"I am deeply disappointed in the DUP given my desire for unionist unity and cooperation at council level over the years," he said. "I just cannot understand why they voted with Sinn Féin and they have remained silent until the unionist anger has forced them to respond.
"I hope they will reflect on their actions and reconsider our positions on this forum so that unionism can continue to work together during this term."
The Alliance Party's group leader, Councillor Peter Lavery also questioned the decision and claimed it will only serve the interests of the two largest parties.
"This decision represents a blatant carve-up between the DUP and Sinn Féin as they seek to exclude the SDLP, smaller parties and independents from the party leaders' forum," claimed Cllr Lavery.
"It is a power-grab aimed at stymieing debate and reducing the ability of others to hold the two largest parties to account. While Alliance is unaffected by the arrangement, it was important to stand up for maximum openness, transparency, diversity and inclusion.
"This is clear evidence yet again of the DUP and Sinn Féin acting to protect party political interest, rather than working in the interest of our entire community."
Group leaders of the SDLP, Sinn Féin and the UUP were also asked for comment.
Sign Up To Our Newsletter