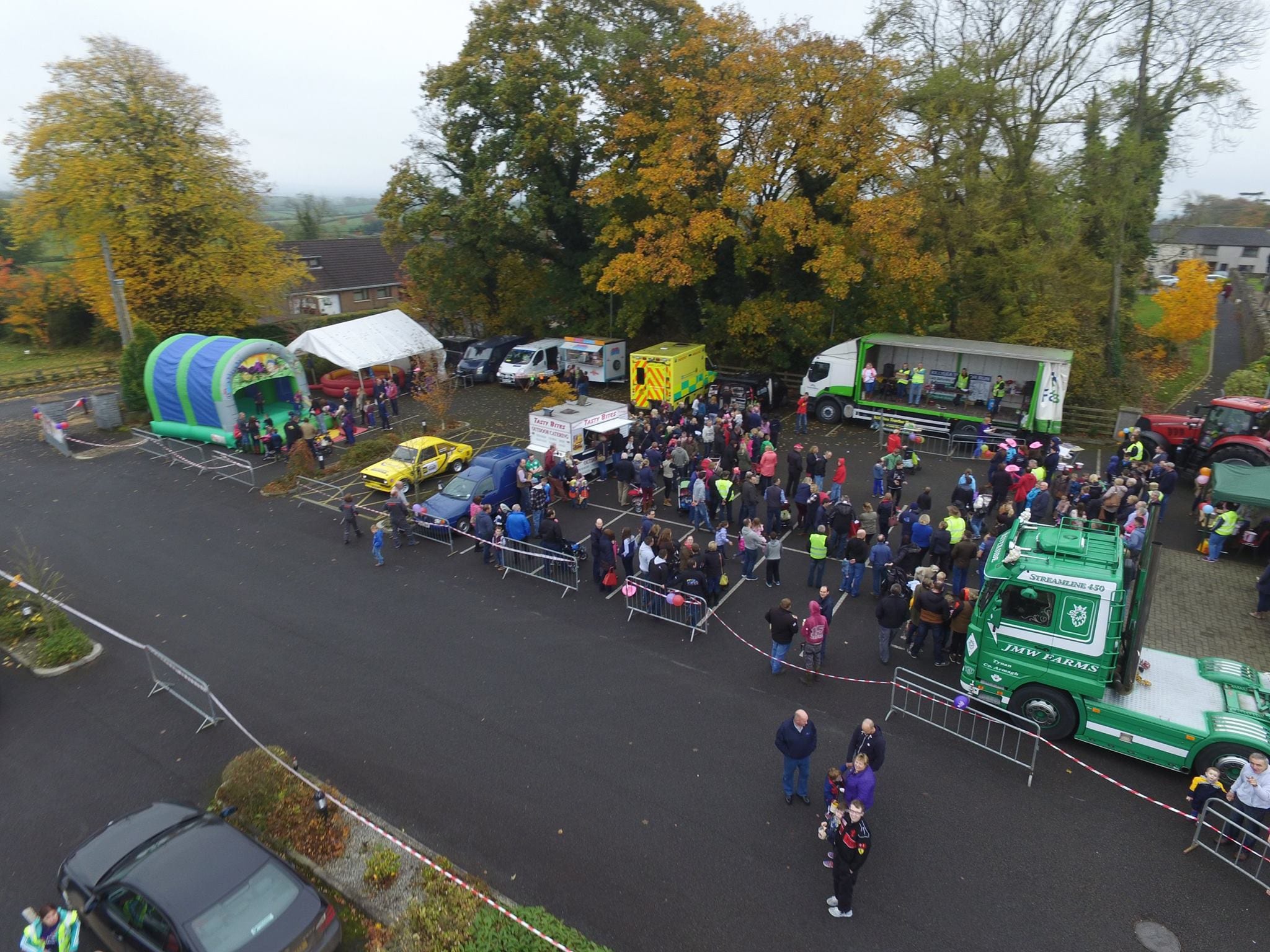 Don't be alarmed if the Killylea Main Street is lined with heavy farm machinery later this month as it signals the fifth annual Truck and Tractor run.
From discussions around the kitchen table to a fully established entry on the calendar, over the last four years the family run event has raised an amazing £14,000 for charity and this year's promises to the be the biggest yet.
Speaking to Armagh I, Joanne Hale, who organises the run with her sister Susan Bloomer, said: "We started in 2014, in to our fifth year and we keep saying every year this is the last year but it never happens.
"We have Ritchie Remo and Paul Kelly this year, along with a new wee singer Aiden Kirkland so he is coming along, he was at Livingstone Tractor run last year so we nabbed him when we saw him."
Last year saw trucks added into the mix by one family member who would simply take no as an answer.
"The difference is this year, well we are hoping so, is we started last year a few trucks because Jamie Sue's wee boy is lorry mad, so he insisted we changed it from a tractor run to a tractor and truck run," said Joanne.
"So last year we had at the most 15, now this is only talk but someone has rung up and said they are bringing 30 lorries; whether they are turn up or not, I will believe it on the day.
"It is just a way of trying to make it different, bigger and better."
Joanne told attendees: "Watch this space, where we are going to put them in Killylea, I have no idea, but my father he knows where he is putting them.
"The streets will be lined with them, although that won't be a bad thing, the more that come the more people that will come and the more money that will be raised."
Explaining how the idea came about back in 2014, Joanne said: "We wanted to do something for charity but we weren't sure what, so we were having a chin wag around a table and a friend said why don't you do a tractor run, I thought we don't know anything about it but we will give a go anyway.
"The first year I think we had 42 or 43 and the best year yet has been 99, so it has improved".
The event is in aid of three charities all of which have a special connection to the family; the Air Ambulance, the Children's Heartbeat Trust, and the NI Children's Hospice.
"The Children's Hospice has been a longstanding one from the very start and then my nephew has aortic valve stenosis, so the children's heartbeat trust supported them when he was down in Dublin getting surgery.
"At the time he was only two but he is four now and he is flying, but they found them accommodation, give them extra information and were a great support so that's how they came along."
Joanne, along with her sister are also official volunteers with the Air Ambulance which she confessed made it "hard to walk past them".
Last year the sisters were scammed out of £1,200 worth of the money raised for charity but were able to recoup this after donations from the public.
Joanne said: "It shows you, you really can unfortunately trust nobody but I mean the general public were amazing after that.
"We lost the £1,200 but we made it back and more, wherever the money is now it's hopefully bringing them no luck."
Joanne admitted that the family do have a milestone coming up which they wish to achieve.
"We have raised £14,000, we have the milestone of £20,000 we would like to be able to say we made it after five years, that might be dreaming big but it doesn't hurt to dream big".
The Truck and Tractor Run will take place on Saturday, October 26 from 12pm.
Sign Up To Our Newsletter