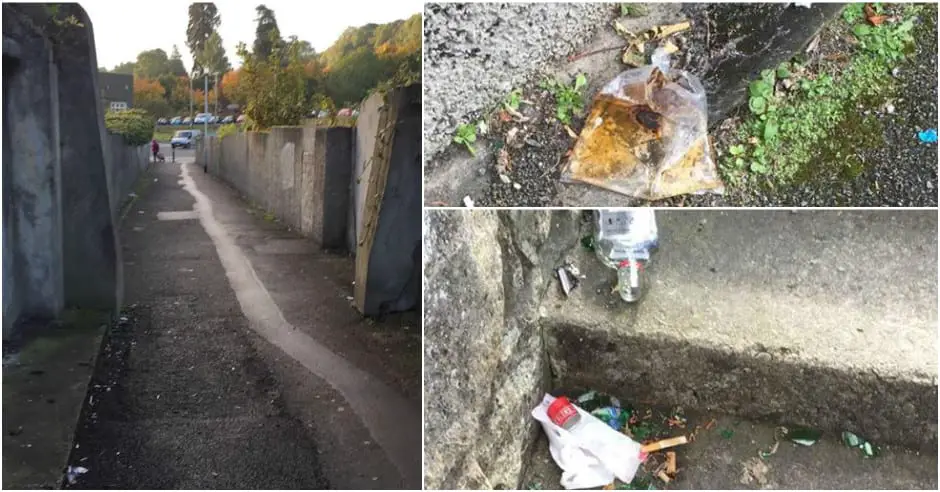 Nothing screams 'welcome to Armagh' like a bag full of urine and excrement!
That was the stomach-churning sight to be found on one of the main gateways into Armagh this week.
Lying on a path, it sat for no less than THREE DAYS until Armagh I contacted Armagh City, Banbridge and Craigavon Borough Council to ask what's going on?
We did so after receiving a number of complaints from disgusted residents.
The bag was simply discarded on the laneway which runs from the rear of the Armagh Shopping Centre on to Ogle Street.
And it was not the only find to cause annoyance with residents.
One woman who contacted us said she first noticed it on Wednesday as she walked through to the chemist on Ogle Street.
She said: "I could not believe my eyes. I actually could feel the bile rising in my throat. There was absolutely no mistaking what it was. I saw other people walk past me and look down and they too just paled at the sight. They slowed down, looked and very quickly walked on. To say it was disgusting was an under-statement.
"I walked along that way this morning and what was even more shocking was to see that it was still there – three days later.
"The entry way was also covered in piles of dog mess which clearly had been walked through, along with empty drinks bottles.
"This is one of the main walkways into Armagh city centre – what kind of impression does that give to anyone coming to visit Armagh? More attention needs to be given to this area in terms of cleaning up and also policing it to prevent this type of thing in the first place."
Another man also contacted us about the presence of the bag in the alleyway, but also to voice his frustrations at the state of the car park to the rear of St Malachy's Church and the steps which connect the two parking levels.
The man provided us with photographs to reinforce his comments and called for action to be taken.
He said: "The steps are just a congregating point for drinkers, at any time of day or night. They are absolutely filthy but they are also a real hazard and dangerous.
"I noticed at the start of the week a green Buckfast bottle had been smashed at the top of it and the large fragments of glass were just lying there for anyone to step on. A child could so easily have been hurt; never mind a child, anyone for that matter.
"The glass is still lying there today five days later. There were also two empty vodka bottles and two big plastic cider bottles, numerous beer bottle tops and cans scattered generally in the area of the car park.
"The stains running down the steps – it's hard to know if it's from alcohol or someone urinating. It would not be the first time. I returned to my car once earlier in the summer to find someone balancing a bottle on the boot and relieving themselves against the back door.
"It is high time that this area was policed and policed properly. It is not just disgusting to see the sight left behind but intimidating having to walk past. It's happening in broad daylight and quite openly. I thought drinking in public places was meant to be prohibited so why is nothing being done?"
Armagh I contacted the council to raise both residents' concerns about the state of the alleyway and to draw the attention of officials to the bag which had been lying for days.
This prompted hasty action from the council who moved to tidy the mess – and encouraged people to bring such concerns to their attention.
A spokeswoman for Armagh City, Banbridge and Craigavon Borough Council, told Armagh I : "We can confirm that the walkway was cleaned today (Friday 14 October).
"This was last inspected on Tuesday morning and we will continue to monitor the area.
"We encourage the public to report issues of this nature immediately to our Environmental Services Team on 028 3752 9624 so that we can provide immediate assistance."
Sign Up To Our Newsletter