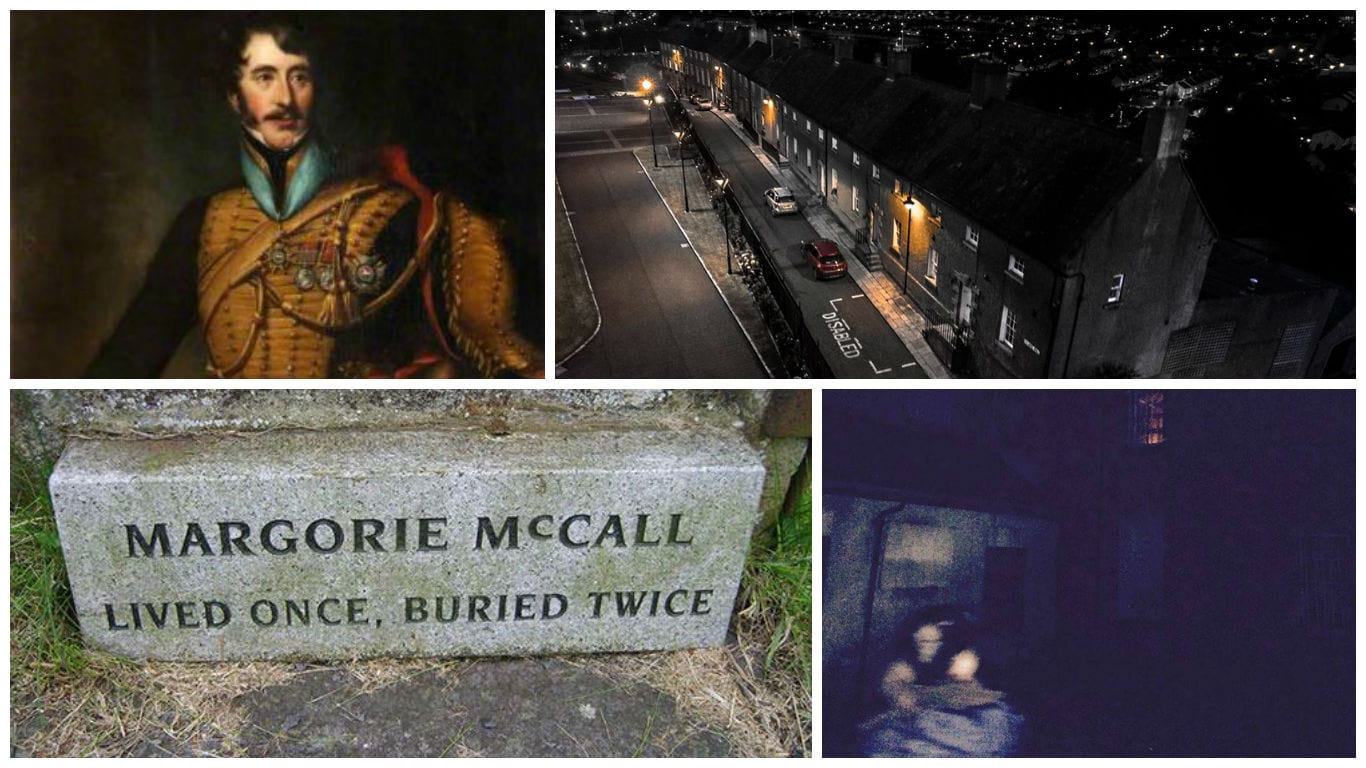 Headless Horse of Mullenakill 
No, not the headless horsemen…this is the headless horse.
Sir William Verner was a British soldier who served in the Napoleonic wars, wounded at the Battle of Waterloo, before resigning as a Colonel.
Verner, an Armagh native, took his trusty steed Constantine to battle in.  Its head fell off and he brought the horse home to bury him in the family graveyard.
Green Lady of Vicar's Hill, Armagh
For generations the tale of the 'Green Lady' struck fear into the hearts of children across Armagh.
Often mutated story-telling meant many different versions were relayed over the years – word of mouth can do strange things.
The one thing that is certain in all of it is that, anyone of a certain age will remember hearing the tale and knowing full well it was time to get home before dark or 'the Green Lady'll get ya!'.
It is a tragic story – a terrible tale of infanticide, of insanity, of suicide, of murder, a fall from grace from the big house, to a shocking end in a Dublin slum.
Twenty-one-year-old Bellina Prior, daughter of the late military commander of Armagh, was charged with the murder of four-year-old Ann Slavin, from Callan Street in 1888. Read more here.
Jonesborough – Adavoyle railway station
In June 1921 an IRA attack which derailed a British military train near the station. Four British soldiers were killed and twenty wounded.
For a number of years subsequent, operators of that gate would report seeing train lights heading towards them, although the train never passed.
Margorie McCall, Lurgan, 1705 'The Lady with the Ring'
Margorie McCall was mistakenly pronounced dead and was promptly buried, only to be dug up by grave robbers who cut off her finger to acquire her wedding ring.
This brought her out of her coma; the terrified robbers fled, and McCall left the graveyard to go home.
Arriving at her house, her grieving husband answered the door and fainted from fright (though one report says he died of a heart attack). Phantom crying can be heard in the graveyard, though whether it is connected to the legend is unclear.
McCall reputedly lived with her family in or around what would be known as Church Place, Lurgan today. She was married to a man called John, who was a local doctor. Parish records held in the Public Records Office (PRONI) record the deaths of nine Marjorie McCalls in Lurgan, three of whom were married to a John McCall, so the name was a good bet to offer some credence to the story. No record is held of the death in 1705 of a Marjorie McCall married to a John McCall.
The headstone remains in the cemetery to this day.
A Woman with a Child – Former Portadown Bridge over the River Bann
No one knows how many people were murdered on the bridge – woman and children were forced to cross it before it was set alight, with everyone either burnt to death or drowned. For weeks after the incident, the water ran red with blood, decapitated heads (impossible to net) bobbed in the water, and a ghostly woman with child stood by the smoking ruin. Source: Paranormaldatabase
Dolly Munroe – Richhill Castle
Dolly is one of several ghosts that are said to haunt the site – the Northern Ireland Paranormal Research Association often conduct investigations here, and claim that that her presence has been detected.
Woman in White – Armagh Gaol
There have been numerous sightings of 'The Woman in White', with photographer Alan Wells seemingly capturing her during a visit in 2010.
It looks like she may have been captured on camera again back in July.
For more on the gaol, check this story we ran earlier this year http://armaghi.com/is-this-a-ghost-captured-on-camera-at-armagh-gaol/
Sign Up To Our Newsletter