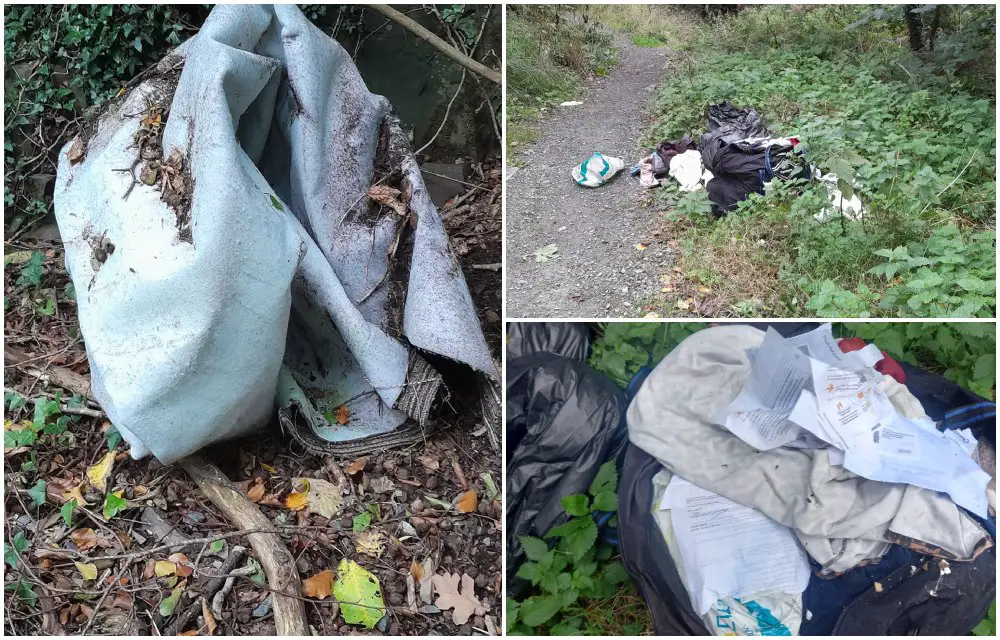 A blatant and outrageous fly-tipping incident in Armagh was witnessed by residents and reported to ABC Council – but more than a week on, nothing has been done about the mess.
Bags of rubbish and large carpets have been unscrupulously dumped in the Drumadd Green area of the city– next to the Folly River.
While one resident says the culprit was caught in the act, discarded mail from inside the rubbish is further evidence of the offender's transgressions, however, the mess remains.
John Lucas – a member of the Friends of the Folly group, told Armagh I that they regularly carry out litter picks in the area as part of their voluntary work in transforming the picturesque glen.
"Two men were spotted taking the rubbish out of their bin and walking across the road and just dumping it. Now, there's a load of carpet dumped in the same spot. I was on to the Council a week ago and they've still not done anything about it."
He added: "I went in to their office on Friday and gave them the letters that were lying in the bags, which had their address on it. We gave them photos and the address of the house.
"The first person I spoke to in Council told me that it could be followed up and they might get a fine; then the next person said they would follow it up, that they'd get someone out to do something about it. I then asked for an update but they never got back to me."
John is one of many in the Friends of the Folly group working hard to make it a much more welcoming place for residents and visitors.
Many have been on to the group querying the mess but John says there's little they can do – it's not small amounts of waste they can easily dispose of – it's larger scale fly-tipping.
"It's not something you can just lift yourself and get rid of," said John.
"We're involved with the two wee schools nearby and they come out for walks. It's just not nice for them, or anyone, when you're trying to enjoy the place, and for us, trying to do it up.
"The glen is beautiful, you'd get it nowhere else in the world, stuck in between all the housing estates, especially with the wildlife, kingfishers and otters etc.
"We've been pushing hard on the Council to get them to do more with the area; we've been fighting just to have the bins emptied on a more regular basis. We were promised bigger bins but those never materialised. We got a grant for £20,000 to fix the river banks up; we did that all ourselves.
"We've also been fighting for three years to get a wee bit of ground to get community allotments but we're not getting a thing but we won't give up.
"It's just disheartening when you see this sort of activity happening and the culprit effectively being caught red-handed and nothing being done about it."
Armagh I has contacted Council for comment.
Sign Up To Our Newsletter