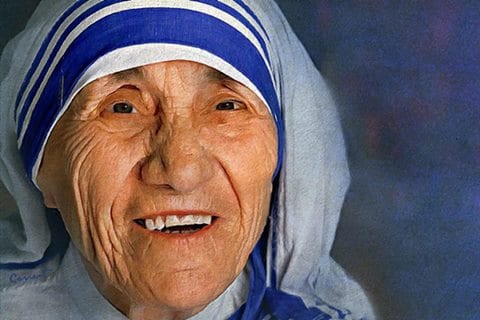 A Relic of St Teresa of Calcutta will arrive in Armagh later today (Thursday).
It's part of a tour of Ireland before the Relic is permanently placed at Newry Cathedral.
The Relic consists of a cloth bearing the blood of St Teresa and is enclosed in a cross.
It will be taken to St Patrick's Cathedral in Armagh on Thursday night, for 7.30pm.
And it is there it will remain until leaving on Saturday, at 3pm.
Huge numbers are expected to visit over the course of the next three days, reflecting the popularity of the former Mother Teresa of Calcutta, who died in September 1997 and was canonised last year.
St Teresa was born in Skopje – now the Republic of Macedonia – and, after living there for 18 years, she moved to Ireland and then to India, where she lived for most of her life.
In 1950, she founded the Missionaries of Charity, a religious congregation which had over 4,500 sisters and are active in 133 countries.
The congregation manages homes for people dying of HIV/Aids, leprosy and tuberculosis, soup kitchens, dispensaries and mobile clinics, children's and family counselling programmes, orphanages and schools.
Members of the congregation take vows of chastity, poverty and obedience also profess a fourth vow, to give "wholeheartedly free service to the poorest of the poor".
The Relic will take up permanent residence in Newry Cathedral on August 11.
It will be at St Patrick and Colman's Cathedral, Newry, also from Saturday until Monday, June 10 to 12.
While in Armagh, it is understood the following will be taking place at St Patrick's Cathedral:
Thursday 8 June
7.20pm Arrival and Procession with the Relic
7.30pm Evening Mass
10.00pm Night Prayer
(Cathedral closes at 10.30pm)
Friday 9 June
8.00am Morning Mass
10.00am Morning Mass
12.00noon Midday Prayer
3.00pm Rosary
6.00pm Evening Prayer
7.30pm Evening Mass
10.00pm Night Prayer
(Cathedral closes at 10.30pm)
Saturday 10 June
10.00am Morning Mass
12.00noon Midday Prayer
This will be followed in the afternoon by the departure from St Patrick's Cathedral.
Confessions will be heard on the mornings of Friday 9 and Saturday 10 June from 9.30am – 9.55am and from 10.30am – 12noon and on the Friday afternoon from 4pm – 6pm.
Sign Up To Our Newsletter