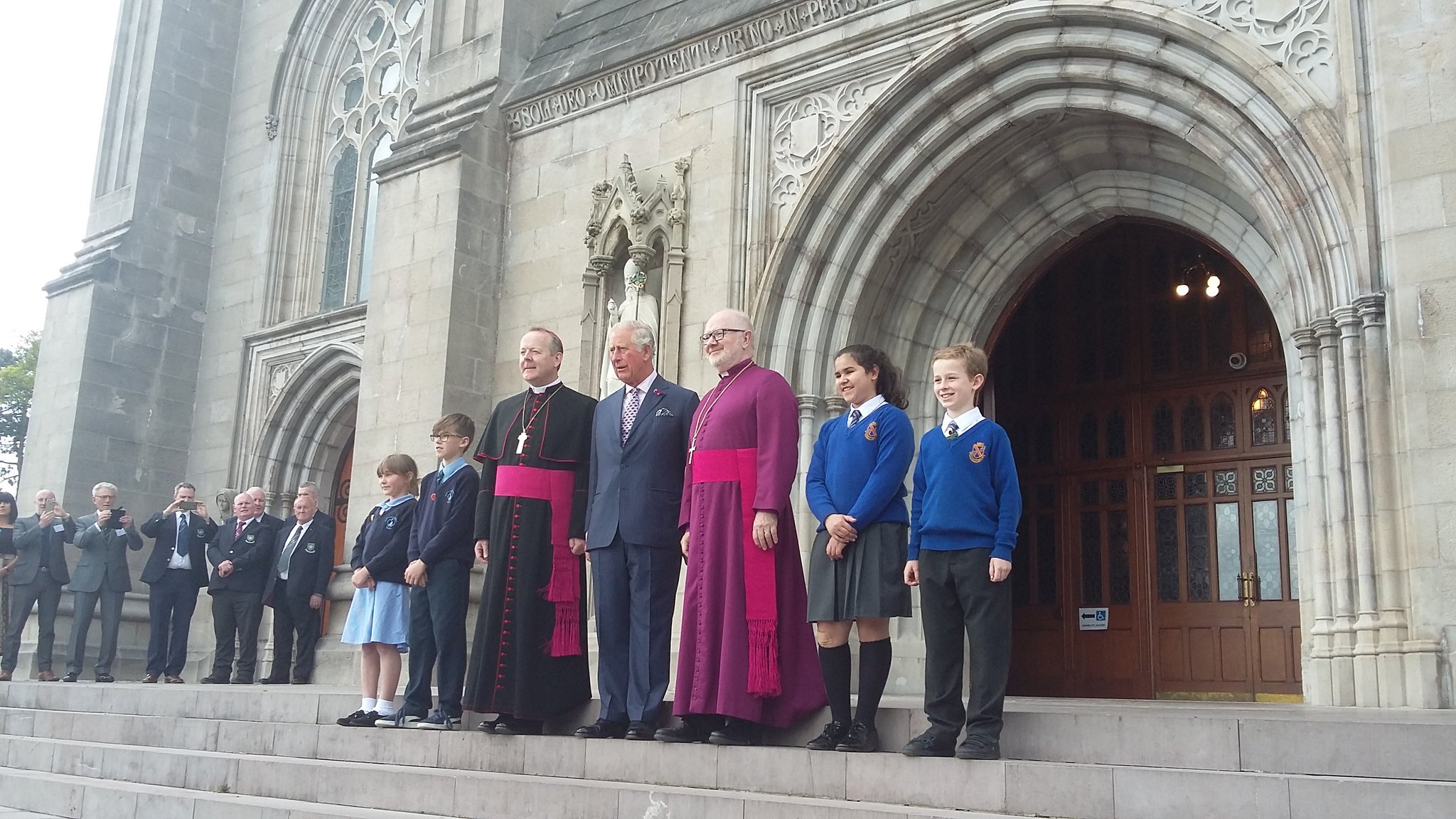 The Prince of Wales and the Duchess of Cornwall paid a visit to Armagh on what was their third day of a visit to Ireland.
The royal couple were greeted at the Palace Demesne by the new Lord Mayor, Mealla Campbell, in one of her first official engagements in the role.
Armagh GAA manager Kieran McGeeney and Ireland rugby captain Rory Best were on hand to meet Prince Charles who was gifted sporting jerseys from the two codes.
The Prince even managed to referee for a "symbolic match" between young rugby and Gaelic football players.
Vice-chairman of Ulster GAA Ciaran McLaughlin said the game was "extremely symbolic" of the future of Northern Ireland, moving away from previously held stereotypes.
"The game is part of a community outreach programme. We have Ulster Rugby and Ulster GAA coming together to try out the skills from GAA and rugby in a fun environment and bringing children together through sport," he said.
His Royal Highness Prince Charles was presented with @Armagh_GAA and @CityOfArmaghRFC shirts and attended a reception for local sporting clubs at Palace Demesne this afternoon. #RoyalVisitNI pic.twitter.com/DbJ2zvRTOI

— Northern Ireland Office (@NIOgov) May 22, 2019
That was followed by a visit to St Patrick's Cathedral, where he was greeted by Catholic Archbishop of Armagh Eamon Martin and Church of Ireland Archbishop of Armagh Richard Clarke.
Earlier in the day, Prince Charles visited Brownlow House where he was greeted by the sound of bagpipes before meeting one of his very youngest namesakes, two-week-old Charlie – son of DUP MLA Carla Lockhart.
Ms Lockhart said: "Little Charlie arrived quite hastily just over two weeks ago at the election count, he was born weighing six pounds, three ounces.
Some of my photos as His Royal Highness Prince Charles attended a reception for local sporting clubs at Palace Demesne, in Armagh this afternoon. #RoyalVisitNI @abcb_council @ClarenceHouse @RoyalFamily pic.twitter.com/xB7Jj0mmmW

— William Cherry (@snappercherry) May 22, 2019
"The prince today was inquiring after him and what weight he was. It was just such an honour to meet Prince Charles and little Charlie enjoyed it as well.
"We were able to tell him that he was just two days older than his latest little grandchild Archie."
Newsletter
Sign up for our weekly newsletter here.