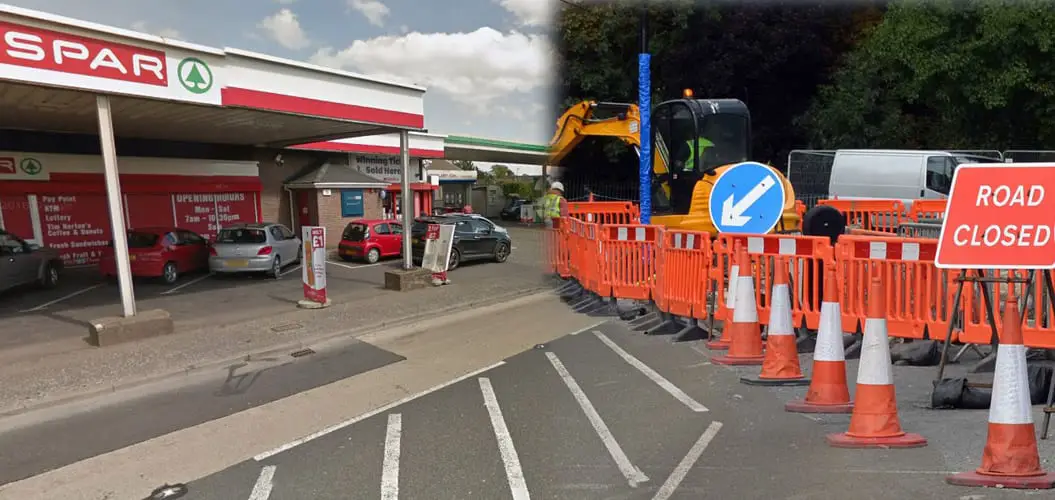 Sewage improvement works on the Newry Road will continue for another THREE weeks due to 'unforeseen circumstances', according to NI Water.
Work was due to be completed last Wednesday with the road to be fully operational on Sunday.
However, NI Water have today confirmed that work will be ongoing for three more weeks.
Last week, Armagh I reported how the ongoing disruption was having an adverse affect on local businesses in the area with Whittles Spar seeing a drop of 40 percent in trade.
It was also reported that the nearby car wash only took in £12 the previous Saturday – the equivalent of four cars at the height of the summer.
A spokesperson for NI Water told Armagh I today that "due to unforeseen circumstances, an extension of three weeks is required in order to install the remaining section of the sewer on the Newry Road".
They continued: "NI Water is committed to minimising the disruption caused by the complex construction issues associated with this new sewer in a major arterial road into Armagh City, whilst also considering the health and safety of the residents along the route of the sewer.
"As residents in the Newry Road area have been subjected to considerable disruption for several weeks over the summer months, the new traffic management arrangements will continue to ensure the safety of residents as well as managing the significantly increased volume of traffic as schools return following the summer holidays.
"Night time excavations in roads that are heavily congested with underground utilities including hazardous NIE cables and the main water supply to large areas of Armagh City, was deemed unacceptable as it presents considerable risks to both the construction workers and the residents of Newry Road.
"Also due to the nature of this work, it is not possible to excavate deep trenches, construct the new sewer and reinstate the road at night to allow the road to be re-opened to traffic during the day.
"Therefore working hours will generally be Monday to Friday 7.00am to 7.00pm and Saturday 7.00am to 1.00pm. However on occasion it may be necessary to work outside of these hours.
"NI Water will continue to liaise with Transport NI, Armagh City & District Council and all our stakeholders throughout this programme of work to try to minimise disruption as far as possible.
"We fully appreciate the disruption caused by these works and NI Water and our contractor, BSG Civil Engineering Ltd, would like to apologise for the inconvenience and thank the public and local businesses for their continued patience and cooperation as we complete these essential works. We assure you that we will do everything we can to complete the work as quickly as practicably possible.
"When complete, the scheme will meet Northern Ireland Environment Agency standards, reducing the risk of 'out of sewer' flooding and will facilitate future development within Armagh city for the next 30 years by improving and increasing the capacity of the sewerage infrastructure."
Read more news:
Lurgan shooting: Condemnation of appalling incident early this morning
Security alert in place just a few hundred yards from Craigavon hospital
Council to clamp down on dog attacks and irresponsible owners with new control orders
Armagh club championship game comes to bizarre ending as lightning strikes
Two vehicle RTC on the outskirts of Armagh City
Man in his thirties collapses and dies on county Armagh road
County Armagh woman accused of killing her friend in Portadown Road crash
Major £125,000 road improvement works to begin in Tandragee
Sign Up To Our Newsletter