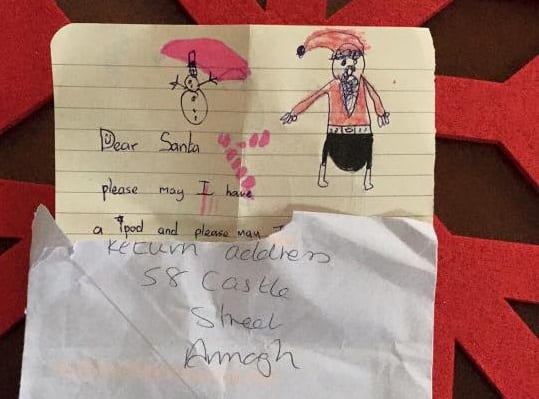 The Christmas spirit really wasn't with some Grinch at a Royal Mail sorting office after they returned a letter addressed to Santa from a little 10-year-old Armagh girl.
Mum Geraldine Fields posted the photo on Facebook after the letter was returned in the post this morning.
Geraldine could not believe her eyes when she saw it arrive through the letterbox, and that nobody at the sorting office had the common sense just to see that it was a letter addressed to Santa, North Pole, without a stamp.
She was particularly annoyed with the fact her daughter stumbled across the letter too.
"I never had a letter returned before," Geraldine explained to Armagh I.
"I just addressed it to Father Christmas North Pole I didn't put a stamp on I never had I just assumed they would of binned it.
"She's just a 10-year-old girl so we've told her that we'll send it the old fashioned way – by chimney."
She added: "You just assume that someone in the sorting office would have exercised a bit of common sense!"
Somehow we think Santa will see her letter and she'll not be too disappointed come Christmas morning.
Read more news:
Pensioner robbed of Christmas money before being assaulted and locked in kitchen
Two Co Armagh men arrested during international laundering and tobacco raids
Transplant legacy for 'Bambi' as young dad's organs give four strangers gift of life
Co Armagh family in lucky escape after carbon monoxide engulfs home
'He's a fighter' says sister of teenager fighting for his life after crash
Young Armagh man dies in hospital days after dream holiday Down Under
Three men pretending to be collecting for charity in Armagh arrested
Unexploded pipe bomb found outside Armagh house
Council again says 'no' to £1.8 million housing plan on Armagh playing fields
Sign Up To Our Newsletter