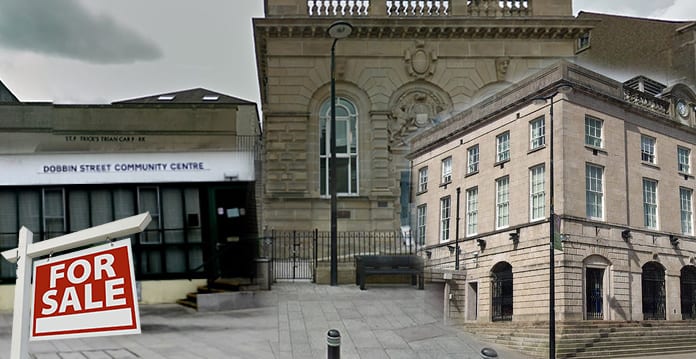 A multi-million community 'hub' and library in the heart of Armagh City Centre will be recommended for planning approval this week, Armagh I can exclusively reveal.
If agreed upon by councillors tomorrow evening (Wednesday) at committee, and ratified at full council later this month, it will be a huge development which will bring back into productive use two Listed Buildings.
And it is one which will have a huge spin-off effect across the city.
It will see the amalgamation of two libraries – the branch library at Market Street and the Irish and Local Studies Library at the old City Hospital building – in the St Patrick's Trian site.
The famous Market House building – currently home to the branch library – will be given over to an alternative use.
Meanwhile, the Dobbin Street Community Centre – which has served as a base for many groups and charities in Armagh for generations – will also be closed altogether and put up for sale.
The far-reaching development was first revealed by Armagh I back in February 2015 and – after a detailed assessment given the historic nature of the properties concerned – a decision has been made.
The site itself includes a number of prominent buildings including Saint Patrick's Trian, formerly the bank manager's home, which was built around 1800, the former Presbyterian Meeting House, which was built in 1722 and previously housed the exhibition of Jonathan Swift's 'Gulliver's Travels', and the tourist centre, originally the Northern or Belfast Bank, built around 1851.
Officials – subject to eight conditions being laid down – have now recommended that Armagh City, Banbridge and Craigavon Borough Council, the applicant behind the ambitious plans, be allowed to proceed.
The work will see the demolition of the former Armagh Ancestry building at 42 English Street and the partial demolition of the visitor information centre at 40 English Street.
An archway between the two is also listed and, while being retained, will require work to strengthen and sustain it.
It is intended to create a 'public open space area' and ancillary external refurbishment associated with St Patrick's Trian.
There will be internal alterations to provide a new library – a 'one-stop shop' for both Libraries NI facilities in Armagh – as well as a communiy 'hub' and meeting venue which would meet the needs – and more – of all those currently using Dobbin Street.
A new entrance lobby to the Trian will be constructed as part of the plans.
Adjacent to 42 English Street will be a new retaining structure, which will form a 'green wall' with plants and shrubs growing from it.
Collectively, the plans will go forward with an opinion to approve when the council's public and regulatory services committee sits this Wednesday, September 14.
Planning and listed building consent have been recommended, but a third application for Conservation Area consent will be determined by the Department of Infrastructure at Stormont.
The only objection to the proposals received was from the Ulster Architectural Heritage Society, which expressed concerns about the demolition of the former Armagh Ancestry building and the impact it would have on the adjacent listed building.
It also questioned the need for additional library space in Armagh.
Planning officers, meanwhile, argued that while some aspects of the proposals did not comply with policy statements, there were exceptional circumstances, including the "positive and significant benefits this proposal would deliver for the City of Armagh and its citizens".
These included the reuse of two important listed buildings and the provision of community facilities.
In relation to the 'need' for a library in Armagh, Libraries NI confirmed its intention to amalgamate both branch and Irish and Local Studies. This was not possible at the Market Street location, whereas the Trian development was the ideal location.
An archaeological study will have to be carried out on the site before any building work gets underway, just one of the conditions laid down in line with approval being given.
It is expected to be the New Year before there would be any actual movement on site but, when complete, the facilities will offer a state-of-the-art venue with multiple public uses.
Read more news:
Grieving mum urges donations to cancer charity in memory of brave Rebecca
Dog owners warned to be on guard after three Loughgall incidents
Look inside the Lissummon railway tunnel abandoned half a century ago
Armagh Camogs heartbroken after defeat to Carlow in All-Ireland final
'Unique opportunity' to buy former seat of worship in County Armagh
Pressure grows with public urged to sign petition for 'iconic waterfront park'
Newry pensioner scoops a EuroMillions fortune – and thanks the cold weather!
Thumbs-up for exciting state-of-the-art outdoor pursuits park in south Armagh
Sign Up To Our Newsletter