A single mother.
Two twin boys, just four years of age.
And a new-born baby.
All wrapped and huddled together for warmth in a black bin bag on the street.
It's an image that sticks in the mind and we like to think, in this day and age, something which is the stuff of fiction.
But this was the cold and hard reality faced by the team from the Armagh-based Mission Coffee.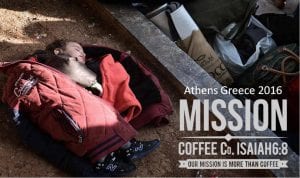 This scene played out before their eyes during a recent visit to bring aid to those living in poverty and squalor, forgotten and devoid of hope, on the streets of Athens.
Mission Coffee is a non-profit Christian non-denominational coffee house on the Mall in Armagh and the aim is, quite simply, to do what they can for others.
By helping here in Armagh, the public can make a difference to those living – rather, trying to survive – in such cruel circumstances.
A spokesperson for Mission Coffee told Armagh I that the Mall-based venue is open to all and they want people to come along and support the work which they do.
She said: "Our goal is to help the needy, poor, hungry, enslaved and unreached people of the world.
"By purchasing a coffee you are partnering with us to help change lives across the world.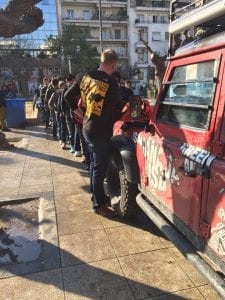 "As we like to say 'our mission is more then coffee'."
She added: "The team have recently returned from Athens where they worked with Syrian refugee families living on the streets, ports and camps peppered across the migrant corridor of Europe.
"One of the mission coffee workers expressed the heartbreaking anguish when encountering one of the refugee families that consisted of a single mother and her twin boys, aged four, and newborn baby wrapped in a black bin bag living on the street.
"This is sadly the reality of most of the refugees forced into the hopeless situation of fleeing war-torn Syria.
"Mission Coffee was able to minister to the physical needs of these families by bringing food, water and clothing and the basic necessities of life."
Put simply, Mission Coffee urges people in Armagh to call by and "drink a coffee, change a life".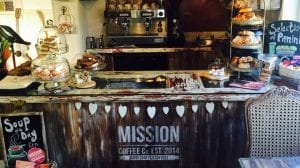 Based at Mall West, the venue has now reopened after the mission to Athens and they want the public to come along and show their support so this work can, and will, continue where and when needed.
Mission Coffee is open each week, from Tuesday to Friday, between 10am and 4pm, and all are welcome to drop in.
Read more news:
Two men charged after arson attack on boxing club
First Minister told nothing short of new build and sixth form will do for Markethill High
Digger stolen and driven three fields before loaded onto lorry
Armagh company prosecuted after worker falls from height and breaks nine ribs
Vandals damage four vehicles as car dealership is targeted over the weekend
South Armagh primary school gets £1.5m funding boost
Picture shows man caught trying to force open window of Co Armagh home
Sign Up To Our Newsletter