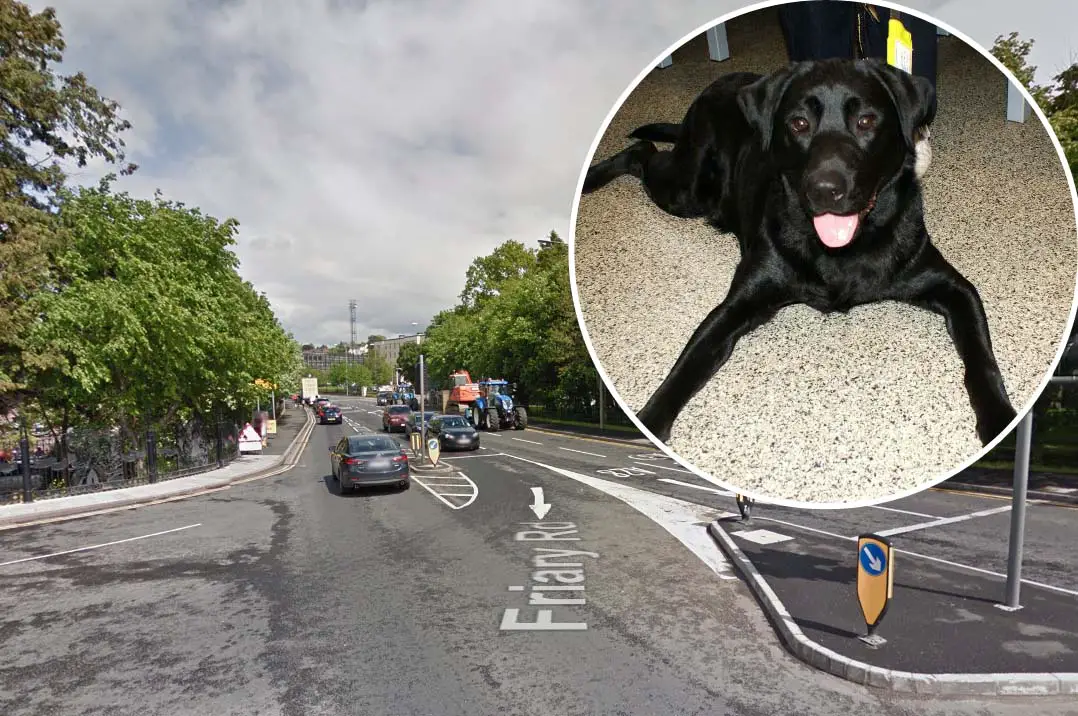 A guide dog which broke free from its owner is recovering tonight after being injured in a road traffic collision in Armagh.
And but for the actions of the Armagh dog warden it could have been so much worse.
Emily, a seeing eye dog, broke free from her owner in the Dobbin Street area earlier this afternoon.
The disappearance of the black Labrador/Retriever sparked a frantic search.
And it was the warden himself who found Emily a short time later, at the gates of the Palace Demesne.
One of the council's grounds staff had witnessed Emily dart across four lanes of traffic in front of the City Hotel.
She had been struck by a vehicle and sustained an injured leg.
"I got her into the van and collected her owner to take them to the vets," the dog warden told Armagh I.
He said Emily must have run off and had become disoriented with the noise and traffic.
He took the injured dog to O'Reilly & Fee vets in Armagh for treatment and for an X-ray and waited with the anxious owner.
The dog warden – who as always went above and beyond the call of duty – later drove the owner home.
He said Emily was "in shock" and had sustained a cut but she will be monitored at the vets' overnight and should make a full recovery.
Fortunately she did not sustain any broken bones and should soon be home where she belongs!
*Picture for illustration purposes only
Read more news:
Borough's £80,000 Somme commemorations to go for council approval tonight
UUP Assembly candidate takes down Union and Ulster Flags in Portadown
Firefighters tackle huge gorse fire in south Armagh
Police praise 'responsible' parents for taking action after son's party gets out of hand
Visitors/education centre and youth drop-in feature in Markethill 'masterplan'
Parties polls apart over multi-million pound county Armagh railway network promises
New enterprise park at centre of Tandragee master-plan
Become a member
Support local, independent businesses by becoming an independent member.
Become a member