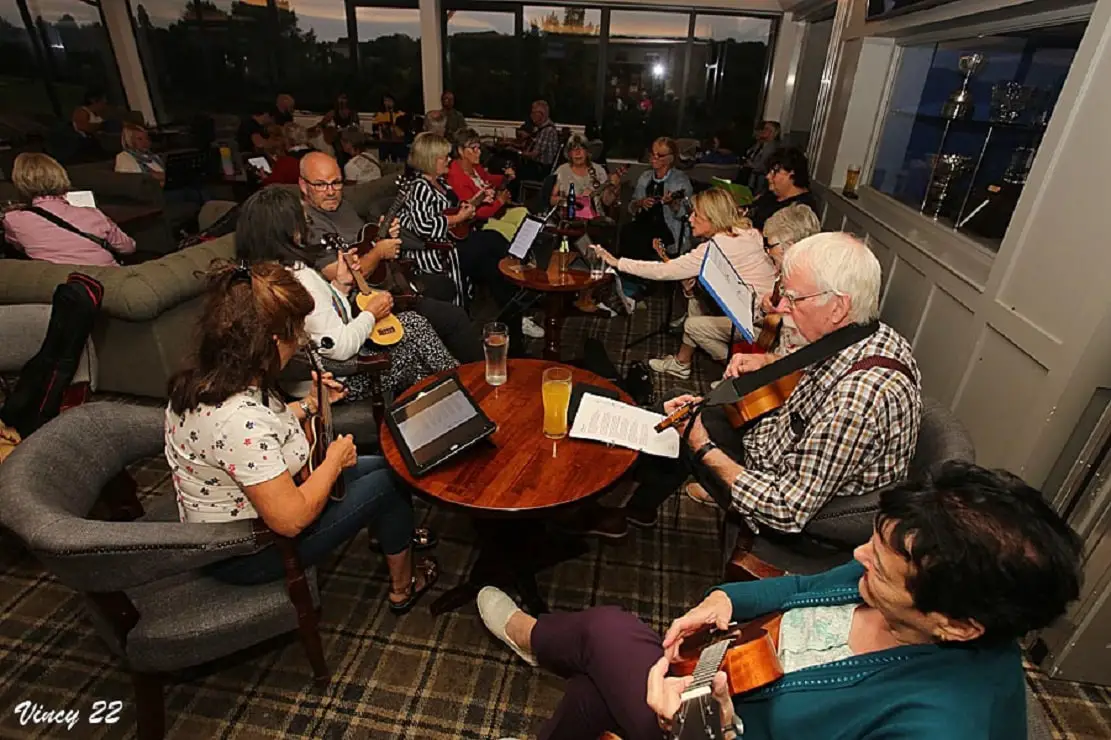 As the number of ukulele players across the world grows by the day, one Co Armagh-based group have told how they're using music to bring light into people's lives, with the main aim being just to have a bit of fun.
The 'Orchard Ukes' are an Armagh ukulele jam collective, who meet at various locations across the city to spread good vibes and showcase their distinctive musical style to the public.
Pauline McDonald, who formed the Orchard Ukes in 2019, says she never would have thought she would be running a ukulele club.
Speaking to Armagh I, Pauline recounted the origins of Orchard Ukes, which started with herself and friends and family, but today boasts upwards of 40 members.
"We have been going from 2019, and we got together and had our debut in the Abbey Lane Theatre, to let people know that it was going to be happening," Pauline explained.
"From then on, we've been meeting every other week in the Armagh Golf Club on Wednesdays. During COVID, we tried to do some outdoor sessions in the Palace Stables, or anywhere at all really that would have us.
"It started out as a ukulele group, but now it has any instrument under the sun with any age group and anybody really. We've got saxophones, keyboards, melodicas, a full drum set, bass and more!
"Any instrument and anybody is welcome. It's a non-judgmental place. We don't teach as such, but we would show anything we know to anyone who asks."
Pauline says that the group got started off using an online book from Belfast Ukulele Jam, which held a repertoire of thousands of songs.
"We would have maybe 40 or 50 songs out of that book that we would do, that have more or less the same kind of chords and ones that people know the tune, so even if people aren't playing, they can sing along.
"It's it's a wee bit of a sesh, and if somebody wants to do a tune on their own or bring some new songs to the group, then bring it on."
The Orchard Ukes are continuing to grow from strength to strength, having expanded past their humble beginnings to now welcoming musicians – or non-musicians – of all shapes and sizes.
"At the minute with the Orchard Ukes we have probably about 40 regulars. That doesn't mean they come every time but they're always in the background. The regulars consistently want to come back, so people seem to like it," Pauline says.
"Some people have never held an instrument in their lives and some people are professional.
"The reason I started playing ukulele is because I've played lots and lots of instruments, a kind of jack of all trades, but singing was the only thing I really stuck at.
"I have limited guitar skills, so when ukulele was brought into my life, that was a way to accompany myself and it has opened so many different kinds of doors.
"It's so weird. I can't believe I'm running a ukulele group. It seems a bit surreal."
Pauline is keen to stress that the Orchard Ukes is a welcoming, no-judgement environment.
"We don't charge, it's not a money thing, it's a midweek therapy session. It's for beginners and experienced musicians.
"Everyone is welcome, and there's always spare ukuleles. People have been so kind to us and have given us different bits and pieces, so if somebody wants to come along and they don't have one, I'm happy to give one of mine out.
"Everyone is so involved in their own music that they don't have time to be judging anyone. People have developed friendships out of it and some are even taking themselves away on holidays together!
"It really does bring people together, all through one thing – music."
Sign Up To Our Newsletter