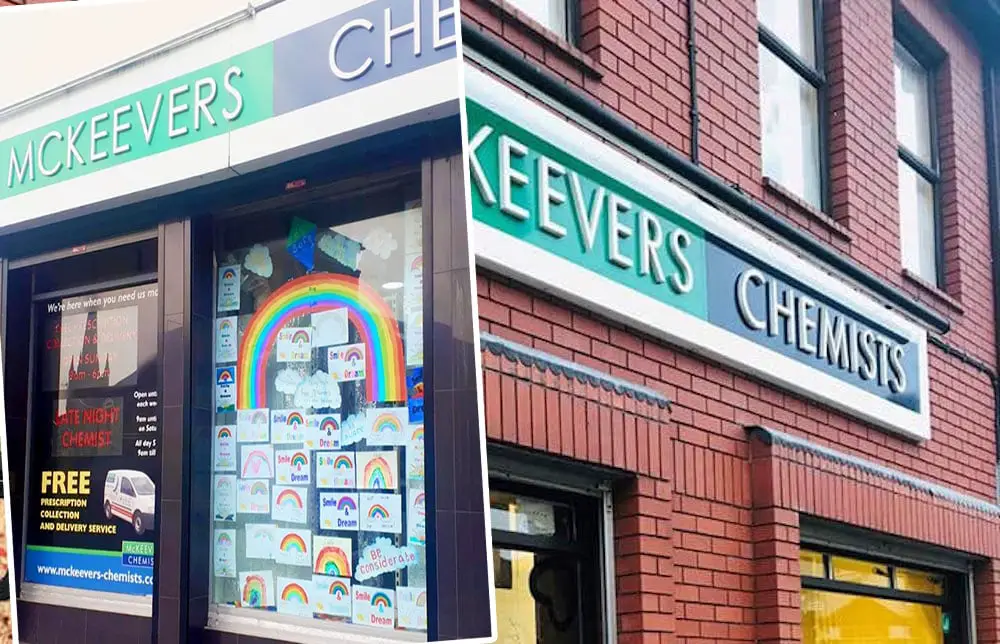 Many stores had to close up over the last year due to the pandemic but, as perhaps one of the most essential services, pharmacies had to keep their doors open.
Just one of these was McKeevers Chemists – a local pharmacy – who have gone above and beyond to support their local communities and customers.
And that extra mile has been accumulated by a range of employees, from sales assistants, delivery drivers and pharmacists to the firm's office staff and cleaners.
One of those pharmacists, Colm Quinn of the Thomas Street branch in Armagh, said that the day to day work of McKeevers Chemists right across their 25 branches has changed dramatically.
Speaking to Armagh I, he said: "At the beginning of this, there was panic over 'will I get my medication, if I am locked up in the house all day how will I get it?'
"So, our job at the start of this was really reassurance. We did a lot phoning our vulnerable patients and speaking to relatives, putting out the message that no matter what is going on medication would be delivered."
While some businesses have open and shut to coincide with different lockdown measures, McKeevers Chemists has remained constant. As a vital service it has remained open throughout the pandemic, while adapting to the change in customer behaviours.
Less face-to-face interaction has been one of the toughest hurdles for the community-focused pharmacy – and its customers – but a robust online store and delivery service has allowed for a seamless transition to a new way of offering their services.
It's a challenge McKeevers Chemists has risen to admirably; the company has focused on being there for their customers, especially their most vulnerable, no matter what.
"We are meeting less customers in shops and engaging with more customers through other communication channels – telephone, website and social media," said Colm.
"Some of our customers have gone from shopping in the chemist stores to being stuck indoors, especially those who are high risk, but our staff have always been there for them."
Despite the ever-changing landscape of Covid, McKeevers Chemists has still been able to provide the quality service throughout.
Covid measures have been put in place to protect staff and customers while they are in the shops but there has been a notable change in the way they provide their services, with delivery becoming an important part of their operation.
According to Colm, deliveries of prescriptions and essential items since the start of the pandemic, from their stores across Northern Ireland, have skyrocketed.
He said: "We have seen a huge increase of online traffic with increased customers buying products on our website.
"We have also seen a rise in weekly boxes for patients, especially those who didn't have someone to administer the medication to them".
"It has been hard work. At the start we were working late into the evening making sure everything was ready, for those weekly boxes.
Colm said there was a fear about the safety of staff at the beginning but that measures were quickly put in place to allay this.
"We put our staff into bubbles but luckily we have had very little illness, partly because we took measures at the very beginning. We implemented transmission and protective measures across all our stores."
Colm said that the dramatic increase in phone calls checking up on vulnerable patients was a lot to take in but now it is like second nature.
He added: "Brexit was thrown in the middle of it too, people were worried there would be a shortage of medications but that wasn't the case. There were some minor issues but our buying team were ahead of the curve on that."
One big asset, which has appeared over the pandemic, according to Colm, is that there has been a pharmacist at every GP surgery.
He said: "It is easy contact for us. GPs are very busy and hard to get speaking to. It is much quicker to get talking to the pharmacists and it means that issues with medication are sorted faster, plus they speak our language."
Another growing trend witnessed by Colm was many people coming to their local pharmacist for help over medical issues instead of their GP.
"Some people were a bit reluctant to go to their GP over fear of getting the virus. We are much easier to access and speak to and pharmacies have always been like that.
"It is really a point of, as a friend of mine says, 'I don't know but I know a man that does'. We are able to go away, find out the information and signpost the people."
Over the counter medication sales have also grown as many people have started self-medicating.
Colm said the challenge for pharmacists is making sure that is managed.
He commented: "We have seen a big change. I had Facetime calls looking at bumps, bruises and rashes which certainly for a boy of  my age that has been a new feature.
"If we had suffered a pandemic such as this a few years ago we might not have been able to deal with it as easily as we have now, with all the new technology."
Colm added: "The links between secondary and primary care have been brilliant, given that this was a standing start and nobody knew this was coming this time last year."
Colm also championed the work of all of those in the health service in their work throughout the pandemic.
The vaccination process has been great, we will be involved in that further down the line as we expand our vaccination services. There is light at the end of the tunnel but how long away that is we are not really sure yet.
Check out their website here for more details on services, including: prescriptions; treatments; vaccinations; deliveries and much more.
'McKeevers Chemists, Here When You Need Us Most'.
Sign Up To Our Newsletter