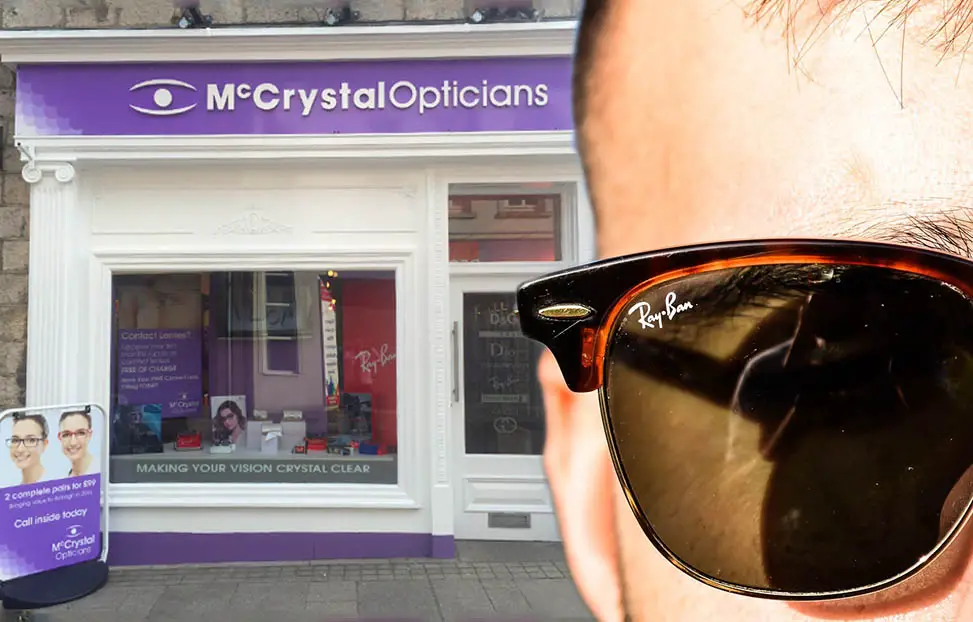 With the clocks going forward an hour last week; longer, brighter days are ahead of us – and for that, McCrystal Opticians in Armagh has you covered.
As an official distributor for the iconic Ray Ban brand, the city centre store on Scotch Street is offering a special deal throughout the summer, on their entire  Ray Ban sunglasses collection.
With winter in the rear view mirror, Aidan McCrystal and his team are looking to brighter days and are providing their customers, who choose Ray Ban frames, free lenses with tint, UV coat and necessary prescription, at no extra cost – they pay for that!
What's more, Armagh I has partnered with McCrystal Opticians to giveaway a free pair – prescription (if required) or not – to one lucky winner. Enter at this link here.
But why Ray Ban? Longevity and quality are just two of the reason Mr McCrystal has chosen the brand.
Ray Ban has been making functional and cool eyewear for over 80 years – a classic on the market since the 1930s.
While their frames have become a fashion accessory all their own, at the core of it, they're made to protect your eyes.
Whether you're lucky or not with the giveaway, you always have the option of dropping into McCrystal Opticians Monday – Friday, 9am-5pm.
And an essential business McCrystal Opticians remains open and available to serve the Armagh community. To make an appointment at their Scotch Street practice, call 02837528242.
Visit the McCrystal Opticians website here. You can also keep up to date with them on Facebook, here.
Read more:
McCrystal Opticians Armagh supporting World Vision Aid Overseas with unwanted spectacles
Casting an eye on future as McCrystal Opticians invest in cutting-edge scanner technology
Armagh optometrist says focus must remain on eye care despite challenges of pandemic
Sign Up To Our Newsletter