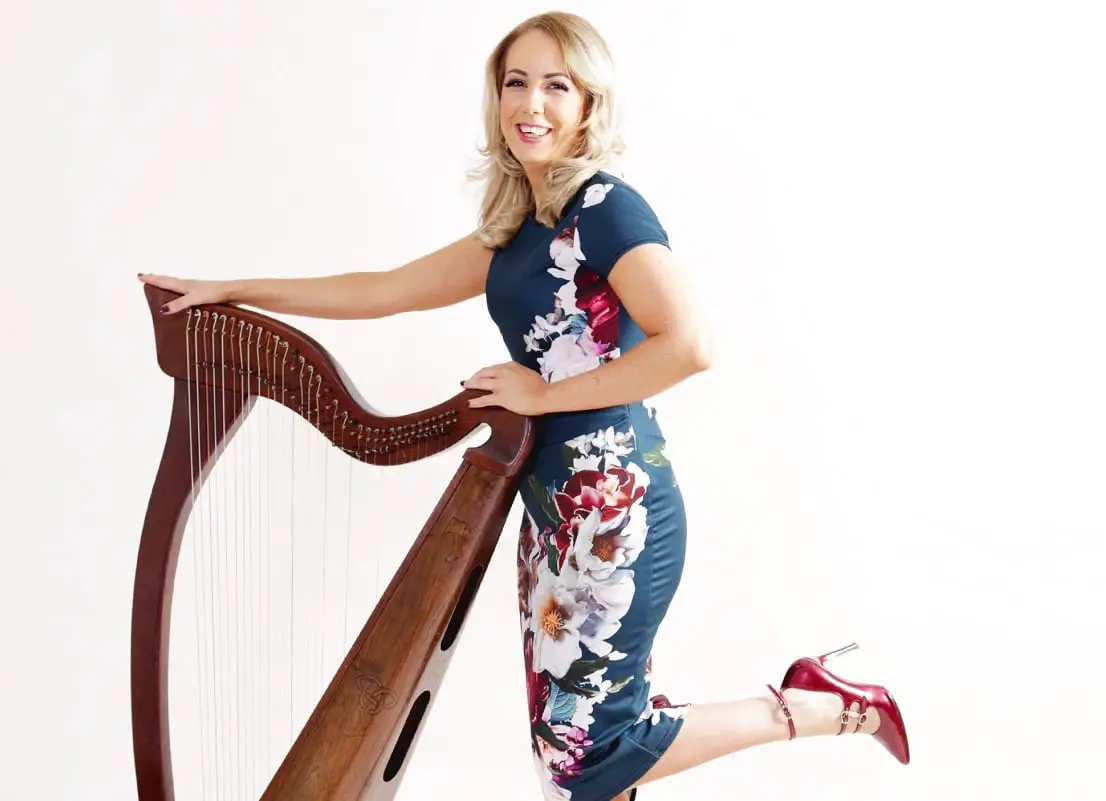 A Co Armagh singer and harpist has taken to posting daily 'Sitting Room Session' videos to lift spirits during the Covid-19 lockdown.
Mary O'Neill, from Mullaghbrack, is more used to playing her music at grand events such as wedding.
But she has now swapped that for her own living room and is receiving a great response.
She began the daily videos upon the announcement of the lockdown and has now posted over 50 spanning all genres.
Speaking to Armagh I, Mary said: "I never thought I'd make it to day 50, I just thought 'ah sure I'll do a daily video to pass the time', but now it's kind of like 'oh my goodness I have to do another one'.
"Every time I say to myself 'aw I'll call it a day', I get a message through, maybe some of my couples who were due to get married or have had it postponed saying 'aw we loved it you'll have to keep going', or a man telling me 'oh my wife is a worker in the NHS and she listens to you everyday', which just gets me motivated to do even more."
Mary has been performing at weddings from the tender of age of 18 and continued this as a part-time job up until three years ago.
"Our family is so musical and they were sort of into it as well so I was thrown into the deep end. My mummy plays the harp as well, and my dad, he plays the accordion, but he makes harps as well.
"So I was basically given a harp when I was five years old and told to go learn it. Happy birthday," joked Mary.
"We would have house sessions so a lot of people would have come in and out of the house over the years, and as a child growing up you think this is amazing.
"I means there's like 20 people in the living room singing songs around the fire. Our ones do try to keep that up but obviously not at the minute. It's a lovely way for the older generation to pass down songs".
Mary said that due the current situation her diary is currently free up until the middle of August but this is likely to be clear too.
"2021 is going to be a mad year. I've already said to a lot of my postponements you're going to have to look at a mid-week wedding, because the likes of your venues and your bands are already going to be booked for next year.
"So if they want all their original suppliers which they will, they will have to book mid-week and most of them are. So you are trying to roll two years into one and it's a bit crazy."
Explaining how the 'Sitting Room Session' started, she said: "So I sort of wanted to see what I could do to entertain my followers but also entertain myself. At the end of the day when this is all over I have to go back to do weddings and have to be as good as I have been.
"So I thought why not post a daily video and ask some of my couples and other people for requests? So there's been a couple of brides and grooms who have requested songs which I am going to play at their wedding.
"So I've put a wee note in saying it's going out to them, it makes them feel special too. Obviously people have different tastes and genres which they like and don't like."
Mary has tried to make sure that there is something for everyone in her covers.
She added: "I've always done that, and said to people that you can play Kings of Leon on the harp, you can do Johnny Cash and all these modern and contemporary songs, as well as your Irish traditional and your classic love songs.
"Sometimes I would have a guest on, using the Acapello app, because I would play with a range of musicians anyway."
Asked about the most bizarre request she has received from a bride or groom.
Mary said: "Years ago, I had a bride that walked up to Metallica, Nothing Else Matters. At the time when she sent me the link and I listened to the song, I just thought what am I going to do.
"I always say to my couples, give me your list of songs and if there's anything that I might have trouble with, we'll rearrange it or try to do something with it, but I listened to this song, thinking I have no idea what I'm going to do.
"I ended up doing an acoustic version of it, as she was walking up the aisle and I was playing, I was just thinking this does not sound like Metallica and they're going to hate it.
"She actually came up to me afterwards and said that it was the most beautiful version of that song that I've ever heard."
She added: "Thank God I have never been caught out though, touch wood."
You can check out some of Mary's Sitting Room Sessions on her Facebook page.
I'm sure this song is played by every wedding band in the country 🤣 but here is my stripped back version of Journey's Don't Stop Believin'LoveMary 💕#Day46 #SittingRoomSessions #MaryONeillMusic

Posted by Mary O'Neill Music on Friday, May 1, 2020
Sign Up To Our Newsletter