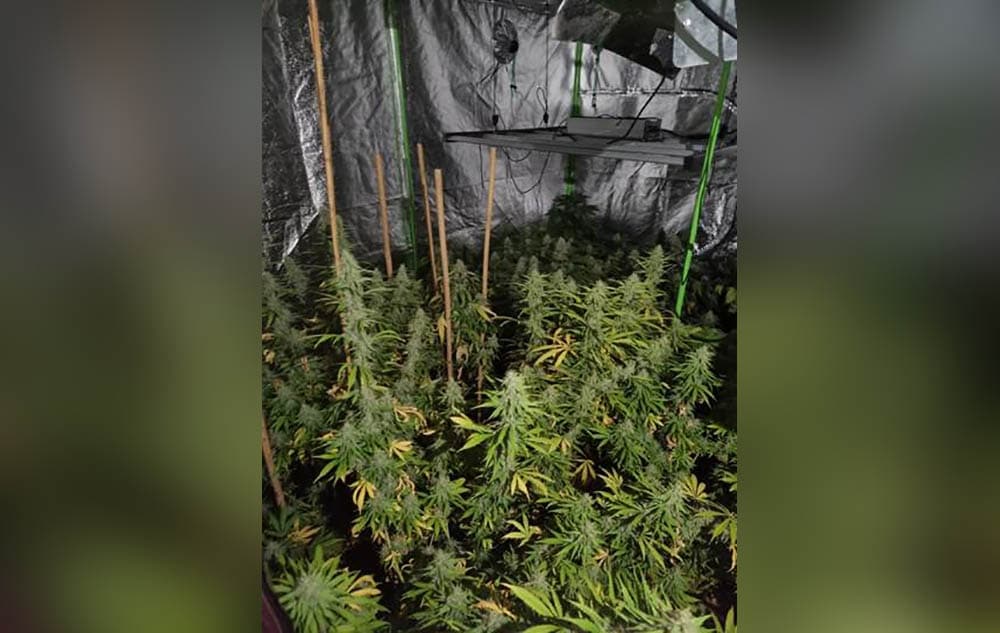 Police who searched a house in Armagh on Tuesday found mature cannabis plants and saplings in two separate rooms, Newry Magistrates' Court was told.
The plants were discovered at Woodford Green in the city.
Today (Wednesday), two 22-year-old men appeared before the court, via videolink, from Banbridge Custody Suite.
They were Evaldas Tervilys , of Van Der Varghaan, Hoofddorp, the Netherlands, and Arminas Uzga , of Woodford Green, Armagh.
They are jointly charged that on September 28, they cultivated a cannabis plant at Woodford Green, Armagh, possession of a Class B drug, namely cannabis, possession of cannabis with intent to supply, production of cannabis and dishonestly using electricity at Woodford Green.
Defence solicitor Ruairi Gillen said he would be applying for bail on behalf of Tervilys but not Uzga.
He said Uzga had accepted responsibility for the cannabis factory and another discovered in Co Down in April.
Outlining the details to the court, a detective said police carried out a search of the property at 10am, where they found both defendants.
Objecting to bail, he said Tervilys had only flown into the country just a few days previously and was due to fly out again on October 6.
He said the defendant had told police he was a tourist and was visiting a friend.
But the detective added police believed that if he left the jurisdiction he would not return.
He also told the court he had dealt with previous similar cases where one person takes responsibility for the cannabis factory.
Defence solicitor Ruairi Gillen said both men had been classmates at school in Lithuania and that Tervilys had come to Northern Ireland to visit Uzga.
"There is nothing to suggest Mr Tervilys is not being truthful," he said. "This is a man who is in full-time employment. His dilemma was what to do when he found the cannabis growing in the property.
"In an ideal world, he should have notified the police, or left."
However, District Jude Eamonn King refused bail saying Tervilys posed a flight risk and could interfere with the investigation and witnesses.
The court was also told that Uzga is facing five separate charges relating to the discovery of cannabis plants at a property on Shore Road, Annalong, on April 11 this year.
They are cultivating, producing and possessing cannabis as well as possession with intent to supply and dishonestly using electricity.
Both men were remanded in custody to appear again in court on October 26 by videolink.
Sign Up To Our Newsletter