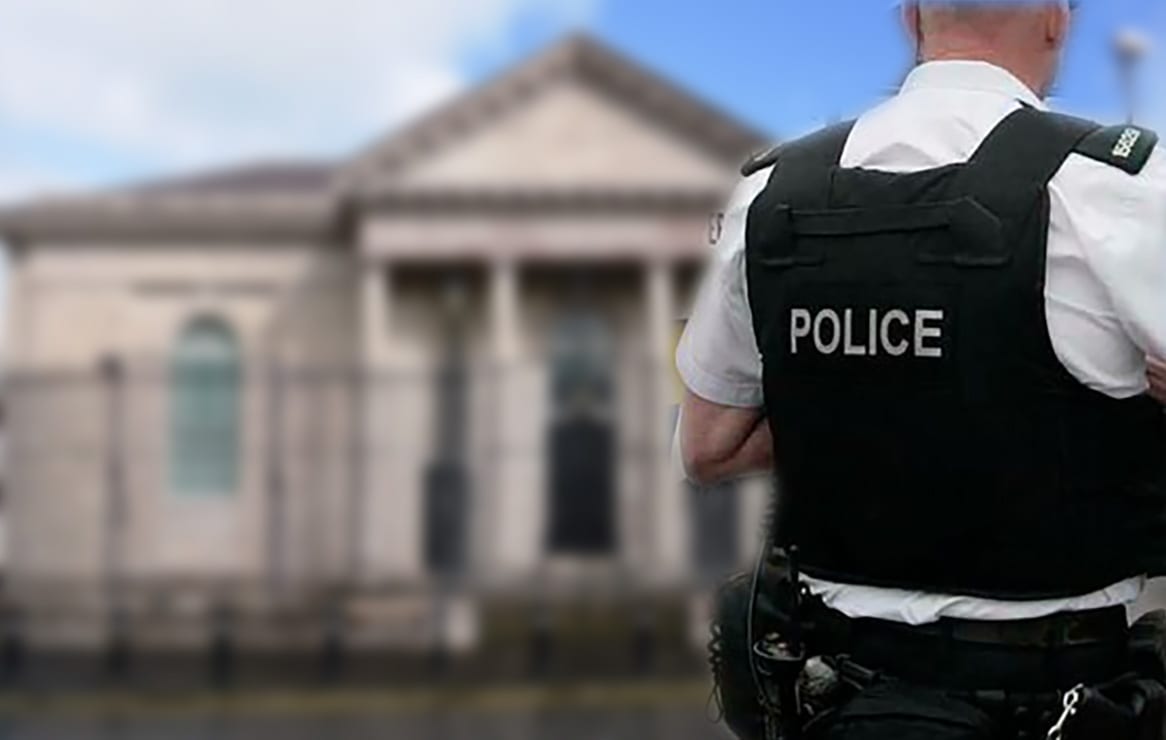 A man who assaulted his former spouse and her new partner in an attack believed to be "partially motivated by a homophobic outlook" has been handed a conditional discharge.
The 41-year-old's legal representative told court: "He has paid the ultimate price of being deprived of contact with his children which he accepts is his own doing."
David Hughes, of Carnbane Gardens, Newry appeared for sentencing on two counts of assault occasioning actual bodily harm and resisting police at Armagh Magistrates' Court on Tuesday.
Prosecution outlined that on July 12, at 11.15pm, police were called to a report of a domestic incident at an address in Canal Court, Scarva.
Officers who arrived at the scene activated their bodycams before approaching the defendant.
Hughes was aggressive and violent towards police with CS spray having to be deployed.
The defendant was initially arrested on two counts of common assault but due to the level of injury suffered by the two victims, his ex-wife and her new partner, this was converted to assault occasioning actual bodily harm.
During interview, Hughes denied violence against either of the injured parties.
Prosecution outlined that the defendant's ex-wife had abrasions and bruises to her knees along with bruises on her chest.
Her partner suffered a black eye and a laceration to the top of her head.
One witness claimed to have seen Hughes bang the head of his ex-wife's partner against the ground whilst holding the other injured party down.
A second witness said they had seen the defendant grabbing both women by the hair.
Prosecution stated that all three of Hughes' children had been present at the time of the assaults.
Although the defendant during his original interview denied the offence, he later claimed he could have caused the injuries but could not remember.
Prosecution claimed that these offences had been aggravated by a "homophobic element".
Defence counsel stated: "This is a disgraceful and appalling set of circumstances. This was a guilty plea at the first opportunity and Mr Hughes is deeply, deeply distressed and offers his sincere apologies.
"Prior to this he had a 15 year old marriage, with three children which he was greatly involved in. He even took four years off work to look after his wife when she was ill."
She continued: "He had come to terms with his wife's new relationship. He had been looking after the children whilst his wife and her partner went out.
"He had expected them to come to collect the children but they were late. He had consumed alcohol and this all triggered this very unsavoury set of circumstances."
Defence counsel informed the court that Hughes had engaged in a voluntary six month domestic violence programme.
His legal representative stated: "His solicitor has received a letter from his ex-wife in which she states she does not object to contact as she understands the steps he is taking.
"He is a man with a completely clear record. He has been up front with probation and they have assessed him as having a low likelihood of reoffending."
She added: "Prior to this unsavoury incident he had a loving father child relationship with each of his children.
"He has paid the ultimate price of being deprived of contact with his children which he accepts is his own doing."
District Judge Paul Copeland stated: "This was an outrageous incident which has been exacerbated by a number of issues which have been highlighted by the prosecution.
"These assaults in themselves were cruel and of a bullying nature but they are aggravated by the fact they took place in a domestic setting and further aggravated by the fact that children were present."
He continued: "There is also also a strong suggestion that this was partially motivated by a homophobic outlook that combined with the consumption of alcohol pushed you far, far beyond your better judgement.
"However, I am satisfied one if not both of your victims have displayed a level of generosity and forgiveness. This combined with what I have read in the pre-sentence report and heard from your counsel show you accept that your conduct was well beyond the pale of acceptable behaviour."
District Judge Copeland said: "This means I am going to impose a most unusual sentence, in matters such as this, of a conditional discharge in which your conduct will be supervised by the court and police along with the voluntary agencies over the next two years.
"You have been given the opportunity to stand by the assertions which have been made to your children, to your wife, to the court and to the probation service."
In addition, Hughes was ordered to pay compensation of £1,000 to each of the injured parties within 12 weeks.
Sign Up To Our Newsletter