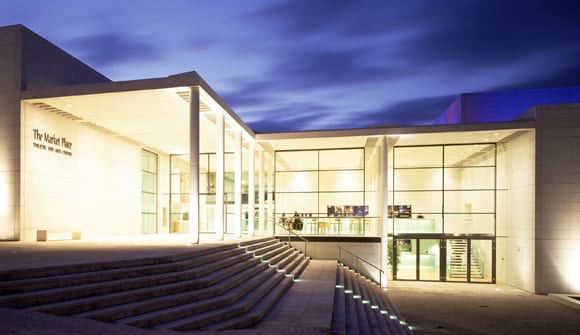 A major £1.1 million makeover is being planned for the Market Place Theatre in Armagh ahead of its 20th anniversary.
Armagh City, Banbridge and Craigavon Borough Council is hoping to address issues of concern at the award-winning city centre venue, including access and lighting problems.
And at the same time they want to ensure the Market Place remains to the forefront of the city's evening economy and tourism drive for many more years to come.
The council's leisure committee will meet tonight (Tuesday) to view plans.
Two options have been drawn up and councillors will be asked to endorse the proposals before they go back to full council later in the month to be formally ratified.
The Market Place Theatre opened in March 2000 and since then over 1.2 million people have used its facilities, enjoyed performances, participated in arts activity, been engaged at conferences or meetings, viewed the exhibitions or experienced other aspects of the facility's work.
Since it opened there have been capital projects to repair failing roof lights and add heat retaining lobbies to the building.
But the facility has not been refurbished, upgraded or improved in any significant way – although all that is about to change.
Now, after 18 years, it is in need of improvements to the facilities that are offered to audiences, participants, visitors and artists.
The Market Place celebrates its 20th anniversary in March 2020.
Councillors at the leisure committee will be told tonight that, ahead of that date "a programme of refurbishment is required to ensure that the venue is fit for purpose in the years ahead".
Works required would address various matters, inluding inadequate emergency exits for disabled patrons from the auditorium, inadequate disabled toilet provision, inefficient use of space, most notably the "configuration of the box office and former restaurant", which "impacts negatively on customer experience".
There are also "ventilation issues" in both public and backstage areas, while workshops 1 and 2 are described as "uninviting spaces for conferences" as they stand.
There is non-energy efficient lighting throughout the building too, something else which needs to change.
Design options to address the all issues have been drafted and costed and an economic appraisal carried out to assess the best option to progress.
Among the many changes which could materialise – if the preferred option is accepted – is the removal of the upstairs bar as it stands and replacement with a 'crush bar' to serve interval drinks – of a similar appearance to the downstairs bar.
There would also be new fixed seating, air conditioning, new entrance lobby, a new timber-framed box office, lit with LED lighting, bronze signage and integrated display leaflets.
The fine details will still have to be discussed and agreed.
But it is the intention that the Market Place will remain open during the works, which would take place – all being well – between May and September next year.
The new-look theatre will be ready then in time for the 20th anniversary.
Sign Up To Our Newsletter