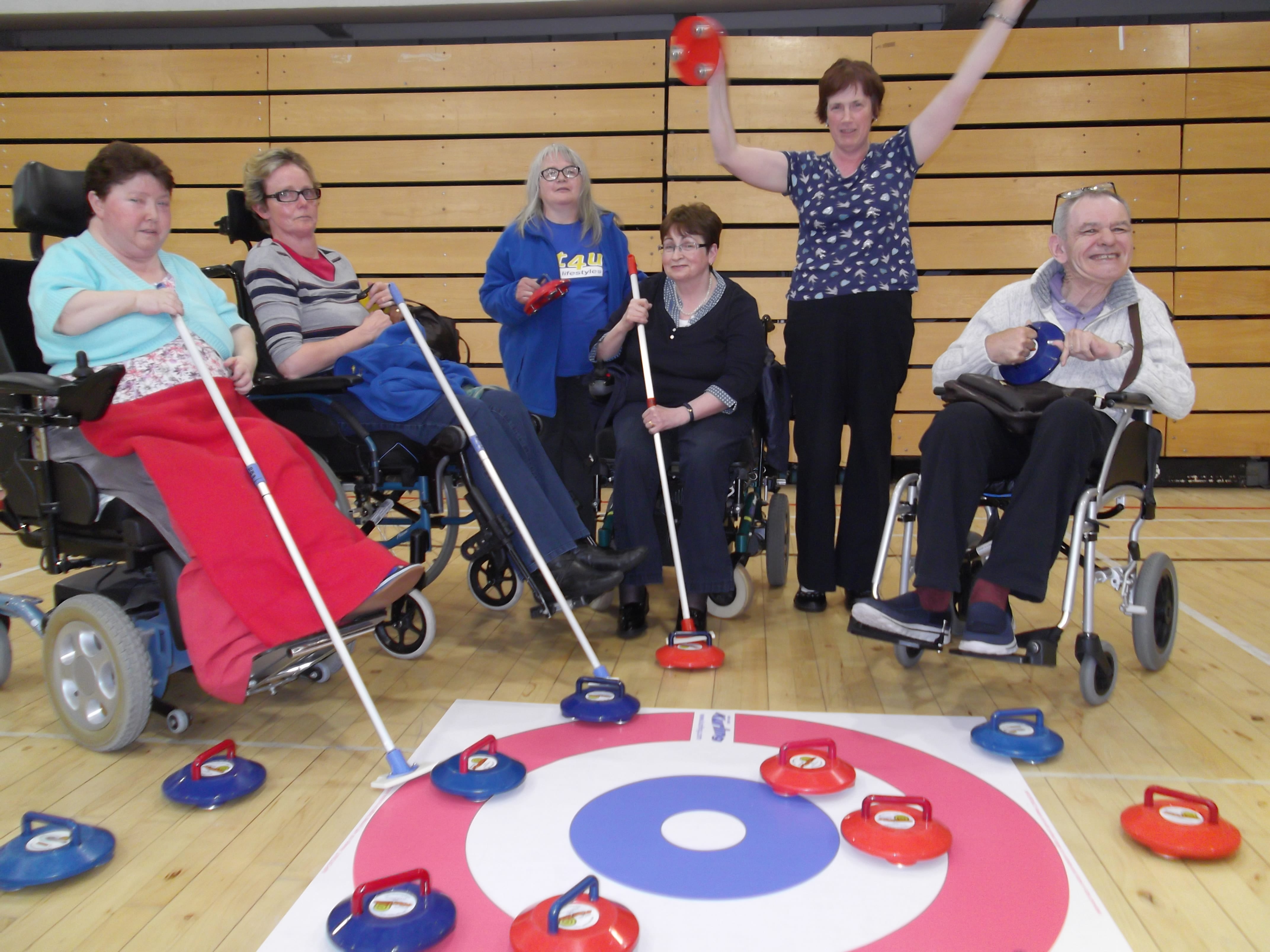 Local adults with physical and sensory disabilities are now being offered the chance to play new age kurling as part of the Southern Trust Fit 4 U Project.
New age kurling is an indoor adapted version of the kurling game played on ice and it has many benefits.
Rhonda Richardson, Fit 4 U Co-ordinator at the Southern Trust, explained: "It is a game of accuracy and control.  It is a sport that promotes co-ordination, communication and teamwork.  It benefits participants' physical, mental and social health.  It is a relatively new sport, but becoming increasing popular among those with disabilities."
Two local participants have described what it means to them to be able to play.
Margaret Kelly said: "I never imagined I could participate in sport because of my disability. Kurling is a sport that I really enjoy, it is interactive and inclusive.  I feel proud that kurling is a sport that I can do."
Ann Chesney added: "Laughter is the best medicine, just what the doctor ordered.  Fit 4 U provides lots of sporting opportunities for all abilities, with a very supportive network.  It's a chance to meet new people and make friends."
The Fit 4 U Project aims to empower people with physical/sensory disabilities to improve their health and wellbeing through participation in a range of innovative day time physical activity and leisure opportunities.
Fit 4 U activities are available across the Southern area at Dungannon, Armagh, Craigavon, Banbridge and Newry & Mourne Leisure Centres. Other activities include archery, boccia, multi-sports, badminton and group exercise.
The Project is funded by the Public Health Agency and is led by the Southern Health and Social Care Trust in partnership with other organisations, including the local Council authorities and Sport NI funded Everybody Active coaches.
If you would like to find out more about the activities available, contact Rhonda Richardson, Fit 4 U Co-ordinator, Tel. 028 3741 2129 or email rhonda.richardson@southerntrust.hscni.net
Read more news:
Exciting plans submitted for new community 'hub' in Markethill
Traumatic attacks on parking attendants happening on an alarming scale in Armagh
Eye-watering amount spent on city's link roads – and not an inch of tarmac laid!
Harrowing accounts given as Kingsmills Massacre inquest gets underway 40 years on
Cars at county Armagh dealership destroyed in arson attack
Watch: Co Armagh man's amazing fiddle cover of Italia '90 anthem 'Put 'em under pressure'
Look inside the £800 a month Gosford Castle apartment
Planners approve new pizza restaurant and takeaway in Armagh in record time!
Sign Up To Our Newsletter