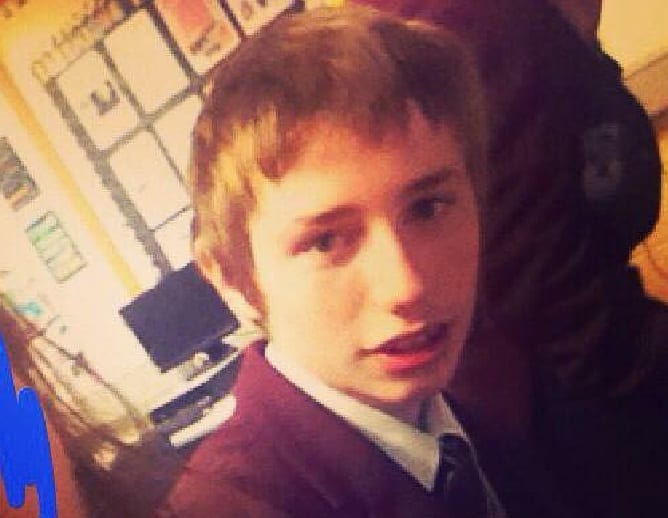 There has been an out-pouring of emotion following the sudden death of a 16-year-old Armagh schoolboy.
City of Armagh High School student, John Irwin passed away this morning following what has been described as an episode, yesterday afternoon.
News of the death came as former head girl Lesley-Ann McCarragher was laid to rest in the city today, following her tragic death on Saturday.
It is understood frantic efforts were made to save John, but he sadly passed away at Craigavon Area Hospital this morning.
Good friend Katie Neville described John as a "golden-hearted" boy who had time for everyone.
She told Armagh I: "John was a very patient lad, and had a lot of time for people in need. He was kind, and golden hearted. He was a entrepreneur.
"John and I were to start our new school life doing a course in butchery in Dungannon. He was a friend to all, and a very good friend to me."
She added: "He also had a great interest in the rural life. When we got our interview day for Dunbia, he was late. He was late because he had a cow calving and simply couldn't have left it. He classed it as a priority. That's the sort of lad he was."
John had just celebrated his sixteenth birthday on Sunday.
One girl posted on Facebook: "RIP John. I was only talking to you a few hours before, most caring fella I've ever met, brighten up my days."
Another said: "Rest easy John, you're in a better place right now!! I'll miss you dearly. The best friend anyone could ask for, such a shock!!"
One simply added: "I will never forget you, will be missed by everyone. RIP John."
John's former Primary School cancelled a planned event on Friday.
Drumhillery Primary School posted this message: "The Beetle Drive organised for Friday night (15th April) has been cancelled as a mark of respect to the Irwin family, following the sudden and tragic death of their son John earlier this morning.
"John was a much respected past pupil of Drumhillery, someone of whom we have very fond memories. Mrs Irwin has been a highly esteemed member of our Board Of Governors for many years. We wish to take this opportunity to pass on our deepest sympathy and condolences to the Irwin family at this time and assure them of our sincere thoughts and prayers."
Counselling is to be offered to pupils in the wake of the tragedy.
A PSNI spokesman said: "Police were notified of the death of a 16-year-old boy at Craigavon Hospital on the morning of Wednesday, April 13.
"A postmortem examination will be carried out, however, the death is not being treated as suspicious at this time."
Read more news:
State-of-the-art Markethill multi-use games and play area set for approval
Nine high-profile rural tourism projects across Borough submitted for major grants
Pupils evacuated as fire breaks out at Keady high school
Date set for £2m Armagh city regeneration project to begin
Staff members left shaken as off-licence is robbed by masked men
Teenager accused of killing Lesley-Ann McCarragher claims he sold car 45 minutes before collision
A first white water canoe trail of its kind in Ireland set for county Armagh
Lesley-Ann McCarragher to be laid to rest in Armagh on Wednesday
Sign Up To Our Newsletter