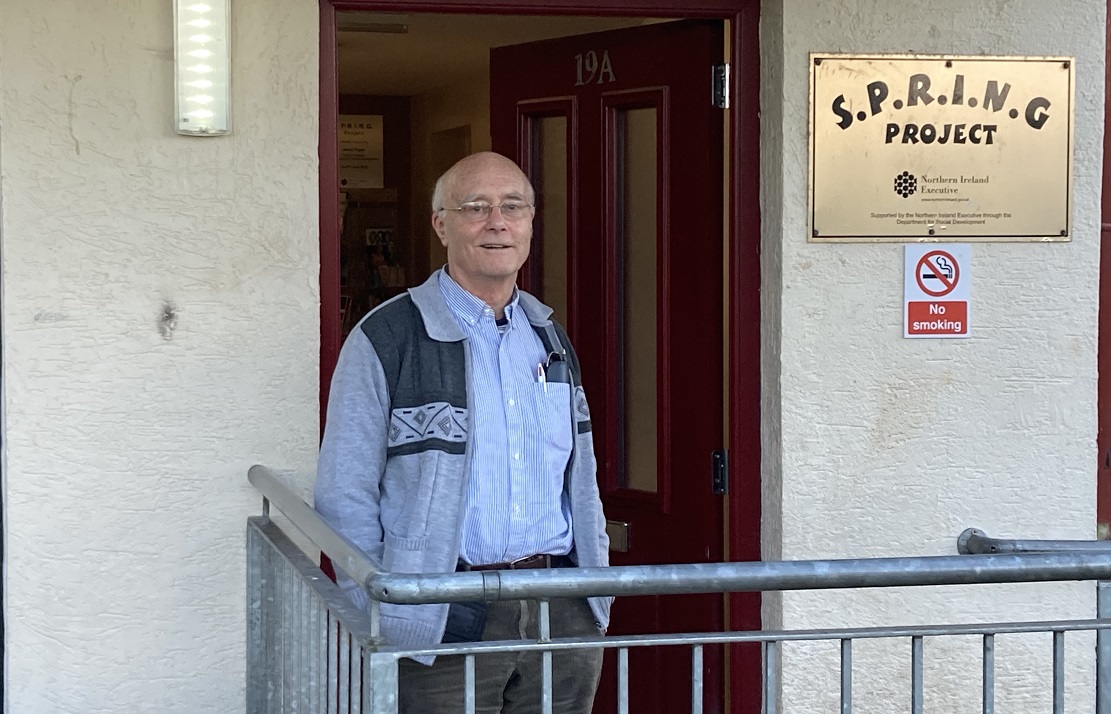 During the turbulent years of the Drumcree stand-off in Portadown, Jesuit priest Fr Brian Lennon played a key role in trying to help broker a peaceful resolution.
Although he lived among residents on the Garvaghy Road, who were opposed to the annual Orange Order march, he was involved in extensive dialogue with people from all sides.
Today, Brian is living quietly in Mullacreevie Park in Armagh – his home for nearly 25 years – where, in accordance with Jesuit teaching, he is continuing his work with the marginalised in society.
He was instrumental in setting up the local group Dialogue for Diversity to develop more respect and esteem for all groups in society.
It runs four main projects – community support for ex-prisoners; dialogue between divided groups; church reform and the ACRE (Active Communities Restoring the Earth) environmental project focusing on climate change.
Looking back to the Drumcree dispute, he admits it was a difficult time, and one in which he experienced great, personal conflict.
Brian, who joined the Jesuits after leaving school in Dublin at the age of 18, had arrived in Portadown in 1988, after feeling a real call to work in Northern Ireland with people affected by the Troubles.
"Our aim was to live in solidarity with deprived people in the nationalist end of things, and also build relationships with Protestants because it it absolutely central to Jesuit work  to be respectful and work with other churches," he says.
"There was huge conflict, and it was very disturbing inside myself  because I never knew if I was doing the right thing.
"We would have stood with the residents – we opposed the IRA very strongly – but at the same time I would have argued for the rights of the loyal orders in Derry, for example, because in Derry they are in a minority.
"I have had conversations more recently where I think the Orange Order did accept we were not there to do down them down but I think it took a long time for people to accept that and there are probably lots that still don't accept it.
"One thing I'm very conscious of is that the nationalists are in a minority in Northern Ireland but the unionists are in a minority on the island of Ireland and their fears are perfectly understandable."
Now approaching his mid-70s, Brian moved to Armagh at the end of 1997 as he felt it was time for a change.
"I knew nothing about Armagh. It's 10 miles from Portadown but it's a foreign country," he laughs. "They're very different. I think people are more private in Armagh."
He reckons not many people know him on the estate despite having lived there for so long but jokes that he has raised his profile in the past few weeks with the latest addition to the community – a Jack Russell called Juno who he walks regularly.
One of his current projects, community support for ex-prisoners, involves meeting with men who have come out of prison for a cup of tea or coffee.
"They can come out feeling useless and very isolated. A lot of them are addicts and prison is not the place for them. The fact you have a past doesn't mean you can't have a future and that's true for me and everyone else. There is no question that people have turned their lives around because of it," he says.
The work is made possible by a small group of community support mentors, and at the moment, the group is looking for more in the Armagh, Portadown and Belfast areas.
Volunteers need to be available half a day a week and be available to meet people within an hour of where they live.
They also need to be able to communicate with people, have empathy and to work within the protocols of the organisation. Expenses are covered and there is a strong support network.
In addition, Brian visits Maghaberry Prison one day a week as a chaplain and is also the chair of the board of Spring, (Social Partners for Reconciliation and Investment in New Generations) a group which works with marginalised young people and is based in the same house at Mullacreevie Park.
He recalls the group's founders – the late Sister Dolores Considine, the visionary Sacred Heart nun who spearheaded the conversion of St Catherine's from a grammar to an all-ability school, and her fellow sister Nan McKinnnon.
"Dolores rang up and asked was it okay to move into the other three flats in Mullacreevie with Spring. They were extraordinary women, the both of them, and did great work for Armagh," he adds.
Dialogue for Diveristy is also involved with environmental work through its ACRE project, and has just completed a project with Barcroft Community Gardens in Newry where 350 trees were planted.
Brian, who is approaching his mid-70s and is the author of a number of books, is candid about aspects of the Catholic Church he doesn't agree with, among them the role of women, believing that women should be allowed to be ordained.
On a personal level, his mother was one of the first women to get a BA degree at University College Dublin.
"She went into the Civil Service but had to retire because she got married and ended up a housewife, which did not please her," he recalls.
"Women were chattels in the south up to the 1970s. One of my sisters did nursing and she was very bright but one of my brothers became a GP because he was a man. Things haven't changed in the church."
Brian, who has a number of degrees, including a Master's in counselling and another in theology, says Northern Ireland needs a political structure that recognises different identities and has respect for different identities.
"It needs to be more nuanced that a united Ireland or a United Kingdom and my great fear is we won't get that," he says.
And while he believes in the importance of constitutional issues, he says people are coming to a stage where they are "sick and tired" of talking about them.
"People want a decent health service and decent jobs, not low paid jobs. When you have people in employment who have to go to food banks in one of the richest nations in the world, it's outrageous," he says.
Meanwhile, he continues to be grateful for his good health, relationships, the richness that he meets in people and his faith.
"It was a good choice to join the Jesuits and I certainly would not have said that always, but looking back now I am very grateful. I am very grateful for an awful  lot in life."
Anyone wishing to volunteer as a community support mentor with the ex-prisoners project can contact Brian at info@dialoguefordiversity.org or phone 028 3799 8509.
Sign Up To Our Newsletter