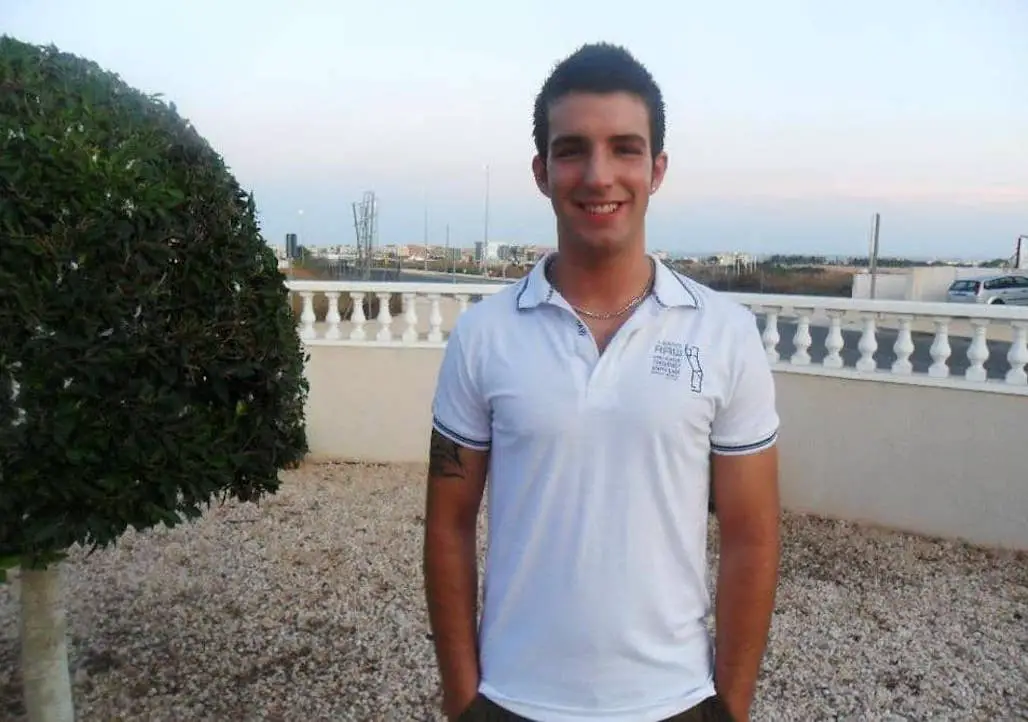 The inquest into the death of an Armagh man, who died just weeks after a routine ear operation at Craigavon Area Hospital, began today (Monday).
Peter McAneney was just 21 when he passed away suddenly on May 10, 2012.
His family's heartbreaking seven-year wait is finally coming to a conclusion with the commencement of the inquest in Armagh Courthouse today.
His mother, Jennifer McAneney, was the first to give evidence and she outlined the series of events which led to Peter's heartbreaking and untimely death.
On April 20, 2012, Jennifer accompanied Peter to the ENT (Ear, Nose & Throat) Clinic at Craigavon Area Hospital prior to him receiving mastoid surgery at 2pm that day.
Mrs McAneney stated that an anesthetist had gone through the details of the surgery with them and told them this was the only operation to take place that day due to its "tedious" nature.
Peter was released on April 21 and was provided with a number of medications to take following the routine procedure.
Mrs McAneney commented that she could not recall what these medications had been but said there were a "raft" of them.
She said that over the coming days Peter's ear started to discharge a "bloody and yellowish liquid".
He also complained that he could not hear. Mrs McAneney stated that her son was "very sore and very uncomfortable".
On April 25, Peter's sister Joanne took him to Out of Hours as Mrs McAneney was out of the country.
The following day, on April 26, Peter was put on a IV drip to try and alleviate the swelling on his ear.
Mrs McAneney spoke with her son on the phone offering to come home but he replied: "Mum, I'm not going to die and I will hopefully be out of Friday."
Peter's ear continued to leak a yellow liquid following Mrs McAneney's return and on May 2 she accompanied him to see the ENT consultant, Dr Reddy, who had carried out the surgery.
At this time Peter had also developed a rash on his arms and hands. Mr Reddy attributed this to an allergic reaction to the BIPP (iodine paste) pack which had been used on his ear.
Peter was then given a course of steroids to deal with this reaction.
On May 6, Mrs McAneney took her son to the Out of Hours GP at Mullinure after Peter started to show signs of being short of breath, although by this time his ear had cleared up.
She said that upon examination of Peter's ear the GP advised them to go to the Emergency Department.
Upon arrival at the hospital, Mrs McAneney said that within a matter of minutes her son was taken for an ECG (electrocardiogram) because of his chest problems.
She said that Peter became physically sick, and after an X-ray, was admitted to hospital.
Mrs McAneney told the Coroner: "I was with Peter all day and late into the evening, they were speculating that is was a clot on his lung as a result of surgery and that is what they were treating him for."
However, this was ruled out following a CT scan and it was believed Peter had fluid around his heart therefore he was taken to the cardiac ward.
Whilst there, Peter was fitted with a piece of medical equipment to keep track of his heart.
Some time later, a nurse came to check the batteries on this device, only to find there were none in it.
Mrs McAneney said that Peter had told the nurse: "I could be lying here dead and you wouldn't know."
On May 9, the cardiologist consultant informed the family that there was fluid around Peter's heart but he did not want to remove the fluid as there needed to be a certain amount for it to be operated on.
Mrs McAneney said the consultant did not seem concerned and did think that Peter would get better.
Later that day oxygen had to be administered to Peter. His mother said she left Peter at 10.30pm that night with his oxygen mask still on.
At 4.10am, in the early hours of May 10, almost six hours after leaving the hospital, Mrs McAneney said her husband, Tommy, took a call from the hospital saying Peter's oxygen levels had dropped and he wanted to see them.
In the waiting area of the Craigavon Area Hospital, the family were told by a doctor that Peter had been moved to ICU.
After initially being told she could not see her son, Mrs McAneney persisted and was able to see him for what she said were "a few minutes".
She said: "He was frightened. He said to us, 'I must be really sick if you two are here at five in the morning' and I just kept squeezing his hand to let him know everything was going to be okay.
"As I did this he turned to his dad and her last words were to his dad before we left."
They were told it would be half an hour to remove the fluid. Mrs McAneney said that some time later her husband witnessed "a lot of commotion" outside the ICU.
Nurses and doctors told the family to prepare for the worst and that Peter was on life support.
Mrs McAneney told the Coroner that Peter had been operated on before in 2002 and 2009. BIPP packing had been used in the first of these occasions but not the second.
She claimed that her son had been fitted with a titanium implant in the initial operation, which he had not consented to.
Talking about Peter's deterioration, she said: "I was very concerned, I could see him deteriorating, I had to get him straws for him to drink and bay wipes to wash his face and hands.
"He couldn't even lift his legs to sit up; he was extremely stiff and weak".
Next to give evidence was Joanne O'Neill – Peter's sister. She had attended with her brother at the Out of Hours on April 25.
This was after she noticed swelling to Peter's ear, which she tracked by using a pen to mark the outline.
On May 9, as a midwife in training at the time, she had asked the nurses if they had been monitoring her brother's saturation levels due to his breathlessness and restlessness.
Ms O'Neill told the Coroner's Court that the nurse claimed this was being done from outside the cubicle.
Ms O'Neill said she noticed the nurse carrying out a saturation test, which showed Peter's oxygen levels to be low and nasal specs were applied.
Dr Brain Herron, the pathologist who carried out Peter's post-mortem, was then called to give his evidence.
He said that he concluded that the cause of Peter's death had been hypersensitivity myocarditis, the inflammation of the heart muscle caused by an allergic reaction to a drug, after eliminating other possibilities.
Dr Herron said that there are hundreds of causes for this type of condition. He added that this was extremely rare, with him experiencing just three cases in 25 years, one of which was Peter.
He stated: "Medicine is not mathematical, sometimes you can't get to the final answer and I think we will never know what caused the hypersensitivity."
Dr Ekambar Reddy, the ENT consultant who had carried out Peter's surgery in April 2012, was then called to give evidence.
He admitted to fitting Peter with a titanium prosthesis which was a 2mm wire mesh, but said that due to the nature of mastoid surgery, he believed consent was given.
Following this incident, Dr Reddy said he had changed his practice with regards to the consent form, but conceded that all possible complications or actions could not be covered.
He said that had he not fitted the prosthesis, Peter's hearing would have been affected, and he would have required further surgeries.
Dr Reddy said he had initially treated Peter's symptoms as infection, as that was the most "common" cause, because he had never seen an allergic reaction to the BIPP pack.
He admitted that the rash on Peter's hands had been brought to his attention on May 2, although he had no made reference to it in his notes.
Dr Reddy said: "We are all human beings, we all make mistakes, I think I was focusing on the ear."
He added that since this incident he had stopped using BIPP packing, despite it being common practice elsewhere; this he put down to "mental scaring".
The inquest sits again tomorrow (Tuesday).
Sign Up To Our Newsletter