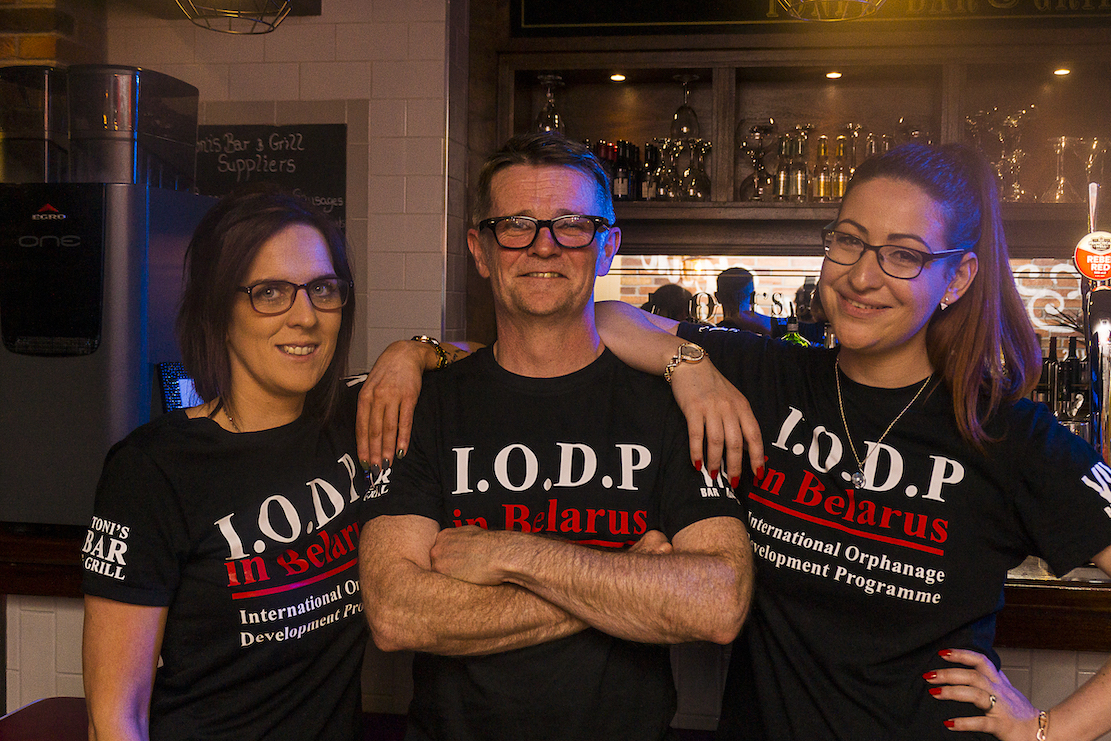 Some time ago the management and staff of Viva Bar and Toni's Bar & Grill became aware of the work of the IODP in Belarus and their struggles to help some of the most destitute and friendless people with no-one to turn to for help or support; the orphans, the elderly and special needs patients in the former Soviet Bloc nation of Belarus.
Established 21 years ago, IODP (International Orphanage Development Plan) works to improve the living conditions of disabled orphans, adults with mental disabilities and child prisoners in institutions across Belarus.
They provide a wide range of assistance. In the past year alone they have carried out hundreds of projects, ranging from putting a playground into a centre for 220 adults with significant special needs, to buying 25,000 sanitary towels for women and girls with special needs in several institutions.
Every year they also provide Santa Claus to several hundred children.
Responding to the letters they each send to Santa, they try wherever practical to give them exactly what they ask for.
They are a no-cost charity. Aside from some minor expenses, such as the hire of interpreters, all monies go to support the children they help.
Volunteers pay their own flights, accommodation and food expenses, either directly or by making personal or corporate donations through the charity for this purpose.
So, in an effort to assist this work, the staff and management of Toni's & Viva decided to run a series of fund-raising events.
Monday saw the launch of this extended effort with a 'Meet & Greet' in Toni's Bar & Grill from 7pm onwards where people had an opportunity to find out in more detail the amazing work done to date by this very worthy cause and hear Stevy McGeown elaborate a little about his experiences and the projects we hope will be realised as a consequence of our efforts.
Just some of the events planned over the next period are:
· Parachute jump performed by the staff and management of both Viva & Toni's,
· Comedy night,
· Scooter run,
· Day at the races to Downpatrick,
· 60', 70's & 80's music quiz,
· Oktober/Vivafest with live music all day long,
· "Cook Off" competition in conjunction with Armagh Men's Shed,
· "Bearded One" competition and
· Halloween Fancy Dress Competition
Those who called to Toni's Bar & Grill were treated to a range of nibbles and bubbles with music by one of Viva's most popular performers, Ryan Kelly; who played an excellent acoustic set which perfectly complemented the congenial atmosphere.
On hand to answer the varied queries about the forthcoming program of fund-raising events were the management & staff behind this commendable initiative.
There too was Stevy McGeown from IODP in Belarus who said a few words about how he came to involved, some of the work they do and the previous efforts he has undertaken.
When he described the impact of providing sanitary products and used the phrase, "I never realised you could buy dignity" everyone paused and realised the level of deprivation endured and the everyday things we take for granted but which to the people he helps, are considered luxury items.
I won't labour it but when you hear about children asking Santa for items like a blanket or a kettle, it makes you think…
We'd also like to take this opportunity to thank and recognise our sponsors who have already graciously donated, with a special mention to Instant Print, Armagh; who pulled out all the stops to accommodate our printing needs, sometimes in ludicrously short time-frames.
From the staff and management of both Toni's Bar & Grill and Viva Bar & Venue, IODP in Belarus and on behalf of all the orphans and many others who will benefit from your generous donations, Thank you.
Thank you too, to our sponsors and friends who attended and who so clearly share our aspiration to do as much as possible to ensure that IODP In Belarus are adequately resourced to allow them to continue making a tangible difference to the lives they touch.
· Coors Light
· Raffles Armagh
· Tommy French Bookmakers
· P Leonard Butchers
· Cup & Cone
· Macari's Armagh
· Keegan's Armagh
· Dillon Bass
· Campbell Trade Sales Ltd
· Phones Direct
· CCS Car Sales
· CFC Fuel
· Diamond Taxis
· Toals Bookmakers
· The Barber, English Street
· McKenna's Bar
· The Craic'd Pot Coffee House
· Glo Tanning & Aesthetics
· Coco Lane Beauty Clinic & Day Spa
· Mackey's Taxis
· SFS Fire Protection, Armagh
· DMG, Keady
· Cafolla's
· Bake My Day
· Jerome Kearney
· The Cooper Bar, Keady
· Bunzl McLaughlin
· AutoBits Motorstore
· Curran's Service Station
· Boyz 2 Men
· M. D. Rafferty Music School
· L. A. Drinks
Sign Up To Our Newsletter