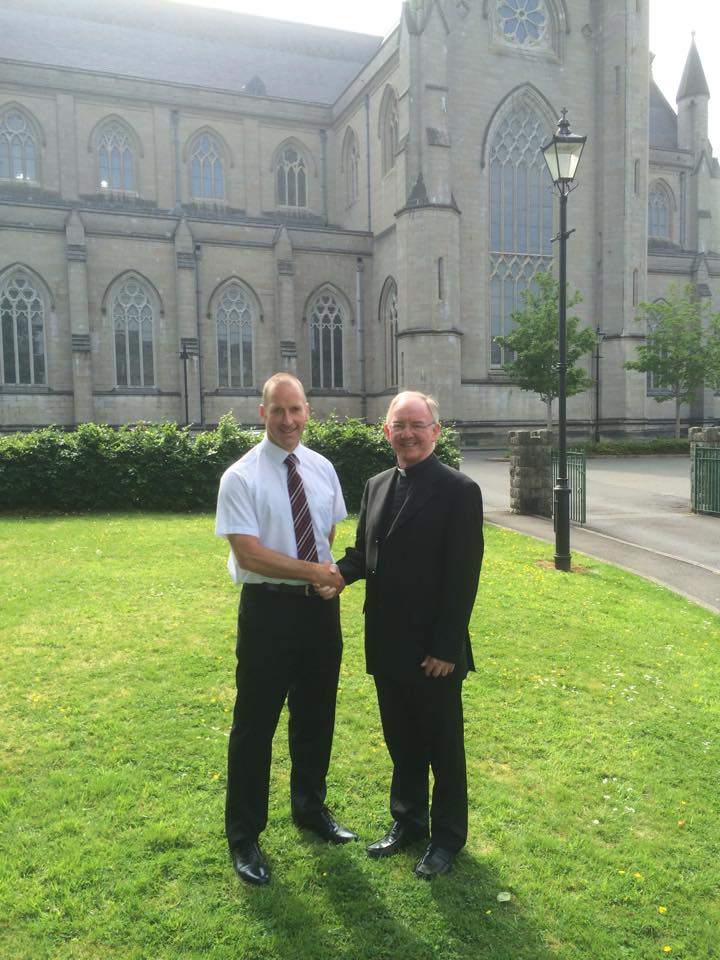 The new principal of St Patrick's Grammar visited the school today as he prepares to take over at the helm.
Mr Dominic Clarke will take up the post at the start of the new school year.
He comes to Armagh from his role as headmaster of Sacred Heart College in Omagh.
Mr Clarke replaces Fr Kevin Donaghy, who is leaving after 17 years at St Patrick's Grammar School.
He announced in April that he would leave upon his retirement at the end of the school term.
Fr Donaghy has played a very influential role both within the school and local community and has led the city-based school through some major changes.
He has been a popular headmaster with staff, parents and pupils.
Mr Clarke comes to Armagh at an exciting time in the history of St Patrick's Grammar.
Now a voluntary grammar, the school is looking to the future and work is continuing to upgrade the school meals accommodation and conversion of the extensive former boarding accommodation into classrooms, a library, ICT rooms and a careers suite.
Today (Wednesday), Fr Donaghy welcomed his successor to the 'school on the hill'.
The school, posting on social media, said: "We were delighted to extend a warm St Patrick's welcome to our future principal Mr Dominic Clarke today.
"Mr Clarke met with staff and surveyed the fantastic progress in our extensive renovation.
"We look forward to welcoming him back in August and an exciting year ahead for St Patrick's."
Picture: St Patrick's Grammar School, Facebook.
Read more news:
Son's tribute to Charles Vernon: 'Ultimate father, role model and best friend to many'
Minister insists Dickson Plan education system will not be axed on his watch
Extra bins and resources to tackle disgraceful littering of our beautiful Mall
Armagh I story showing ice-cream van prompts urgent Gosford parking petition
Armagh-based animal welfare service fighting back against cruelty and neglect
Exclusive interview: Armagh councillor Garath Keating on becoming new Lord Mayor
McDonnell recalls how legend Ali helped Armagh to All-Ireland victory in 2002
Police appeal to find owners of dogs which were "running loose" on main Moy Road
Trail of destruction after another night and morning of vandalism in Armagh
Newsletter
Sign up for our weekly newsletter here.